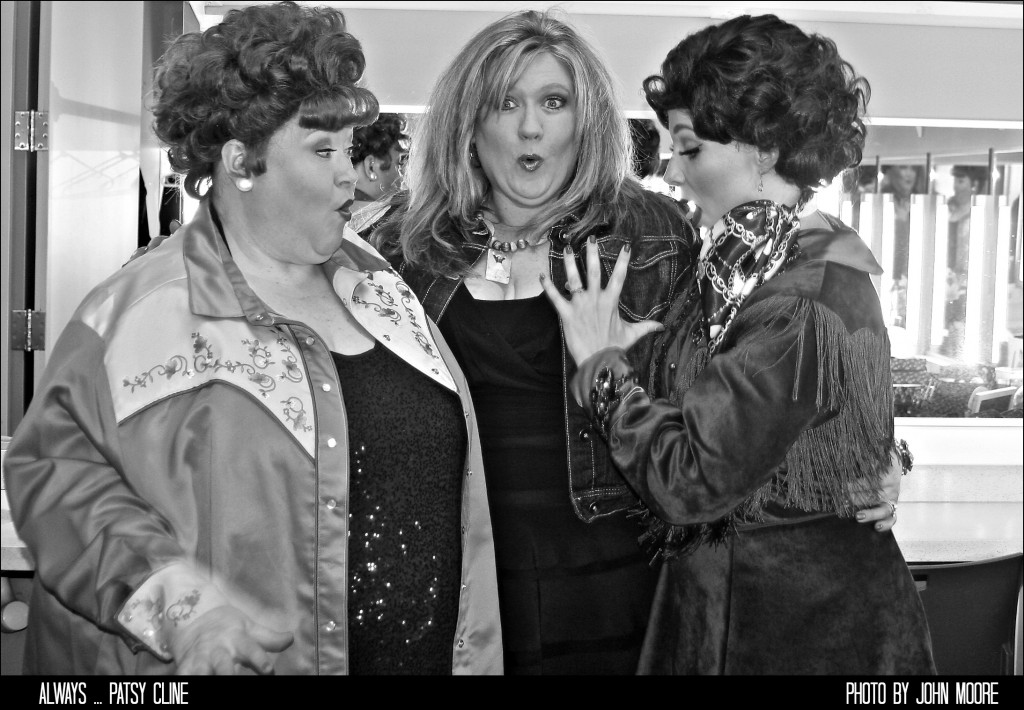 From left: Carla Kaiser Kotrc as Louise, music director Jalyn Courtenay Webb and Megan Van De Hey as Patsy Cline.
By John Moore
April 14, 2013
Opening No. 54: Starkey Theatrix's "Always … Patsy Cline": Photos from opening weekend, including an on-stage proposal! Starring Megan Van De Hey as Patsy Cline and Carla Kaiser Kotrc as Louise Seger. Also featuring the Bodacious Bobcats: Neal Dunfee, Dan Hoeye, Jason Tyler Vaughn, Bob Case and Scott Alan Smith. Directed by John Moore (Hey, that's me!). Musical direction by Jalyn Courtenay Webb. Through April 20 at the PACE Center, 20000 E. Pikes Peak Ave., in Parker. Showtimes: 7:30 p.m. Fridays, 2 p.m. and 7:30 p.m. Saturdays; also 2 p.m. Sundays, April 14. Tickets: 303-805-6800 or www.pacecenteronline.ticketforce.com. Thanks: Seth Caikowski, Shaun Albrechtson, Ronni Gallup, Chris Starkey.
This photo gallery is part of my ongoing, 2013 labor-of-love photo series called "It's Opening Night in Colorado Theatre," bringing you iconic snapshots from behind the scenes all over Colorado theater. All photos by John Moore for www.CultureWest.Org. To see the actual, official photo series featuring one intimate, iconic snapshot from 54 Colorado opening nights (and counting), click here.
Click here to subscribe to the CultureWest.org Monthly E-Newsletter

For my return to directing, I got plenty of advice from more experienced, well-wishing directors around town. Advice, such as: "Break their spirits." (Turns out, the actual expression is, "Break a leg"). Also: "You must wear a beret and carry a riding crop." (Who knew?) So before opening night, Carla Kaiser Kotrc (Louise) gave me just that, so I played along. As did co-star Megan Van De Hey (Patsy).

Flowers for Carla Kaiser Kotrc on the VIP preview night.

The Bodacious Bobcats, from left: Bob Case, Jason Tyler Vaughn, Scott Alan Smith, Neal Dunfee and Dan Hoeye.

Director John Moore and Megan Van De Hey (Patsy).

Megan Van De Hey reflecting at sound check.

The (at times persnickety) sound and video cues.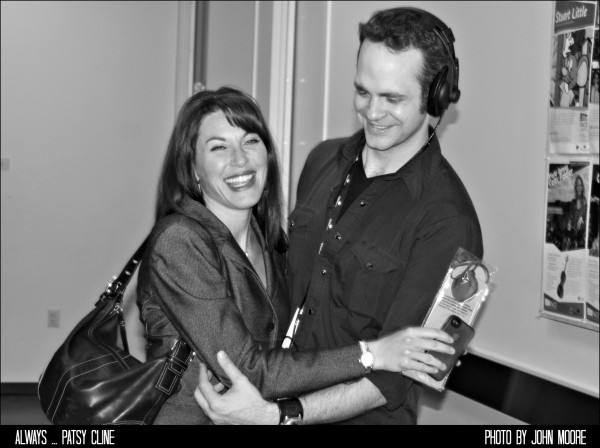 Producer Ronni Gallup and stage manager Seth Caikowski.

Guitarist Jason Tyler Vaughn: "I played my heart out for this show, and all I got was this lousy CD!"

Bringing Schlitz back to cool, like it's PBR.

Taking a moment during sound check.
(Please click "Page 2" below to go to the next page of our photos from opening weekend of "Always … Patsy Cline")