There's a lot of touching in the Kit Kat Klub — and in the backstage area of the Aurora Fox — as actor Maggie Tisdale can attest. The Fox's shop area has been converted into a temporary dressing room to accommodate the huge Ignite Theatre cast, which performs on the studio stage while another big musical, "The Color Purple," plays on the mainstage.
By John Moore
April 18, 2013
Welcome to my ongoing, 2013 labor-of-love photo series bringing you iconic snapshots from behind the scenes on opening nights in Colorado theater. All photos by John Moore for www.CultureWest.Org.
Opening No. 55: Ignite Theatre's "Cabaret": Monday's industry-night performance of Kander & Ebb's classic musical drew a capacity crowd to the Aurora Fox despite a snowstorm. "Cabaret" follows an American writer who is coming of age in 1920s Berlin, when the end of an era of indulgence and sexual ambiguity paralleled the rise of the Nazi Party. It's staged in-the-round in the Fox's studio theater by director/choreographer Danny Harrigan, with drink service provided by the Kit Kat Boys during the show. Starring Matt LaFontaine as the Emcee, Lindsey Falduto as Sally Bowles, Marcus Turner as Clifford Bradshaw, Barbara Porreca as Fraulein Schneider, Brian Trampler as Herr Schultz, Rob Janzen as Ernst and Maggie Tisdale as Fraulein Kost. Featuring Stephanie Prugh, Cailin Doran, Mehry Islamminia, Norrell Moore, Brenna Thistle, Sadie Trigg, Joe Majestic, Alex Ambard, Tyler Nielsen, Rob Rehburg and Christopher Riney. Through May 5 at 9900 E. Colfax Ave. Showtimes: 7:30 p.m. Fridays-Saturdays; 2:30 p.m. Sundays. Tickets: 720-362-2697 or Ignite's home page. Thanks: Keith Rabin, Mary Coan and Brandon Bill.
This gallery is one chapter in my ongoing photo series called "It's Opening Night in Colorado Theatre," bringing you iconic snapshots from behind the scenes all over Colorado theater. All photos by John Moore for www.CultureWest.Org. To see the actual, official photo series featuring one intimate, iconic snapshot from 55 Colorado opening nights (and counting), click here.
Click here to subscribe to the CultureWest.org Monthly E-Newsletter

Monday's snowstorm sent star Matt LaFontaine (the Emcee) to the Aurora Fox's back loading dock for what had to be a chilly a pre-show cigarette.

Lindsey Falduto as Miss Sally Bowles.

Director and choreographer Danny Harrigan.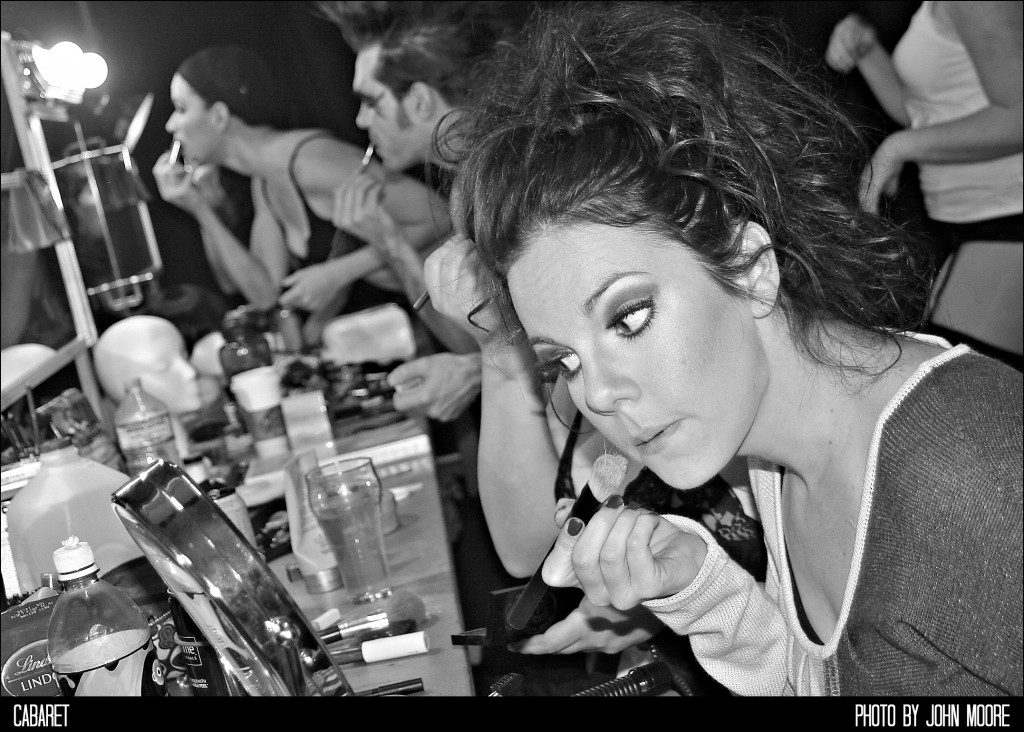 Brenna Thistle plays Fritzie.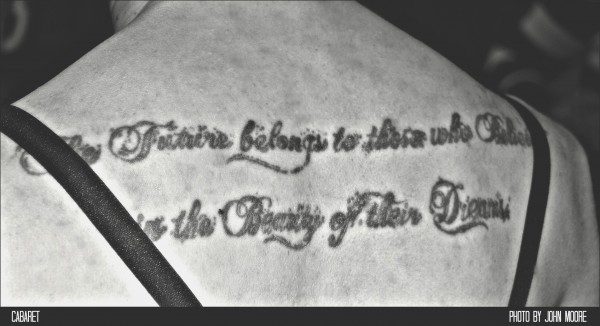 Tyler Nielsen's back tattoo reads, "The future belongs to those who believe in the beauty of their dreams" — a powerful counter to the Nazi youth-like anthem, "Tomorrow Belongs to Me" that is performed in "Cabaret" in the style of a traditional German song.

Director Danny Harrigan circles the cast and crew for a pre-show pep talk backstage. Harrigan introduced yoga and meditation techniques into the rehearsal process.
(Please click "Page 2" below to go to the next page of our photos from our visit to "Cabaret.")