Photos: My night at Ignite Theatre's snowy 'Cabaret'
Christopher Riney, Joe Majestic (Bobby), Maggie Tisdale (Fraulein Kost) and Marcus Turner (Cliff). 

Lindsey Falduto (Sally) passes while direCtor Danny Harrigan and Matt LaFontaine (The Emcee) share a pre-show moment.

Ignite Theatre executive artistic director Keith Rabin and Jeffrey Parizotto.

During the pre-show, cast members such as Sadie Trigg (Texas) aren't shy about coming out by the round stage and stretching out and warming up for the evening's sultry festivities.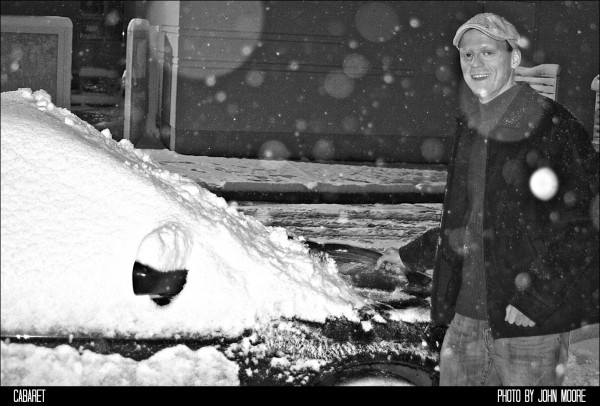 Oh, the glamorous life! Rob Janzen scrapes his car windows after the show.
More than four hours after showtime and after many inches of snow, Joe Majestic, Norrell Moore, Matt LaFontaine and Cailin Doran still didn't want the evening to end.
Tags:
Alex Ambard
,
aurora fox
,
Barbara Porreca
,
Brandon Bill
,
Brenna Thistle
,
Brian Trampler
,
cabaret
,
Cailin Doran
,
Christopher Riney
,
Danny Harrigan
,
Ignite thetare
,
Joe Majestic
,
john moore
,
Keith Rabin
,
Lindsey Falduto
,
Maggie Tisdale
,
Marcus Turner
,
Mary Coan
,
Matt LaFontaine
,
Mehry Islamminia
,
Norrell Moore
,
opening nights
,
Rob Janzen
,
Rob Rehburg
,
Sadie Trigg
,
Stephanie Prugh
,
Tyler Nielsen