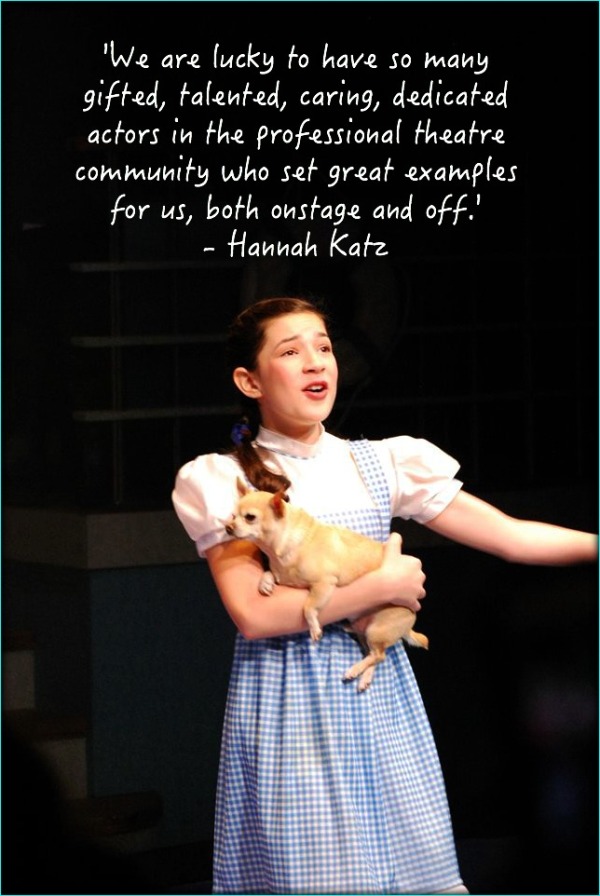 On Saturday morning, young Theatre of Academy Arts actor Hannah Katz spoke to audiences at the Town Hall Arts Center in support of the Denver Actors Fund.
"We are lucky to have so many gifted, talented, caring, dedicated actors in the professional theatre community who set great examples for us both onstage and off," Katz, a 12-year-old who attends Campus Middle School, said moments before she played Dorothy in two performances of the Academy of Theatre Arts' production of "Oz."
The ATA, founded by Alann Estes and Paul Dwyer, is now owned and operated by Mary Daily, with Robert Michael Sanders and Piper Arpan as directors.
The idea to use the "Oz" performances as an opportunity to raise awareness of the Denver Actors Fund was entirely Katz's, Sanders said.
"Hannah asked if she could do a speech for the Denver Actors Fund, and she put out a ruby red slipper to collect money," Sanders said. "… And I think it's cute as heck that this is all her idea."
Hannah's efforts raised more than $100 for the Denver Actors Fund, and she intends to make the same speech before the final performance of "Oz" this coming Wednesday  morning. (The show, music directed by Mary Dailey, starts  at 10 a.m. Tickets $6: 303-794-2787 ext. 5)
Below is a transcript of Hannah's speech:
Thanks everyone for coming to our show today. We would like to take a moment to talk with you about something very important.

Denver is a great place to learn the art of musical theatre. Part of what makes it so great is that we are lucky to have so many gifted, talented, caring, dedicated actors in the professional theatre community who are willing to share their time and talent with the performers of tomorrow like all of us.

They spend much of their free time teaching and nurturing kids like us and being great role models. They set great examples for us both onstage and off.

One great way they are doing this is through an organization that was founded a little over a year ago called The Denver Actors Fund. It is a non-profit organization that helps members of the Denver theatre community who find themselves in situations of medical need. The fund offers both financial and volunteer assistance.

To help support the DAF, the "Tap Shoe Initiative" was formed. As part of this project, theatre companies design a "themed" shoe, or boot, and collect donations for the Fund. You might have seen our ruby-red slipper boot when you came in the theatre. We at ATA would like to thank the Denver theatre community by helping to raise funds for the DAF.

Please help us fill our boot and support fellow Denver actors in need!
Thank you, Hannah, for setting a great example for the next generation of Denver's theatre performers!
ABOUT THE DENVER ACTORS FUND:
The Denver Actors Fund is a modest source of immediate, situational relief when members of the local theater community find themselves in medical need. In addition to financial relief, a team of more than 60 Denver Actors Fund volunteers offers good neighborly assistance including meal prep and delivery, child care, transportation, errands, construction, pet-sitting and more. For more information, visit our web site at www.DenverActorsFund.Org
DENVER ACTORS FUND IN ACTION:
Read Denver Actors Fund testimonials by clicking here
HOW YOU CAN HELP:
To DONATE the Denver Actors Fund: Please go here (with our humble thanks):
APPLY FOR AID:
To apply for Denver Actors Fund aid: Fill out this brief online form here
MORE WAYS TO HELP:
DONATE BY MAIL:

Send checks made out to the Denver Actors Fund to:
4594 Osceola St.
Denver, CO 80212
COME TO OUR FUNDRAISING EVENTS:
Dec 8 and 15: "BALLS! A Holiday Spectacular" will perform at Lannie's Clocktower Cabaret. Click here for details and tickets.
Video: See highlights from "Misacast 2014," a September fundraiser held on behalf of the Denver Actors Fund: