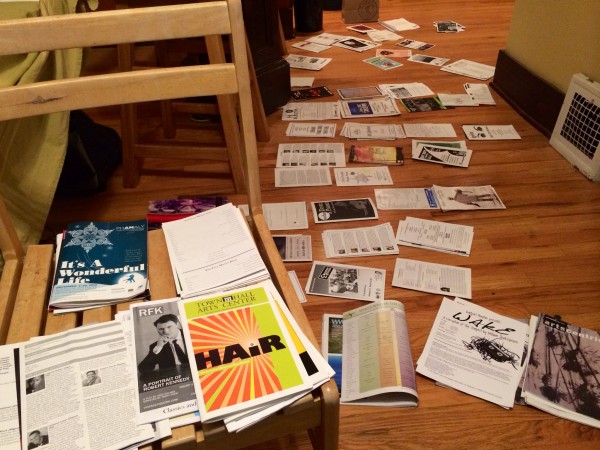 This sight can mean only one thing: The 2011 True West Award nominations are just hours away …
By John Moore
The 2013 True West Awards, which began as the Denver Post Ovation Awards in 2001,  are the continuation of the longest-running awards program in Colorado theater. The 2013 True West nominations have been announced here.
What follows here is the final list of eligible plays. To be eligible, a play must only have been seen, with certain exceptions listed at the end. This year, more than 135 productions were seen, of which 118 are eligible for awards consideration. This year, a total of 58 companies had at least one play seen.
The official winners will be announced next Sunday, Dec. 29. Readers will again be allowed and encouraged to have their say by voting for their favorites in designated "readers choice" categories. To vote in the readers' choice designations in most categories, click here. Any production by any company staged in 2013 is eligible for readers-choice designation.
ELIGIBLE PLAYS
Shows that were seen and considered for True West Awards between between Dec. 6, 2012, and Dec. 20, 2013:
11 Minutes Theatre Company: Arvada
"Dancing at Lughnasa"
And Toto Too
"Pardon My Dust"
Arvada Center
"Blithe Spirit"
"Man of La Mancha"
"Dividing the Estate"
"Curtains"
"Camelot"
"A Christmas Carol"
Ashton Entertainment: Aurora and Boulder
"The Seafarer"
Aspen Stage
"Unmarried in America"
Athena Project: Aurora
"Tell Martha Not to Moan"
Aurora Fox
"Consider the Oyster"
"The Color Purple"
"Metamorphoses"
Avenue Theater
"Motherhood Out Loud"
"Minimum Wage"
Balls to the Wall Productions
"Balls V! A Holiday Spectacular"
Bas Bleu Theatre: Fort Collins
"The Year of Magical Thinking"
"Over the Tavern"
Breckenridge Backstage Theatre
"A Christmas Carol"
"Out of Order"
"Avenue Q"
Betsy Stage
"The Travesty of Lear"
Boulder Ensemble Theatre Company

"Ghost-Writer"
"Bach at Leipzig"
"Seminar"
"The SantaLand Diaries""
Boulder's Dinner Theatre
"Church Basement Ladies"
"The Wizard of Oz"
"The Full Monty"
"Monty Python's Spamalot"
Buntport Theater
"Wake"
"A Knight to Remember"
"Electra Onion Eater"
Byers-Evans Theatre Company
"Evermore"
Candlelight Dinner Playhouse: Johnstown
"The Sound of Music"
The Catamounts: Boulder
"Jon"
"Failure: A Love Story"
Central City Opera
"Showboat"
Cherry Creek Theatre
"Doubt"
"Baby"
Colorado Shakespeare Festival: Boulder
"Macbeth"
"A Midsummer Night's Dream"
Colorado Springs Fine Arts Center
"Prelude to a Kiss"
Curious Theatre
"Maple & Vine"
"The Brothers Size"
"God of Carnage"
"After the Revolution"
"Rancho Mirage"
Dangerous Theatre
"Dark Wood"
Edge Theatre: Lakewood
"Newark Violenta"
"Race"
"The Shadow Box"
"Bengal Tiger at the Baghdad Zoo"
"One Flew Over the Cuckoo's Nest"
"The House of Blue Leaves"
"Cat on a Hot Tin Roof"
Equinox Theatre
"Bat Boy, the Musical"
"A Night at Fawlty Towers"
"Evil Dead: The Musical"
'Carrie: The Musical"
Evergreen Players
"All My Sons"
Firehouse Theatre: Aurora
"Next Fall"
Germinal Stage-Denver
"The Long Christmas Dinner"
"Spoon River Anthology"
"Long Day's Journey Into Night"
Heritage Square Music Hall: Golden
"One Enchanted Evening"
"50 Shades of Loud"
"Take Me Out to the Ballgame"
"Divas Dammit'
Horse & Cart
"The Singing Room"
Ignite Theatre: Aurora
"Next to Normal"
"Cabaret"
Illumination Theatre: Aurora
"Sordid Lives"
Lake Dillon Theatre Company
"Sleuth"
LIDA Project
"R.U.R/lol"
"The Hairy Ape"
"Watershed (Part I: The Sea is Not Full)"
Longmont Theatre Company
"Over The Tavern"
Magic Moments
"Spirit and Soul"
Midtown Arts Center
"Forever Plaid"
"Les Miserables"
Miners Alley Playhouse: Golden
"Mrs. Mannerly"
"The Memory of Water"
"Collected Stories"
"Wonder of the World"
Firehouse Theatre Company: Aurora
"Next Fall"
OpenStage & Company: Fort Collins
"Bullshot Crurmmond"
Performance Now: Lakewood
"Once Upon a Mattress"
Phamaly: Aurora/Denver/Boulder
"The Foreigner"
"Fiddler on the Roof"
"It's a Wonderful Life"
"Vox Phamilia: G.I.M.P. Nation"
Rocky Mountain Deaf Theatre: Aurora
"Murder at the Howard Johnson's"
Screw Tooth
"Some Kind of Fun"
Senior Housing Options
"Steel Magnolias"
Sis Tryst
"Talley's Folley"
The Source
"The Gospel at Colonus"
Springs Ensemble Theatre: Colorado Springs
" A Steady Rain"
square product theatre company: Boulder/Denver
"The Ding Dongs"
Starkey Theatrix: Lone Tree/Parker/Aurora
"Noises Off"
"Bingo, the Musical"
"Home for the Holidays"
Su Teatro
"The Gospel at Colonus"
"La Pastorella"
Theatre Company of Lafayette
"Glengarry Glen Ross"
Theatre 'd Art: Colorado Springs
"Marisol"
Theatre Esprit Asia: Aurora
"Spirit Tales and Sworded Treks"
"Dust Storm"
TheatreWorks: Colorado Springs
"You Can't Take it With You"
"Red"
Town Hall Arts Center
"Forever Plaid"
"9 To 5, The Musical"
"The 39 Steps"
"Hair"
Vintage Theatre Productions: Aurora
"RFK: A Portrait of Robert Kennedy"
"Closer"
"The Best Little Whorehouse in Texas"
"In the Heights"
"Young Frankenstein"
Wit Theatre Company
"Edges: A Song Cycle"
INELIGIBLE PLAYS
Germinal Stage-Denver
"Offending the Audience" (John Moore was in the cast)
Starkey Theatrix
"Always … Patsy Cline" (directed by John Moore)
Note: Because I took at job at the Denver Center for the Performing Arts in 2013, for the first time there will not be a "Best of the Denver Center" category of awards, for objective and ethical reasons. Therefore the following productions were seen but are not ineligible:
Denver Center Attractions:
"The Doyle & Debbie Show"
"War Horse"
"Jekyll and Hyde"
"Peter and the Starcatcher"
"Sister Act"
"The Kid"
"Priscilla, Queen of the Desert"
"The Book of Mormon"
"The SantaLand Diaries"
Denver Center Theatre Company:
"Grace, or The Art of Climbing"
"The Three Musketeers"
"Death of a Salesman"
"Just Like Us"
"Jackie & Me"
"A Christmas Carol"
Denver Center Academy:
The Rimers of Eldritch"
Off-Center @ The Jones:
"Wheel of Misfortune"
"Cult Following"
"Drag Machine"
School productions: Seen but not eligible:
University of Denver's "Fiddler on the Roof"
UC-CS's "Bloody Bloody Andrew Jackson"
UC-CS's "Next Fall"
Lakewood High school's "Les Miserables"
Cherry Creek High School's "Singin' in the Rain"
Denver School of the Arts' "Beauty and the Beast"
Willow Creek's "Dear Edwina Junior":
Rising Star's "Krazy Kamp"
Town Hall Arts Center's teen "Grease"