Jordana Grolonick, second from left, made a benefit appearance for the Denver Actors Fund with her Arvada Center 'A Chorus Line' castmates at the Denver Alamo Drafthouse on Aug. 28. Photo by John Moore.
The claim by Jordana Grolnick of Longmont has been confirmed by an official, and an apology has been issued

Posted by John Moore
Compiled from News Reports
Jordana Grolnick, who was raised in Longmont and just played Maggie in the Arvada Center's production of A Chorus Line, today became the second woman to come forward and allege that former President George H.W. Bush groped her. Her claim has been confirmed by Bush spokesperson Jim McGrath, who issued an apology on behalf of the President.
She joins actor Heather Lind, who said earlier this week that the former president touched her from behind while telling her a dirty joke in 2014.
Grolnick has also now accused Bush of a similar incident in 2016, in which he allegedly fondled her during a photo opportunity. In a statement, the Silver Creek High School graduate said of Bush, who was 92 at the time of the alleged incident:
"He reached his right hand around to my behind, and as we smiled for the photo he asked the group, 'Do you want to know who my favorite magician is?' As I felt his hand dig into my flesh, he said, 'David Cop-a-Feel!' "
The incident took place when Grolick was working at a production of Hunchback of Notre Dame in Maine. Bush, who stays in nearby Kennebunkport during the summers, is a frequent visitor to the theater. Grolnick told Deadspin.com, which first reported the story, the "joke" was met with laughter by others in the room, and that former First Lady Barbara Bush responded by sarcastically saying, "He's going to get himself put into jail."
McGrath said in a statement that, because President Bush has been in a wheelchair for five years, his arm falls on the "lower waist." He continued: "To try to put people at ease, the president routinely tells the same joke — and on occasion, he has patted women's rears in what he intended to be a good-natured manner. Some have seen it as innocent; others clearly view it as inappropriate. To anyone he has offended, President Bush apologizes most sincerely."
Grolnick, who consented to have her name included in her statement, graduated from the University of Michigan in 2015. Shortly after, she made her Broadway debut in Rodgers + Hammerstein's Cinderella, as both an understudy and swing.
Her A Chorus Line director, Rod A. Lansberry, praised Grolnick for coming forward.
"I applaud her honesty and courage to bring her experience to light," Lansberry said. It definitely brings this blight home when you continually find it has occurred to someone you know and have worked with. Her courage only increases my respect for Jordana, as a person and a performer."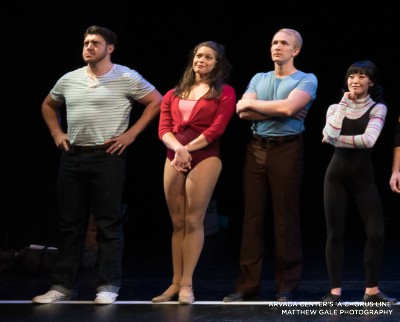 During her recent stay in Arvada, Grolnick joined cast members at a benefit screening of the film version of A Chorus Line to benefit the Denver Actors Fund. At the benefit, held at the Alamo Drafthouse, Grolnick sang Dance: Ten; Looks: Three, a song that in the stage production is sung by the character of Val. Because that actor was not available, Grolnick volunteered to sing it in her place. (See a short excerpt of the video here.)
After the incident in Maine, Grolnick told Deadspin's Dave McKenna: "I just thought, 'Whatever. He's a dirty old man.' " She said she told her friends and family of the incident, and that "nobody didn't believe me." However, she was reluctant to come forward with her story until the recent outpouring of sexual-misconduct allegations following widespread revelations of abuse against film producer Harvey Weinstein.
"Now that the #metoo movement has brought this all to light, I think I should have been a little more alarmed to be touched so inappropriately by a man who was once the leader of the free world," Grolnick told Deadspin. "He knows the power he has, and the reverence he deserves, even while sitting perhaps somewhat senile in a wheelchair."