A journey to the heart of Julie Taymor's imagination
By John Moore
Denver Post Theater Critic
Originally published April 28, 2002
It turns out "The Lion King" doesn't bring Broadway's most highly sought national tour to Denver after all. Instead, it transports the people of Denver nearly 10,000 miles away to the magical splendor of Africa. It is a journey deep into the incomparable imagination of director Julie Taymor.
Taymor promised the debut of her national tour in Denver would be better than Broadway, and her team has delivered – first-class.
From the opening guttural note, "The Lion King" viscerally explodes like a South African choral cannon shot, daring its expectant visitors to open their hardened hearts, inviting them along for a sensorial adventure unlike anything they have experienced before.
When the sweaty cast and crew finishes bestowing its profound, 2-hour-and-45-minute gift upon an exhausted audience, it seems inadequate that all the audience can do to reciprocate is stand and cheer.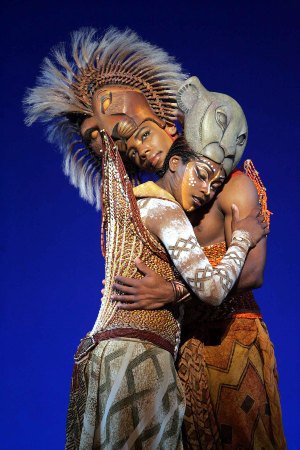 Actually, the audience spends much of its evening spontaneously moving its hands together, acknowledging disparate moments of wonder, such as balletic dance ("Be Prepared"), symphony-quality singing, and ingenious sets, masks and costumes.
But for all of its artistic and illusive splendor, "The Lion King" is a celebration of the extraordinary sophistication and elegance of … simplicity. Taymor uses every second of time and every inch of airspace to create worlds for us to explore. But she uses techniques so deceptively simple and traditional that the audience might think the opposite is true.
Of all her visual tricks, the greatest may be how she transforms 2,800 faces of all ages into the visages of children.
The opening number, "Circle of Life," is a processional of human puppets dressed as jungle animals (the first of 232), from 12-foot giraffes to four-person elephants to lithe cheetahs to flocks of birds. As a saffron sun rises, so does the signal that this is a brand new day for all of us.
"The Lion King" is already a classic tale told on an epic scale.
The story is part "Hamlet," part Cain and Abel, set in the African jungle. It is the story of Mufasa the lion king, who is put to death by his evil brother, Scar. Mufasa's son, Simba, is led to believe he is responsible for his father's death, but after a period of self-imposed exile, he returns to reclaim his rightful place on the throne.
With all due credit to the more than 100 actors and artisans who bring this story to life, it is Lebo M who makes "The Lion King" an incredible emotional experience. The South African composer's chants, expressed in seven dialects, are what give the production its powerful spirit, and it is his rhythmic, percussive poundings that give it the pulse that moves its blood. More than anyone, Lebo M exemplifies theater's power to topple borders. When Rafiki the baboon shaman cries in mourning over the death of Mufasa, you don't have to be South African to understand the language of her words. You feel them:
"Spilled blood. Try courage so the beasts may fall. Those who defy mountains are in truth cowards."
Much has been said of the spectacular, three-dimensionally staged scenes such as the wildebeest stampede. Such moments happily marry the hardware of machinery with the magic of wild imagination.
But one of the greater joys is watching how Taymor employs smaller, unexpected alternative storytelling techniques. Her influences come from Japan, China, Indonesia and beyond, and her techniques are as old as human communication itself. They include commedia dell'arte, miniature puppetry and simple shadows on a cave wall.
For example, when Mufasa takes his son for a walk, instead of the two actors walking across the stage, Taymor projects stick puppets of the two lions onto a cloth, and the figures are exaggerated by a receding flashlight. A drought is depicted by a sheet being slowly pulled through a hole in the raked stage, and a group of antelopes previously shown in the prime of their lives return in skeletal form. When a pride of lionesses erupts in grief over Mufasa's death, ribbons, not tears, burst dramatically from their eyes. When Simba looks into a pond and sees his father in the reflection, the gigantic face of Mufasa forms from nowhere behind him, then dissipates like a settling ripple. These are solutions both simple and revolutionary for a commercial stage.
"The Lion King" is a multicultural family effort, from the nonstop, mind-altering sets by Richard Hudson to the orchestration of Jay Alger to the powerful lighting of Donald Holder to Taymor's endlessly inventive costuming.
But if Lebo M gives "The Lion King" its signature sound, Michael Curry gives it its signature look with his detailed puppetry designs that emphasize the duality of the animals and their human conductors.
The cast yields superlative efforts, from the comedy of Fredi Walker-Browne's Rafiki, Jeffrey Binder's hornbill bird Zazu and John Plumpis' meerkat Timon, to the powerful presence of Alton Fitzgerald White's Mufasa ("They Live in You") to the vocal supremacy of Josh Tower (Simba) and the graceful Kissy Simmons (Nala). Tower faces no small pressure to nail Taymor's lone contribution to the score ("Endless Night") and Simmons is simply spellbinding ("Shadowlands").
Denver's own Akil LuQman II, as cute as cute gets, plays Young Simba with overt exuberance. The 12-year-old was surely nervous in the first professional performance of his life, but he overcomes that with a magnetic smile and his cartwheeling, tail-wagging effervescence.
The central theme of "The Lion King" is the circle of life, a round-trip journey that may be a tad too long for some of its youngest passengers. But for those who go along for the ride, it is the trip of a lifetime. Words seem inadequate to describe an experience that is a visual and aural masterpiece.
"The Lion King"
****(Out of 4 stars)