Death at age 58 has theatre community's heart on its linen sleeve

By John Moore, Senior Arts Journalist
The clothes may not make the man, but under his meticulous eye, Kevin Brainerd's clothes made hundreds of fictional characters come to vivid life on stages from Broadway to Boulder.
Brainerd, an acclaimed theatrical costume designer who wrapped a remarkably wide swath of the Colorado theatre, dance and opera communities in both his attire and acerbic wit, died April 27 from pancreatic cancer. He was 58.
"I have yet to allow myself to wrap my mind around not having him in my next production meeting," said Curious Theatre Producing Artistic Director Chip Walton. "He will be missed in ways beyond words."
Brainerd the costume designer is being remembered for his slavish devotion to detail and historical accuracy. "As a costumer, Kevin just gets you better than you get yourself," said actor and producer Ami Dayan of Maya Productions. Actor Karen Slack added simply: "He always made me look better than I had any business looking."
Brainerd the man is being remembered for his own impeccable fashion style, a mischievous smile, the ever-changing iterations of his facial hair and his love for the Sunday New York Times crossword puzzle.
Brainerd also was known for his hit-or-miss double-entendres, which often made some reference or another to a bishop or a wife. Paige Price, Producing Artistic Director of the Philadelphia Theatre Company by way of Theatre Aspen, calls Brainerd "the master of the drive-by quip." Depending on your own sense of humor, you might say Brainerd was "situationally funny," said his husband, Scenic and Costume Designer Markas Henry, also Director of Theatre at the University of Colorado Boulder.
"He could not tell a joke to save his life … but he was funny as hell."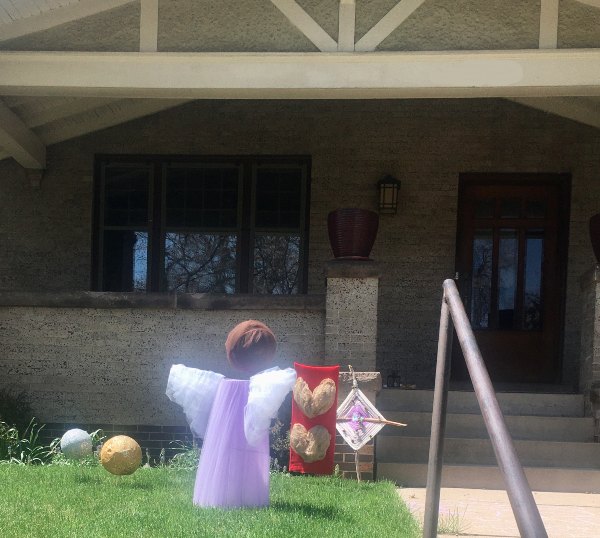 Brainerd also was a skilled croquet player, which suited not only his domestic landscape (the couple's home sits directly across from City Park), but also his demeanor and fashion sense. Henry describes his style as "playfully classic … but with a flair."
Imagine, if you will, Brainerd sporting his summer look of Bermuda shorts with a fitted T-shirt; a white, long-sleeved linen shirt (with the sleeves rolled up); and his essential Converse tennies.
"Oh, yeah, we're both Converse whores," Henry said with a laugh.
Now imagine Brainerd slinging a croquet mallet over his shoulder with one hand and holding a martini in his other. Brainerd was known for a mean martini, Henry said. "But just to clarify," he added winkingly: "He could drink them – not make them."
Brainerd also was capable of making swift and necessary decisions – like the morning after Dayan, in preparation for a production of his play "Conviction," embarked on an ill-conceived, late-night experimentation with hair coloring, leaving Brainerd with no choice the next morning but to shave Dayan's head clean.
"The beauty of that story is Kevin had so much compassion and appreciation for my childish inspiration," Dayan said. "But make no mistake: He was decisive: 'Off with the hair!' And I have to admit it looked better than it did before."
I didn't know I had everything. But now I know I've lost everything."  – Markas Henry

Over his 30-year career, Brainerd designed costumes for dozens of stage productions and assisted on many TV shows, films and no fewer than six Broadway musicals spanning 1993 to 2008. His Broadway break came serving as an assistant to the costume designers on "Bells are Ringing." The pinnacle of his pre-Colorado professional life came while working on Martin Pakledinaz's costume design team (which included Henry) that won the 2002 Tony Award for "Thoroughly Modern Millie."
Brainerd's credits also spanned the Santa Fe Opera, The Guthrie Theatre in Minneapolis, the Contemporary American Theater Festival in Shepardstown, W.V., Opera Colorado, Boulder Ensemble Theatre Company, Theatre Aspen, the Colorado Shakespeare Festival, Phamaly Theatre Company, CU-Boulder and Curious Theatre Company, where he and Henry became full artistic company members in 2012. Brainerd designed 18 shows for Curious Theatre, from Michael Hollinger's "Opus" in 2010 to Tony Kushner's "The Intelligent Homosexual's Guide to Capitalism and Socialism with a Key to the Scriptures" in 2018.
"Kevin was the consummate collaborator — an artist with a clear vision, yet driven in ways that pushed the entire production toward greater clarity and excellence," said Walton. "His attention to detail was painstaking and brilliant."
Brainerd had a unique ability to visualize an instant understanding for each of his characters, Curious Theatre Managing Director Katie Maltais wrote in a 2017 essay. "His meticulous process was to fully psychoanalyze each of his characters to decide who they were, what type of clothes would fill their closets and what they would choose to wear both for big, important moments and simple, everyday ones." Brainerd's clothing choices communicated his characters' cultural identities, professions and economic statuses, while also revealing subconscious clues about their inner worlds.
He will be missed in ways beyond words." – Chip Walton

While Brainerd was known for researching his characters months before his directors would even decide who would be playing them, one of his defining characteristics as a costume designer was to never purchase a single piece of clothing until after he knew exactly what actor would be wearing them. He customized his designs to his actors' skin tones, hair colors and character choices. That was a quality Slack deeply appreciated.
"It doesn't matter how much preparation you do. The moment you put Kevin's clothing on your body, it changes everything," said Slack. "You look at yourself and you see things differently."
Slack had to leave her comfort zone in 2014 to play a scantily-clad human goddess in Curious Theatre's "Venus in Fur," fully revealing a back visibly scarred by multiple spinal surgeries. "I don't have a normal body to work with," she said, "but Kevin always got it just right."
For "Venus in Fur," she added with a laugh, "Kevin knew I was going to be mostly in my undies for the entire play, so it was really important that we had something that was revealing and sexy but also maintained some level of modesty – and made sure my lady bits were covered. Kevin taught me that double-sided tape is my dear friend."
For "Maple and Vine," a story that evoked 1950s Americana, Brainerd dressed Slack in some of his own mother's period dresses. "I felt so honored. They were so beautiful and special," Slack said. "He also taught me how to do a French twist for 'God of Carnage.' He did all this while always making me laugh and being my friend."
The costumes, Brainerd told Maltais, should never overshadow the actors' performances. "If the audience is unaware of my design," he said, "then it is successful."
Mayberry beginnings
Kevin F. Brainerd swelled the population of Vega, Texas, all the way to 670 when he was born on June 24, 1961, in the rural Texas Panhandle town situated on the original Route 66 about 35 miles west of Amarillo. Vega is known for roadside attractions like Dot's Mini Museum, with its Avon perfume bottle collection and Cowboy Boot Tree.
"The Brainerds were the Cleavers of Vega," said Henry, referencing the all-American family from TV's "Leave it to Beaver." Richard Brainerd was the town's beloved District Attorney; Dorothy was a nurse for High Plains Baptist Hospital. They remain there and now have been married for 64 years.
Kevin, the third of their four children, was the smallest member of his high-school marching band – so naturally, he played the tuba.
"Kevin was a crazy, voracious reader, even as a boy," Henry said. "When it was time for lights out, Kevin was the kind of kid who had a flashlight under his sheets reading 'Dracula.' He would climb a tree just to read a book, usually with his cat right by his side. He was a doodler and a drawer, and he began his career as a professional costume designer making clothes for his sister's Barbie Dolls.
Growing up as the son of an attorney, Henry said, not only gave Brainerd a strong moral and ethical sense, it made him incapable of suffering dishonesty or fools. Which means "Kevin could gravitate toward the litigious," Henry said with a laugh. "God forbid you ever pissed him off."
He graduated from the University of Dallas and briefly attended SMU for graduate school before making his way to New York City and embarking on his career in costume design.
Kevin just gets you better than you get yourself." – Ami Dayan

His early professional work included designing costumes at storefront theatres and Off-Broadway – and Off-Off-Broadway – theatres.
His life changed forever, as it did for … perhaps no one else on the planet, while attending a performance of the Broadway musical adaptation of "The Goodbye Girl." That was a short-lived bust about which New York Times critic Frank Rich carped: "How good can a musical be when sneering drama critics get the best lines?"
Henry and Brainerd had met only peripherally, given that both were designing costumes for the New York theatre community. "We are a specific-looking lot," Henry said. "The swatch rings, the shipping tags, the scissors and the staplers in our pockets give us away."
The two were being initiated into the United Scenic Artists Local 829 union when Henry mentioned to Brainerd that he had an extra ticket the next night to see "The Goodbye Girl," starring Bernadette Peters and Martin Short. Of the musical, Henry remembers only that it was kind of terrible. But he does remember the important stuff. "I remember that he had the most adorable twinkly eyes, a mischievous smile and an infectious laugh," Henry said. "I remember that we liked the same foods, and we hated the same foods. And I remember  that he had amazing hands – and great calves."
That it was June 8, 1993.
"We were an instant thing," Henry said, "and we saw each other every day forward."
The couple had a civil-union ceremony celebrating their 20th anniversary in 2013, and they were legally married in Denver in 2015.
The couple had moved to Denver at a time when Broadway was going big while the artisans' time and resources were getting smaller. Henry, who had always wanted to teach, was hired as a temporary costume worker at the University of Colorado Boulder in 2004. He was soon made full-time and now runs the university's Department of Theatre. The move gave the couple the opportunity to work on artistic projects together, relish in their complementary artistic aesthetics – and coordinate their calendars.
Life changes in an instant
Brainerd, whom Price will remember for flashing "that impish smile that hid the cigarettes he was always quitting," began feeling pains in his back two years ago. Then came a cough he couldn't shake. At 8:05 a.m. the morning after Christmas 2018, a doctor called with the results of a CT scan that revealed both a small spot on one lung and a bigger mass in his pancreas. The next year was all about scans, biopsies, chemotherapy infusions and radiation treatments. Yet Brainerd and Markas managed one last summer designing Theatre Aspen's "God of Carnage" and "Little Shop of Horrors" together.
In October, Brainerd had surgery that showed his cancer had spread to his stomach lining and was now inoperable. Henry says Brainerd approached his 16-month cancer journey with "resilience, strength and courage."
It was in the early stages of that odyssey that Brainerd won his first major award since the Tony Award in 1993: The Colorado Theatre Guild's 2019 Henry Award (regrettably, not named after Markas) for costuming Theatre Aspen's "Ragtime." It was an award, Henry said, that meant the world to Brainerd.
In the final 10 days of his life, when Brainerd wasn't always cognizant through his morphine moments, another award was on Brainerd's mind. Henry recalls Brainerd sitting at edge of his bed at home while drinking from a sippy cup. "Kevin pushed the cup away and reached out his hands," Henry said. "I asked him: 'What do you want?' And he looked me in the eye and said, 'Hand me my Oscar!' "
When the pain softens, Henry hopes he can look back at moments like those and smile.
"I didn't know I had everything," Henry said. "But now I know I've lost everything."
Memorial service planned for future
In addition to his parents, Brainerd is survived by his sister, Becky Casso, her husband, jazz saxophonist Carlo Casso, and their children, Michelle and Daniel; his brother, Rick Brainerd, his wife, Gayla, and their children, Lauren and Trey; and his brother, Stephen Brainerd, and his husband, David. Kevin is also survived by his beloved Cat, Zeb, and was preceded in death by a pair of notorious felines named Theodore and Clifford.
Price equates Brainerd to a splash of paint. A force of energy. "Kevin was mischievous in that what he presented to you was only the part he wanted you to see," Price said. "Those of us who knew his heart delighted in knowing that he was a deeply feeling person and he would deflect kindness with his sometimes wry, Eeyore-like personality that belied his absolute attention to whatever anyone needed from him."
Donations can be made in Brainerd's  name to the Pancreatic Cancer Action Network or Curious Theatre Company, where a memorial celebration will be held at a later date.
Senior Arts Journalist John Moore was named one of the 12 most influential theatre critics by 'American Theatre' magazine and has been covering the Colorado theatre community since 2001. He is the founder of The Denver Actors Fund and was the recent recipient of Actor's Equity Association's Lucy Jordan Humanitarian Award. Reach him at culturewestjohn@gmail.com.
KEVIN BRAINERD/Selected shows
Broadway
"She Loves Me," Assistant to the Costume Designer
"Bells Are Ringing," Assistant Costume Design
"Thoroughly Modern Millie," Assistant Costume Design
"All Shook Up," Associate Costume Design
"Ring of Fire," Associate Costume Design
"Dividing the Estate," Associate Costume Design

Off-Broadway
"Queen Bee's Last Stand," Urban Stages, Costume Design
"The Sweepers," Urban Stages, Costume Design
"Seven Rabbits on a Pole," Urban Stages, Costume Design
"Conviction," 59E59, Costume Design
Film
"A Beautiful Mind"
"The Mirror Has Two Faces"
"Ghost Dog"
"Made"
"Requiem for a Dream"
"Exit Wounds"
Boulder Ensemble Theatre Company
"Seminar"
"Crime and Punishment"
Curious Theatre Company
"The Intelligent Homosexual's Guide to Capitalism and Socialism with a Key to the Scriptures"
"Detroit 67"
"Appropriate"
"Building the Wall"
The Elliot Plays: "The Happiest Song Plays Last," "Water by the Spoonful" and "Elliot, A Soldier's Fugue"
"Sex With Strangers"
"Charles Ives Take Me Home"
"Lucky Me"
"Venus in Fur "
"Rancho Mirage"
"God of Carnage"
"Maple and Vine"
"Becky Shaw"
"Clybourne Park"
"Homebody/Kabul"
"Opus"
Colorado Shakespeare Festival
Phamaly Theatre Company
"James and the Giant Peach"
Maya Productions
"A Happy End"
"Conviction"
Theatre Aspen
"The 39 Steps"
"Avenue Q"
"Ragtime"
"Dear Edwina"
"Buyer & Cellar"
"The Cottage"
"Becky's New Car"
"Annie"
"God of Carnage"
"Little Shop of Horrors" (twice)
Lake Dillon Theatre Company
Byers-Evans House Theatre
University of Colorado Boulder
"Little Women, the Musical"
"You Can't Take It With You"
"Twelfth Night"
"Peter and the Starcatcher"
"Cloud 9"