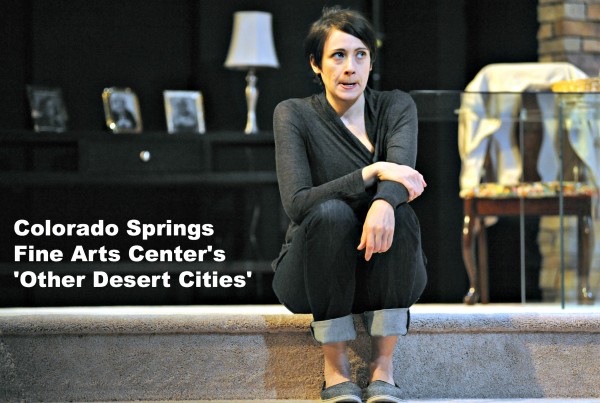 Kate Berry stars in "Other Desert Cities" at the Colorado Springs Fine Arts Center. Photo by Jeff Kearney.
By John Moore
March 30, 2013
There's been another twist in the wild tale of the Colorado Springs Fine Arts Center's Colorado premiere of the celebrated play "Other Desert Cities." David Hastings is now the fourth actor to play the role of Lyman in a staging that has had more real surprises than the best fictional drama.
You may have read here that actor Daniel Noel had a heart attack Thursday afternoon and was replaced by multiple award-winning Denver actor John Arp, who performed that night with just one 30-minute rehearsal. Arp was in a unique position to help because he's already prepping to understudy the same role in the otherwise unrelated production of "Other Desert Cities" the Denver Center Theatre Company is currently presenting in preview performances. It officially opens on April 4.
Arp played the role in Colorado Springs on Thursday and Friday, when more unexpected drama struck back at his home theater in Denver. Arp is understudying for actor Mike Hartman as Lyman in the Denver Center Theatre Company's own "Other Desert Cities" production. The DCTC decided Saturday morning to put Arp on "a show-by-show standby" status after Hartman began to lose his voice, Fine Arts Center artistic director Scott Levy said. "So they will not release him to go on for us Saturday or Sunday."
Poor, poor Lymans … everywhere.
Luckily Hastings, named best actor for his role in Star Bar Player's "Night and Her Stars" by the Pikes Peak Art Council in 2007, was standing by. "He was able to watch the show (Friday) night, and we had a two-hour put-in rehearsal later (Saturday) morning," Levy said. Hastings performed Saturday's two performances and will finsh off with the closing performance at 2 p.m. Sunday.
Arp, winner of a record three Denver Post Ovation Awards for "best year by an actor," took the stage on Thursday with a script in his hands, but not for the words, which he knew; rather because, "I needed to know where to walk," he said.
"He gave a fabulous performance," Levy said.
Ironically, Hartman soldiered through on Saturday, and Arp was not expected to be needed to go on in the DCTC's "Other Desert Cities." When Arp got that word, he offered his services to Levy again. But by that time, the production had been through enough changes, so it was decided Hastings would go on.
Noel, who was joined the Colorado Springs cast a week into production, is in stable condition, resting in a Colorado Springs hospital. He took over for an actor who left for personal reasons.
Understudies are an amazing thing. In December, local actor Michael E. Gold was called on to perform in Denver Center Attractions' "Irving Berlin's White Christmas" when the actor cast in the lead role of Bob lost his voice mid-performance. Gold finished the performance, and took over for the next two weeks, even though he had suffered the "widow-maker" heart attack just five days before.
But then again, neither Arp nor Hastings were even understudies. They were deus-ex-rescuers.
"Other Desert Cities" plays in Colorado Springs through Sunday, March 31, at 30 W. Dale St., 719-634-5583, or http://www.csfineartscenter.org/. Remaining showtime: 2 p.m. Sunday.
The story at a glance: When Brooke Wyeth arrives at her parents' Palm Springs mansion on Christmas Eve with the manuscript of her tell-all memoir in tow, she unearths a devastating family secret. The Colorado Springs Fine Arts Center gets a jump on the Denver Center Theatre Company in presenting the Colorado premiere of this 2012 Pulitzer Prize finalist written by Jon Robin Baitz. Strong language, adult situations and drug use.