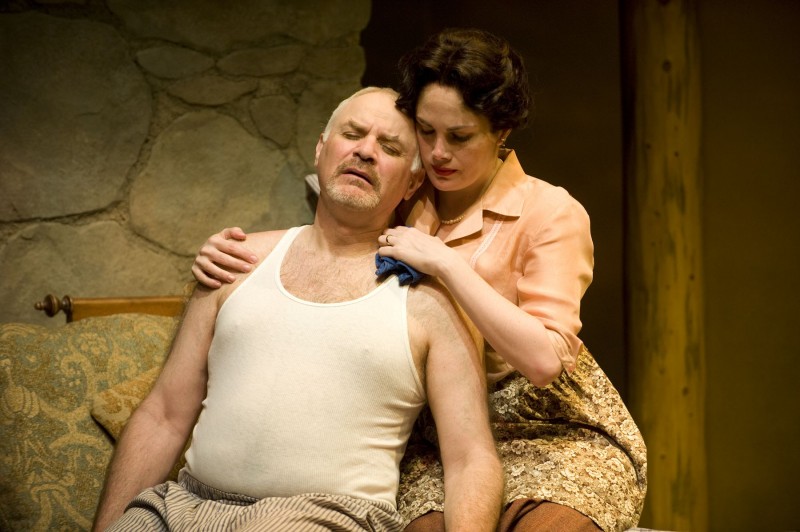 By John Moore
Nov. 19, 2012
The lineup for the Denver Center Theatre Company's 8th Annual Colorado New Play Summit in February will include the newest work by rising playwriting star Laura Eason, a graduate of Cherry Creek High School, and a collaboration between former Colorado First Lady Helen Thorpe and Karen Zacarías.
Eason's adaptation of "The Adventures of Tom Sawyer" was staged by the DCTC last November, and in March was performed at New York's New Victory Theatre. Her breakthrough play, "Sex With Strangers," just bowed in Australia. The DCTC presented Zacarías' "Mariela in the Desert" in 2010.
According to the DCTC's announcement, the New Play Summit will feature topics ranging from immigration assimilation to a modern take on Homer's "The Odyssey," and a bawdy comedy about a man dragged into a drag act. The selections:
"The Most Deserving," by Catherine Trieschmann (author of the Boulder Ensemble Theatre Company's just-closed "How the World Began")
"The Legend of Georgia McBride" by Matthew Lopez
"The Vast In-Between" by  Laura Eason
Karen Zacarías' "Just Like Us" (based on the best-seller by  Thorpe)
"Black Odyssey," by Marcus Gardle
The New Play Summit will take place Feb. 8-10, 2013. All plays above will get professional staged readings, while two selections from last year's fest: "Ed, Downloaded," and "Grace, Or the Art of Climbing," will be fully staged.
Members of the public are invited to join with artistic directors, literary managers, dramaturgs, directors, and media representatives, who travel from across the country to attend what under artistic director Kent Thompson and director of new-play development Bruce K. Sevy has come to be regarded as one the nation's leading new-play festivals.
Full Summit passes are available for purchase now. Tickets to individual readings will be available in early January. Visit www.denvercenter.org/summit  or call 303-893-6030.
Here are unedited excerpts from the company announcement:
Staged reading
THE MOST DESERVING
By Catherine Trieschmann
Tasked with awarding $20,000 to a deserving and needy local artist who "demonstrates an underrepresented American voice," a small town arts council in Ellis County, Kansas, comically erupts into chaos.  Should the award go to a high school teacher/photographer of modest talent or to the self-taught African-American artist who creates controversial religious figures out of trash? The Most Deserving is a satirical, insightful look at how the arts collide with politics, self-interest, taste, relationships, egos, and gossip.
Over the past decade, Catherine Trieschmann has steadily risen through the ranks of today's playwrights, seeing her work come to life on stages across the country and overseas in London and Sydney. Her plays include The Bridegroom of Blowing Rock, Crooked, How the World Began, and Hot Georgia Sunday. She has received the Weissberger Award, the Otis Guerney New Voices Playwriting Award from the Inge Theatre Festival, and the Edgerton New Play Award. Trieschmann also wrote the screen play for the film Angels Crest, which premiered at the 2011 Tribeca Film Festival before being released by Magnolia Pictures. Originally from Athens, Georgia, Trieschmann now resides in Hays, Kansas, a small town that has heavily influenced her latest works, How the World Began and The Most Deserving.
Staged reading
THE LEGEND OF GEORGIA MCBRIDE
By Matthew Lopez
He's young, he's broke, his landlord's knocking at the door, and he's just found out his wife is going to have a baby. To make matters even more desperate, Casey is fired from his gig as an Elvis impersonator in a run-down, small town Florida bar. When the bar owner brings in a B-level drag show to replace his act, Casey finds that he has a whole lot to learn about show business―and himself. From one of the most-produced playwrights of the year, The Legend of Georgia McBride is a joyous, bawdy comedy with a ton of music and a great big heart.
Matthew Lopez is one of the brightest rising stars in the playwriting community today. Lopez's debut production, The Whipping Man, premiered Off-Broadway at Manhattan Theatre Club in 2011, and earned the playwright the John Gassner Playwriting Award from the Outer Critics Circle. Prior to New York, the play was presented at Luna Stage, Penumbra Theatre Company, Barrington Stage Company, and the Old Globe in San Diego, where he is currently Artist-in-Residence. It has become one of the more regularly produced new American plays with productions scheduled at over a dozen theatres across the country in 2012. His play Somewhere received its world premiere last autumn at the Old Globe, directed by Giovanna Sardelli, and will be presented at TheatreWorks in Palo Alto, CA in 2013 with Ms. Sardelli directing again.  In addition to his residency at the Globe, Lopez is commissioned by Roundabout Theatre Company, is a New York Theatre Workshop Usual Suspect, and is a recent member of the Ars Nova Play Group.
Staged reading
THE VAST IN-BETWEEN
By Laura Eason
Cate becomes obsessed with the man down the street who is exposed for having maintained two families in two different cities for years.  Then her own marriage becomes strained when her unemployed husband refuses to compromise in his job search, and she finds herself being drawn into her own possible double life.  A candid look at relationships and marriage in today's troubled economy.
Laura Eason has been nominated for seven Chicago Awards, winning two for Best New Work (In the Eye of the Beholder) and Best Adaptation (The Old Curiosity Shop). Her large collection of original works and adaptations has been workshopped and produced around the U.S. and her 2011 production Sex with Strangers made its way to Australia's Sydney Theatre Company. Eason also served as the Artistic Director of the 2011 Regional Tony Award-winning Lookingglass Theatre in Chicago for six years.
The Vast In-Between was workshopped at the Perry-Mansfield New Works Festival  in Steamboat Springs, Colorado. It is a Denver Center commission.
Staged reading
JUST LIKE US
Based on the book by Helen Thorpe
Adapted by Karen Zacarías
Based on Helen Thorpe's bestselling book, Karen Zacarías' play follows four Latina girls in Denver, two who are documented and two who are not, as they complete their final year of high school, then move through college and into the world. Their close-knit friendships begin to unravel as opportunities open or close for each girl according to her immigration status. When a political firestorm arises in the wake of the shooting of a policeman, their situations are thrown into even bolder relief. Just Like Us grapples with some essential questions: Who is an American? Who gets to live in America? What happens when we don't agree?
Karen Zacarías' plays have been produced in the U.S., Canada, Europe, and the Caribbean. Her awards include the 2010 Steinberg Citation for Best New Play (Legacy of Light), the National Francesca Primus Prize (Mariela in the Desert), the New Voices Award, the National Latino Play Award, the ATT/TCG First Stages Award, and Helen Hayes Award for Outstanding New Play (The Sins of Sor Juana). She has been  commissioned by The Kennedy Center, Arena Stage, The Goodman Theatre, The Denver Center, Alliance Theatre, Round House Theatre, Imagination Stage, Berkshire Theatre Festival, South Coast Rep, La Jolla Playhouse, The Arden, Cleveland Playhouse, San Jose Rep, and others. Zacarías is founder of the award-winning arts program Young Playwrights' Theater which has served over 75,000 children.
Helen Thorpe was born in London and grew up in Medford, New Jersey. Her journalism has appeared in The New York Times Magazine, New York Magazine, and The Texas Observer. Thorpe has worked for Texas Monthly, The New York Observer, and The New Yorker, where she wrote "Talk of the Town" stories. She is the former First Lady of Colorado.  Just Like Us is her first book.

Just Like Us was recently workshopped by DCTC in Los Angeles. It is a Denver Center commission.
Staged reading
BLACK ODYSSEY
By Marcus Gardley
Playwright Marcus Gardley magically re-casts Homer's Odysseus as a Black soldier returning home from a harrowing tour in the Gulf War.  The great Greek archetypes reverberate with new world African-American culture as Gardley fuses modern reality with ancient myth in this gripping new play.
Marcus Gardley's plays have been produced throughout the U.S. His drama Every Tongue Confess premiered at Arena Stage in Washington D.C. in 2010, and was nominated for the Steinberg New Play Award, the Charles MacArthur Award, and received the Edgerton Foundation New Play Award. His musical On the Levee premiered in 2010 at LCT3/Lincoln Center Theater in New York and was nominated for 11 Audelco Awards, including Outstanding Playwright. He is the recipient of a Helen Merrill Award, a Kesselring Honor, the Gerbode Emerging Playwright Award, the National Alliance for Musical Theatre Award, the Eugene O'Neill Memorial Scholarship, the ASCAP Cole Porter Award, and the 2011 PEN/Laura Pels award for Mid-Career Playwright.
Black Odyssey is a Denver Center commission.
World Premiere – Mainstage production
GRACE, OR THE ART OF CLIMBING
by Lauren Feldman
Directed by Mike Donahue
In this captivating tale of a reluctant young athlete, rock climbing is both metaphor and action.  Emm struggles with doubt, depression, and her own demons as she trains mind, body, and spirit for a world climbing competition.
Lauren Feldman's plays have been produced throughout the U.S. and at the Royal Court Theatre in London. She was one of two Americans in the Royal Court Theatre's EXPOSURE 2000: "Crossing the Borders" project, and one of four Americans in World Interplay 2004, the international festival of young playwrights held in Australia every other year. A two-time Downstage Miami Playwriting Fellow, she has worked with Arthur Kopit and Tina Howe. Grace, or The Art of Climbing was workshopped at the 2012 Colorado New Play Summit.
World Premiere – Mainstage production
ED, DOWNLOADED
by Michael Mitnick
Directed by Sam Buntrock
Videography by Charlie I. Miller
This intriguing new comedic drama, set sometime in the not too distant future, tells the story of Ed, who is dying.  Given a chance to be immortal, Ed selects the trendy procedure of having his brain downloaded. He's allowed ten memories to accompany him into eternity. But when his girlfriend discovers that Ed has chosen moments spent with another woman, she decides to intervene.
This arresting new work will be directed by Sam Buntrock who directed the first West End revival of the musical Sunday in the Park with George. This transfer from London's Menier Chocolate Factory studio theatre went on to take Broadway by storm with its highly innovative use of integrative onstage video projections, winning the 32-year-old director stellar reviews in both the UK and America, and Olivier, Tony, and Drama Desk award nominations. Playwright Michael Mitnick has had his works developed around the country at theatres including Manhattan Theatre Club, Second Stage, Ars Nova, McCarter Theatre Center, TheatreWorks, and The Kennedy Center.  Current projects include "Animal House: The Musical," being developed by Universal Pictures Stage Productions, featuring a score by the band Barenaked Ladies and a libretto by Michael Mitnick. The production will be directed and choreographed by Casey Nicholaw, a Tony Award-winner for "The Book of Mormon." He is also at work on a colossal production of "King Kong, the Eighth Wonder of the World," set to open in Melbourne next year, featuring music by Elbow's Guy Garvey, Massive Attack's Robert Del Naja, the Avalanches, and Sarah McLachlan. This big-budget production, directed by Daniel Kramer and featuring a one-ton animatronic gorilla, will include a soundtrack arranged by Marius de Vries, who has produced records for Rufus Wainwright and Elbow, and who directed the music for Baz Luhrmann's Moulin Rouge.
Ed, Downloaded, equal parts live action and feature film, was commissioned by the Denver Center Theatre Company and workshopped at the 2012 Colorado New Play Summit.