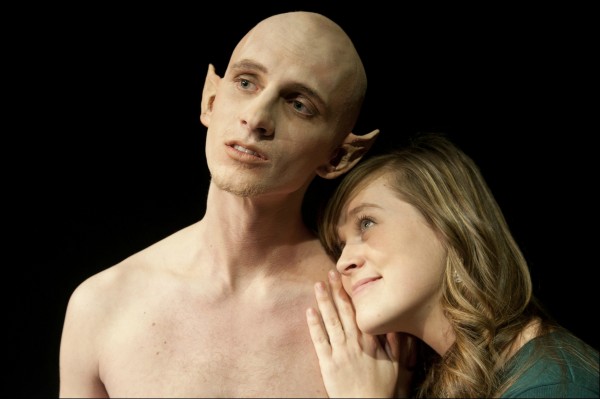 By John Moore
Feb. 21, 2013
Adam Perkes, a gifted young stage actor best known for his comic swagger on stage and his deep sensitivity off it, has died at age 27, the Garfield County coroner confirmed today.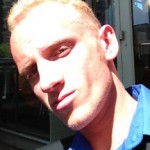 In a recent playbill, Perkes used the space normally reserved for actors to talk about their own stage accomplishments as an opportunity to remind anyone in his audience "that all good things stem from simple acts of love." He went on to express a deep sadness for the victims of the Aurora cinema shootings.
"The next time you feel like the world done you wrong," he wrote, "eat a glazed donut."
Perkes was found dead at 2 p.m. Wednesday in the bathtub of a room at the Hot Springs Lodge in Glenwood Springs. Police Chief Terry Wilson told the Glenwood Springs Post Independent there were indications that Perkes had consumed alcohol and pills before he died, and that foul play is not suspected. Wilson said he is awaiting a coroner's report to determine if the death will be ruled as suicide or accidental.
Perkes was the star of the Equinox Theatre's current staging of "Bat Boy, the Musical," which had been scheduled to run through March 9 at the Bug Theatre. An announcement from the company will be made soon on whether the rest of the run will happen.
"My first thought was how much of a loss this is for the entire theater community, because he had so much left to share," said Equinox Theatre Company producer Deb Flomberg.
The family has announced that a funeral service will be held at 1:30 p.m. Wednesday (Feb. 27) at the Church of Jesus Christ of Latter-day Saints, 9277 W. Dartmouth Place in Lakewood. A viewing will be held at the same address before the service from noon to 1 p.m.
Perkes, also a gifted pianist, was nominated for a 2010 Denver Post Ovation Award as best supporting actor in a comedy for his performance in the Miners Alley Playhouse's "Habeas Corpus" in Golden. A bespectacled Perkes was remarkable in playing a doctor's grotesquely awkward – and libidinous – son.
Wrote Juliet Wittman of Westword: "Where did they get the expectorating Adam Perkes? He cuts loose only once or twice as Dennis, but when he does, his lunacy is inspired." Added Craig Williamson of the North Denver Tribune: "Adam Perkes captures the pimple-faced hypochondriac son with an appropriate amount of whining and sniveling."
Perkes also played Leonard Irving in Equinox's production of "In the Next Room, or The Vibrator play," and as Modred in Performance Now's "Camelot" at the Lakewood Cultural Center.
More recently, Perkes took on the monster role of the barber Pirelli in the Ignite Theatre's ambitious and bloody "Sweeney Todd." In his program bio, Perkes said he was "tickled red" to be playing the role in one of his favorite musicals.
His bio goes on to say:
"Acting is perhaps his second favorite activity in all of London and he is grateful and proud to be able to be given the opportunity. He would like to thank his friends for their emotional support and his family for keeping him alive. Adam would like to remind his audience that all good things stem from simple acts of love. His heart and prayers go out to everyone directly (and indirectly) affected by The Century 16 shootings. Enjoy the show and next time you feel like the world done you wrong, eat a glazed donut."
"This is a crushing shock," said Boni McIntyre, who played Mrs. Lovett in "Sweeney Todd." "I can't seem to stop the tears right now."
McIntyre said Perkes was the most patient actor she has ever met. "He would sit through hours of rehearsal for his one moment to shine," she said. "He never complained, and he was always spot-on and hilarious. He was someone you wanted to be around because he had such great energy. The twinkle that was always in his eye seemed irrepressible."
Theater blogger David Marlowe wrote of Perkes' performance in "Sweeney Todd":  "Adam Perkes' Pirelli is yet another in a string of superbly crafted manic characterizations." Added Michael Mulhern of BroadwayWorld.com: "Adam Perkes stole the show with his over-the-top, hilarious interpretation of Pirelli."
Adam Michael Perkes was born Nov. 25, 1985, to parents Brent and Brenda Sue, and was the valedictorian of his graduating class at Bear Creek High School. "His commencement speech had us all on the floor at Red Rocks," said Connie Helsley, owner of the Heritage Square Music Hall in Golden and mother to one of Perkes' close high-school friends. He will be so missed."
Perkes went on to graduate from the University of Colorado-Boulder with honors from the English department specializing in creative writing.
Recently, Perkes submitted an audition tape to the Starz/Encore Network for an upcoming reality show. Here's how he described himself: "Generally, people like me. I have pretty good fashion sense … and I look really good in hats." (See video below.)
Flomberg said Perkes was particularly relishing the opportunity to play the Bat Boy because it was one of his first opportunities to play a leading role in the Denver theater community. That – and because the job got him recently featured in the infamous Weekly World News tabloid. "Bat Boy Spotted in Denver Theatre," the headline screamed.
"My nipples have been featured in a tabloid," Perkes wrote on his Facebook page. "I have reached the top."
"Bat Boy" is an irreverent musical inspired by the very same tabloid's account of a half boy/half bat creature discovered in a cave near Hope Falls, W.V. In the story, the town veterinarian takes the Bat Boy into his home as a member of the family — until the narrow-minded people of the town turn on him.
Wrote "The Playwright Priest," Patrick Dorn: "Perkes is uncanny as Bat Boy. His character arc and transformation from a terrified cave creature to a Milton-esque superman/monster is phenomenal."
Perkes was raised Mormon and often wrote with equal parts cleverness, humor and poignance about his life and personal struggles on Facebook. In one section, he teases God for not making him a lesbian. "I'm deeply disappointed by my sexual interest in men," he wrote. During Facebok's recent "Doppelganger Week," Perkes replaced his profile picture with that of actor Neil Patrick Harris ("How I Met Your Mother").
On a more serious note, Perkes quotes Oscar Wilde in his "about me" description, saying, "Man is least himself when he talks in his own person. Give him a mask, and he will tell you the truth."
Perkes is survived by his parents, siblings, Skyler James (23), Chorus Ann (15), Charity Rose (12) and Sean David (8); grandparents, aunts, uncles and cousins. He was preceded in death by his sister, Natasha.
"The family will greatly miss his dramatic flair and sharp wit," Perkes' funeral-home obituary says. "Adam was, and is, greatly loved by many. He will be deeply missed until we meet again."
Perkes will be buried beside his infant sister Natasha in Hyde Park, Utah, on Saturday, March 2.
The family has asked that memorial donations be made in Perkes' name to the National Alliance for Mental Illness (NAMI) at
1100 Filmore St., Denver, 80206.
Adam Perkes' audition video Starz/Encore:

Adam Perkes submitted this video to apply to be on an upcoming road trip reality show. In it, he explains that he normally has "gorgeous blonde, curly hair," but that he shaved it to star in the Equinox Theatre's current production of "Bat Boy, the Musical."
Click here to subscribe to the CultureWest.org Monthly E-Newsletter
\