'Not knowing what is wrong with your body is scary. Not being able to get answers is even worse.'
Aid recipient: Actor, dancer, costumer and choreographer Cole Emarine is a Fort Collins native who has worked on more than 150 productions across the Front Range, and in a variety of capacities. Most recently, he played Race in "Newsies" and Bert in "Mary Poppins" at the Candlelight Dinner Playhouse in Johnstown. He also costumed and choreographed "Into The Woods" for Breckenridge Backstage Theatre (running through August 11) and is currently performing in "Beauty and the Beast" at BDT Stage (running through August 31). He also recently played Angel in OpenStage Theatre & Company's "Rent" in Fort Collins and has performed at the Arvada Center, High Performance Dance Theatre, Lone Tree Arts Center, Up In Lights, Opera Fort Collins, Carousel Dinner Theatre and Fort Collins Children's Theatre. This fall, his choreography can be seen in OpenStage's "The Full Monty," and he will play Ted Hanover in Candlelight's "Holiday Inn." Cole is a graduate of Thompson Valley High School in Fort Collins.
His medical story: Cole has been struggling with intestinal distress for months. When he began having difficulty completing the flight stunts in "Mary Poppins," initial medical tests indicated that the problem might just be an allergy. But as his pain continued and grew more severe, he went to the emergency room and was diagnosed with Microscopic Colitis, an an inflammation of the colon. He underwent month-long steroid treatments to keep his flare-ups at bay. Cole has no health insurance, and his out-of-pocket expenses have been significant.
How we have helped Cole: While they do not constitute the totality of his expenses related to this medical incident, Cole submitted two E.R. bills totaling $2,000.04 for possible Denver Actors Fund reimbursement. The DAF Board of Directors has voted to compensate Cole for the full amount requested, or $2,000.04. To date, including targeted donations from the community, The Denver Actors Fund has now provided Cole with $2,375 in overall medical assistance.
How you can help us replenish: If you would like to direct a specific donation to help give Cole more financial breathing room, simply mail checks in any amount made out to Denver Actors Fund (with Cole Emarine's name written in the topic field), to P.O. Box 11182, Denver, CO 80211. Or use this donation link. If you use the online option, be sure to designate that your donation is a targeted donation for Cole Emarine. (He will receive 100 percent of your donation.) Otherwise, your donation will be applied to the replenishment of the Denver Actors Fund's general fund.
A message from Cole: "Not knowing what is wrong with your body is scary. Not being able to get answers is even worse. There are a lot of questions still to be answered about my condition, but it seems so much less daunting with the support of The Denver Actors Fund and my Colorado theatre family! I have received so much love and support from my families at Candelight Dinner Playhouse, BDT Stage, OpenStage and the Cast of "Into The Woods" at Breckenridge Backstage Theatre. This community of artists has held me up when I was feeling lost and helped me find the drive to perform through my physical struggle. For that, I am forever grateful!"
The Denver Actors Fund has now made more than $375,000 available to Colorado artists in medical need.
Read testimonials from other Denver Actors Fund beneficiaries here
Note: At The Denver Actors Fund, anonymity of aid recipients is presumed and fully protected, unless and until the recipient chooses to have their story told.
---
ABOUT THE DENVER ACTORS FUND:
The Denver Actors Fund is a modest source of immediate, situational relief when members of the local theater community find themselves in medical need. In addition to $375,000 in financial relief, a team of more than 60 Denver Actors Fund volunteers have offered good neighborly assistance to more than 100 beneficiaries including meal prep and delivery, child care, transportation, errands, construction, pet-sitting and more. For more information, visit our web site at DenverActorsFund.Org.
---
HOW TO APPLY FOR AID:
To apply for Denver Actors Fund aid: Fill out this brief online form here
---
MORE WAYS TO HELP:
DONATE ONLINE:
Go to our online giving site at: ColoradoGives.Org
DONATE BY MAIL:

Send checks made out to The Denver Actors Fund to:
P.O. Box 11182
Denver, CO 80211
VOLUNTEER:
Ever thought about taking a more active role in The Denver Actors Fund? Click here for more information
COME TO OUR EVENTS:
Friends, we at The Denver Actors Fund believe in building community while building funds. Most of our events are performative in nature so that you have a good time while helping a good cause. Here are some of the events that are currently being planned on our behalf. Visit denveractorsfund.org anytime for an updated list.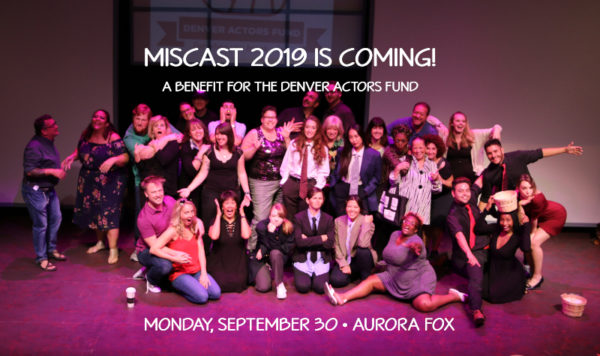 MONDAY, AUGUST 5: Our friends at Miners Alley Playhouse are hosting an Industry Night performance of its hit comedy "Fairfield," by Eric Coble, with ALL PROCEEDS benefiting the Denver Actors Fund. Tickets, normally up to $32, are just $15 on this night only. "Fairfield" is a regional premiere that "pushes every race button to hilarious effect," says Alex Miller of OnStage Colorado. "Peace. Love. Respect for all." Fat chance at Fairfield Elementary, a public school located in a diverse, liberal district. When a young teacher's misguided attempts at celebrating Black History Month take a hilariously dark turn, chaos erupts. "Fairfield" is directed by Jada Suzanne Dixon and features Sheryl McCallum, Adeline Mann, newly coronated Henry Award-winning Outstanding Actor Brian Landis Folkins, MacKenzie Beyer, Kristina Fountaine and Sinjin Jones. Join us at 7:30 p.m. Monday, August 5. Tickets available by calling 303-935-3044 or going online here. Miners Alley Playhouse is located at 1224 Washington Avenue. Golden. Thank you to Len Matheo, Elizabeth Scott-Mckean, Jonathan Scott-Mckean, Lisa DeCaro, Bryanna Scott, the cast, crew and whoever kindly works the bar. It's nights like these that make what we do possible!
MONDAY, SEPTEMBER 30: "Miscast," which is presented each year by Robert Michael Sanders as a benefit for The Denver Actors Fund, is an opportunity for local performers to sing songs and act out scenes they would never … ever! … get cast to perform on any legit stage. Think gender-bending, race-bending and age-bending. Odd couples and mixed groups. Wrong is oh so right. "Miscast" has evolved over the years into one of the biggest nights of the year in the Colorado theatre community – and it is a really good show. "Miscast 2019" will be held Sept. 30 at a new location: The Aurora Fox Arts Center. Tickets are on sale here.
VISIT OUR ONLINE MERCH STORE:
Click here to see how you can buy DAF products such as T-shirts, key chains, puzzles and much more.