'I am incredibly grateful to have Denver Actor's Fund as a resource'
Aid recipient: Boulder's Kristy E. Pike directed and designed the lighting for The Upstart Crow Theatre Company's The Lion in Winter in August 2018, with previous lighting credits including As You Like It and Pygmalion. She is currently designing the lighting for All My Sons, which opens in September. As an actor, she played Phebe in The Crow's As You Like It and as Eliza in Pygmalion. Kristy also has served as the company's Publicity Director for the past four years and also works part-time in the BDT Stage box office.
Her medical story: Kristy was in a bicycle accident on July 2 and suffered a a concussion and sprained wrist. Three days later, she was sent to the E.R. with a completely different medical issue. Between the two incidents, she was unable to perform 52 hours of scheduled box-office work as she recovered. Kristy was left with $752 in post-insurance medical expenses and missed out on $505 of potential wages.
How we have helped Kristy: After examining Kristy's hospital and employment records, The Denver Actors Fund Board of Directors has voted to compensate Kristy for her out-of-pocket expenses and lost scheduled wages, or $1,257.
How you can help us replenish: If you would like to help us replenish by donating to The Denver Actors Fund, simply mail checks in any amount made out to Denver Actors Fund to P.O. Box 11182, Denver, CO 80211. Or use this donation link, with our humble thanks.
A message from Kristy: "I am incredibly grateful to have Denver Actor's Fund as a resource. Thank you from the bottom of my heart."
The Denver Actors Fund has now made more than $375,000 available to Colorado artists in medical need.
Read testimonials from other Denver Actors Fund beneficiaries here
Note: At The Denver Actors Fund, anonymity of aid recipients is presumed and fully protected, unless and until the recipient chooses to have their story told.
---
ABOUT THE DENVER ACTORS FUND:
The Denver Actors Fund is a modest source of immediate, situational relief when members of the local theater community find themselves in medical need. In addition to $375,000 in financial relief, a team of more than 60 Denver Actors Fund volunteers have offered good neighborly assistance to more than 100 beneficiaries including meal prep and delivery, child care, transportation, errands, construction, pet-sitting and more. For more information, visit our web site at DenverActorsFund.Org.
---
HOW TO APPLY FOR AID:
To apply for Denver Actors Fund aid: Fill out this brief online form here
---
MORE WAYS TO HELP:
DONATE ONLINE:
Go to our online giving site at: ColoradoGives.Org
DONATE BY MAIL:

Send checks made out to The Denver Actors Fund to:
P.O. Box 11182
Denver, CO 80211
VOLUNTEER:
Ever thought about taking a more active role in The Denver Actors Fund? Click here for more information
COME TO OUR EVENTS:
Friends, we at The Denver Actors Fund believe in building community while building funds. Most of our events are performative in nature so that you have a good time while helping a good cause. Here are some of the events that are currently being planned on our behalf. Visit denveractorsfund.org anytime for an updated list.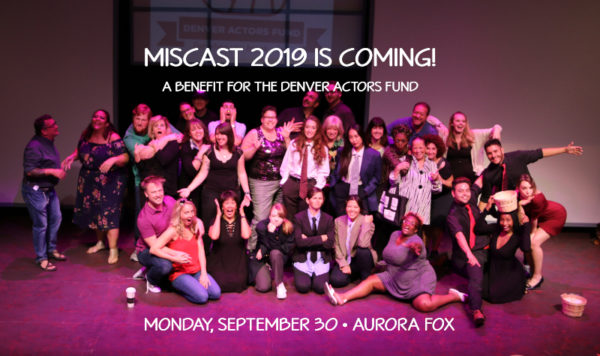 MONDAY, AUGUST 5: Our friends at Miners Alley Playhouse are hosting an Industry Night performance of its hit comedy "Fairfield," by Eric Coble, with ALL PROCEEDS benefiting the Denver Actors Fund. Tickets, normally up to $32, are just $15 on this night only. "Fairfield" is a regional premiere that "pushes every race button to hilarious effect," says Alex Miller of OnStage Colorado. "Peace. Love. Respect for all." Fat chance at Fairfield Elementary, a public school located in a diverse, liberal district. When a young teacher's misguided attempts at celebrating Black History Month take a hilariously dark turn, chaos erupts. "Fairfield" is directed by Jada Suzanne Dixon and features Sheryl McCallum, Adeline Mann, newly coronated Henry Award-winning Outstanding Actor Brian Landis Folkins, MacKenzie Beyer, Kristina Fountaine and Sinjin Jones. Join us at 7:30 p.m. Monday, August 5. Tickets available by calling 303-935-3044 or going online here. Miners Alley Playhouse is located at 1224 Washington Avenue. Golden. Thank you to Len Matheo, Elizabeth Scott-Mckean, Jonathan Scott-Mckean, Lisa DeCaro, Bryanna Scott, the cast, crew and whoever kindly works the bar. It's nights like these that make what we do possible!
MONDAY, SEPTEMBER 30: "Miscast," which is presented each year by Robert Michael Sanders as a benefit for The Denver Actors Fund, is an opportunity for local performers to sing songs and act out scenes they would never … ever! … get cast to perform on any legit stage. Think gender-bending, race-bending and age-bending. Odd couples and mixed groups. Wrong is oh so right. "Miscast" has evolved over the years into one of the biggest nights of the year in the Colorado theatre community – and it is a really good show. "Miscast 2019" will be held Sept. 30 at a new location: The Aurora Fox Arts Center. Tickets will go on sale in the coming days. In the meantime … Save the Date!
VISIT OUR ONLINE MERCH STORE:
Click here to see how you can buy DAF products such as T-shirts, key chains, puzzles and much more.