Denver Actors Fund in Action: Danielle Hermon Wood
'When I was diagnosed with Lynch Syndrome, I was sad, but I wasn't going to let it bring me down.'
Aid recipient: Longmont actor Danielle Hermon Wood was nominated for a Henry Award for her performance as The Lady of the Lake in Inspire Theatre Company's 2016 production of "Spamalot" at the PACE Center in Parker. She is currently performing there as Vicki in Parker Arts and Sasquatch Productions' "The Full Monty" through Aug. 4. Wood has played leading roles with regional opera houses in the United States, Japan, and Singapore, and even performed backup for Sting in a SiriusXM concert in New York. Wood earned her BFA from Carnegie Mellon University and her master's degree from Manhattan School of Music. "My greatest passions in life are being a mother to my vivacious 9-year-old daughter, music, and theatre," she said.
Her medical story: Danielle was diagnosed with Lynch syndrome back in 2012. Lynch syndrome is genetic marker that reveals a person's inherited predisposition to develop different types of cancers. When a person is identified as having Lynch syndrome, they are urged to take proactive preventative measures. In May, Wood was advised to undergo a full hysterectomy, which she did. Danielle's out-of-pocket responsibility after insurance is $3,461.06.  Moving forward, she will need to be aggressive about her regularity in having certain diagnostic tests that could be life-saving – but also will put a constant financial strain on her life. Danielle is a divorced mother whose pay and hours as Music Director and Marketing Director at a school in Boulder were recently drastically reduced.
How we have helped Danielle: Danielle received $500 from her former employer to help pay down the bill. The Denver Actors Fund Board of Directors has voted unanimously to pay off the rest of the bill, or $2,961.06. The Board is keeping her case open because of expected expenses she will incur from additional upcoming medical procedures.
How you can help us replenish: Often in cases like Danielle's, this is where we would give you the opportunity to help us help Danielle more, especially given her uncertain financial situation at present. But instead, Danielle says, "I would rather have any additional donations go to The Denver Actors Fund, so you can decide where they should go." If you would like to help us replenish by making a donation to The Denver Actors Fund, simply mail checks in any amount made out to Denver Actors Fund to P.O. Box 11182, Denver, CO, 80211. Or use this donation link.
A message from Danielle: "When I was diagnosed with Lynch Syndrome, I was sad, but I wasn't going to let it bring me down. It wasn't a cancer diagnosis, but having this syndrome meant my chance of getting many different cancers in the future were very high. I was thankful that I found out so I could have tests done every year to catch 'bad news' early. Since 2012, I have had medical bill after medical bill. I finally had to do my big procedure, a complete hysterectomy, this year. I was scared, but I was ready. Then, two months before my surgery, my job made cutbacks and my salary was drastically reduced. It was then that I thought I would apply for help from The Denver Actors Fund. I followed this non-profit on Facebook because one of my past voice students, Darrow Klein, has raised a lot of money for them in the past. (See photo below.) I couldn't believe it when The Denver Actors Fund called me to say they would help me with my large hospital bill. It was heaven-sent! They called right before one of my final dress rehearsals for 'The Full Monty.' Many of my cast members rejoiced and cried with me. I promise that I will do everything I can to promote this wonderful foundation, and I hope many others will consider donating in the future."
Toward that end: Kelly McAllister and August Stoten of Sasquatch Productions will set up a table during the final two weekends of "The Full Monty" run to raise additional funds for The Denver Actors Fund, with our humble thanks. So if you are going to the show, look for that table! Click here for ticket information.
The Denver Actors Fund has now made more than $372,000 available to Colorado artists in medical need.
Read testimonials from other Denver Actors Fund beneficiaries here
Note: At The Denver Actors Fund, anonymity of aid recipients is presumed and fully protected, unless and until the recipient chooses to have their story told.
---
ABOUT THE DENVER ACTORS FUND:
The Denver Actors Fund is a modest source of immediate, situational relief when members of the local theater community find themselves in medical need. In addition to $378,000 in financial relief, a team of more than 60 Denver Actors Fund volunteers have offered good neighborly assistance to more than 100 beneficiaries including meal prep and delivery, child care, transportation, errands, construction, pet-sitting and more. For more information, visit our web site at DenverActorsFund.Org.
---
HOW TO APPLY FOR AID:
To apply for Denver Actors Fund aid: Fill out this brief online form here
---
MORE WAYS TO HELP:
DONATE ONLINE:
Go to our online giving site at: ColoradoGives.Org
DONATE BY MAIL:

Send checks made out to The Denver Actors Fund to:
P.O. Box 11182
Denver, CO 80211
VOLUNTEER:
Ever thought about taking a more active role in The Denver Actors Fund? Click here for more information
COME TO OUR EVENTS:
Friends, we at The Denver Actors Fund believe in building community while building funds. Most of our events are performative in nature so that you have a good time while helping a good cause. Here are some of the events that are currently being planned on our behalf. Visit denveractorsfund.org anytime for an updated list.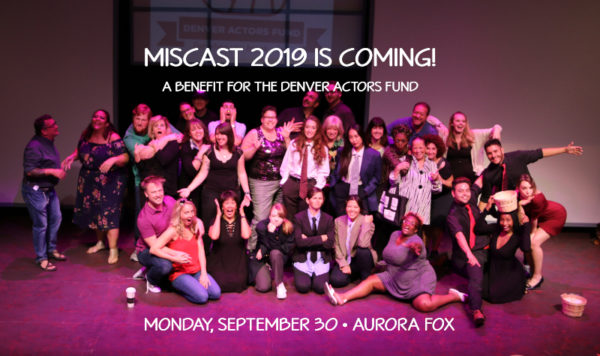 MONDAY, SEPTEMBER 30: "Miscast," which is presented each year by Robert Michael Sanders as a benefit for The Denver Actors Fund, is an opportunity for local performers to sing songs and act out scenes they would never … ever! … get cast to perform on any legit stage. Think gender-bending, race-bending and age-bending. Odd couples and mixed groups. Wrong is oh so right. "Miscast" has evolved over the years into one of the biggest nights of the year in the Colorado theatre community – and it is a really good show. "Miscast 2019" will be held Sept. 30 at a new location: The Aurora Fox Arts Center. Tickets will go on sale in August. In the meantime … Save the Date!
VISIT OUR ONLINE MERCH STORE:
Click here to see how you can buy DAF products such as T-shirts, key chains, puzzles and much more