Denver Actors Fund in Action: David Ballew
Financial-aid recipient: David Ballew has been an active actor in the Colorado theatre community for nearly two decades, with credits at local theatres ranging from Theatre Group to Equinox Theatre to Vintage Theatre and more. Memorable productions include Southern Baptist Sissies, The Best Little Whorehouse in Texas, Jeffrey and Evil Dead The Musical. Most recently, David appeared in Vintage Theatre's Roald Dahl's Willy Wonka and often can be found managing the bar at Vintage. He is originally from Farmersville, Texas, and is a former Head Park Ambassador at Elitch Gardens.
His medical story: David was recently overcome with pain from periodontal gum disease, but he has no dental insurance and knew he could not afford emergency treatment.
How the Denver Actors Fund is helping: The Denver Actors Fund helped David get an initial emergency exam at a Comfort Dental, as well as antibiotics for his infection. We then referred him to our new partnering dentist, Brian Kelly of Thornton, who extracted one tooth to relieve David of his immediate pain, and then arranged for Ballew to have a root canal later this week along with other essential work needed to bring his gums back to a healthy state. Kelly has chosen to provide these services as a personal, in-kind donation to the Denver Actors Fund. So Ballew is receiving the essential treatment he needs at no cost to him – or The Denver Actors Fund. The value of Dr. Kelly's contributed services was $1,616. In addition, the Denver Actors Fund is also reimbursing Ballew for the $63.97 in expenses he incurred for his initial exam, X-Rays and prescriptions before visiting Dr. Kelly. Also, Denver Actors Fund's transportation Action Team provided Ballew with rides to and from his appointments. (Thank you, Sean Mallary, Nita Froelich and Kristen Samu.) The total equivalent value of the help Ballew has received so far is $1,679.97.

Who is Dr. Brian Kelly? Dr. Brian Kelly DDS (named one of Denver's top dentists by 5280 Magazine) is a former Broadway actor who also danced for the American Ballet Theatre. His Broadway credits include La Cage Aux Folles and A Chorus Line. Throughout the years, Kelly has been known to provide individuals in our theatre community with free or reduced-cost dental services. Recently, Dr. Kelly approached the Denver Actors Fund about an official partnership. Moving forward, Dr. Kelly has agreed to receive up to four emergency dental referrals each year from the Denver Actors Fund. These would be reserved for artists in need of immediate help moving from a diseased to a healthy state. Members of the theatre community must continue to apply for assistance through the Denver Actors Fund and are asked not to contact Dr. Kelly directly.
A message from David Ballew: "I am so thankful and grateful for The Denver Actors Fund. The kindness and feeling of community has really spoken to me in ways that I never thought possible. I love our community and how we reach out to each other in any way possible. I also want to thank Brian Kelly for helping me through this process. You are incredibly generous, and I can't thank you enough for this. You and The Denver Actors Fund are going to be life-changers for me. Love and gratitude always."
Support the Denver Actors Fund: To help the DAF continue to help artists in need, mail a check in any amount made out to Denver Actors Fund to P.O. Box 11182, Denver, CO 80212. Or use this donation link.
(Note: At the Denver Actors Fund, anonymity of aid recipients is presumed and fully protected, unless and until the recipient chooses to have his or her story told.)
ABOUT THE DENVER ACTORS FUND:

Video above: The Denver Actors Fund receives the Colorado Theatre Guild's 2016 Community Impact Award.
The Denver Actors Fund is a modest source of immediate, situational relief when members of the local theater community find themselves in medical need. To date, the Fund has allocated $83,500 to artists facing medical need. In addition to financial relief, a team of more than 60 Denver Actors Fund volunteers offers good neighborly assistance including meal prep and delivery, child care, transportation, errands, construction, pet-sitting and more. For more information, visit our web site at DenverActorsFund.Org.
---
HOW YOU CAN HELP:
To DONATE the Denver Actors Fund:
Please CLICK HERE (with our humble thanks)
---
HOW TO APPLY FOR AID:
To apply for Denver Actors Fund aid: Fill out this brief online form here
---
MORE WAYS TO HELP:
DONATE BY MAIL:

Send checks made out to the Denver Actors Fund to:
P.O. Box 11182
Denver, CO 80212
ATTEND UPCOMING DENVER ACTORS FUND EVENTS:
ATTEND THE UNITED IN LOVE BENEFIT CONCERT ON APRIL 30:
Beth Malone, who starred in the DCPA Theatre Company's reimagining of "The Unsinkable Molly Brown" and then was nominated for a Tony Award her work in Broadway's "Fun Home," has joined the homegrown lineup for 'United in Love,' a special concert event presented by Ebner-Page Productions and benefiting the Denver Actors Fund on Sunday, April 30, at the Lone Tree Arts Center. The concert is co-headlined by former "Kinky Boots" castmates Annaleigh Ashford and Andy Kelso, as well Mara Davi ("Dames at Sea") for a music-filled night to help the nonprofit that in three years has made $83,500 available to local theatre artists facing situational medical need. The concert also will feature longtime Denver performer (and Denver First Lady) Mary Louise Lee, Broadway's Jodie Langel ("Les Misérables"), composer Denise Gentilini ("I Am Alive") along with Jimmy Bruenger, Eugene Ebner, Becca Fletcher, Clarissa Fugazzotto, Robert Johnson, Daniel Langhoff, Susannah McLeod, Chloe McLeod, Sarah Rex, Jeremy Rill, Kristen Samu, Willow Samu, Thaddeus Valdez, and the casts of both "The Jerseys" and the upcoming 13 the Musical (featuring Hinkle and an all-student cast). The lineup is subject to change, and additional stars may be added. For tickets, call 720-509-1000 or go to http://www.lonetreeartscenter.org/sho…
"DENVER ACTORS FUND PRESENTS …" MONTHLY FILM SERIES:
The Alamo Drafthouse Cinema in Littleton hosts a monthly film series in partnership with the Denver Actors Fund featuring films inspired by musicals and plays that are currently being performed by a Colorado theatre company. Next up on Sunday, May 21. is the film The Wedding Singer featuring pre-screening entertainment by cast members from the Performance Now's upcoming stage production of the same title. Join us for live musical performances, trivia, ticket giveaways … and the movie! CHOOSE YOUR SEATS NOW

---
BUY A POSTER!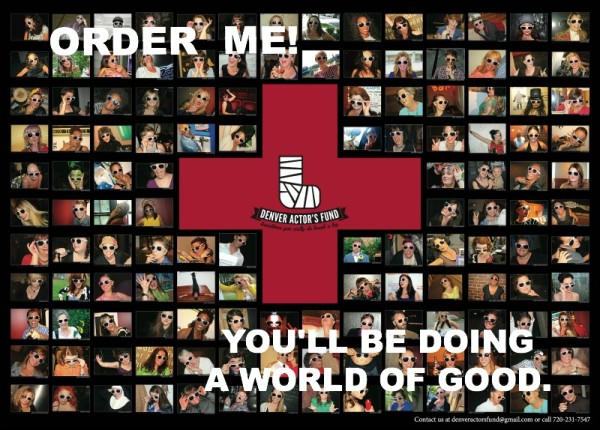 134 women (and a few token dudes) from the Colorado theater community, all supporting the Denver Actors Fund. They cost $20 per poster (20×28). To order, email your quantity to denveractorsfund@gmail.com. We'll take care of delivery and payment from there.
VISIT OUR ONLINE MERCH STORE:
Click here to see how you can buy DAF products such as T-shirts, key chains, puzzles and much more