Denver Actors Fund in Action: Daniel Langhoff
About Daniel Langhoff: Popular actor Daniel Langhoff most recently appeared as Cervantes, the playwright who defends his life through storytelling, in Performance Now's production of "The Man of La Mancha." Other recent roles include Tateh, the immigrant single father in the Performance Now's epic musical "Ragtime," for which he won a 2016 True West Award. Before that, he played Dan in Town Hall Arts Center's "Next to Normal." "Daniel Langhoff gives his all in a moving performance," Westword's Juliet Wittman said of his work as the long-suffering husband. Before that he made his DCPA Theatre Company debut in "A Christmas Carol." Langhoff, a graduate of Cherry Creek High School and the University of Northern Colorado, has been performing since third grade. Among his favorite roles along the way have been playing Younger Brother in the Arvada Center's "Ragtime" and the Balladeer in Next Stage's "Assassins." He is married to noted local director and stage manager Rebecca Joseph, who helmed the first Denver staging of the Tony-winning best musical "In the Heights" for Vintage Theatre.

His initial story: Just a few months after Daniel and Rebecca welcomed daughter Clara into the world, Daniel was diagnosed with colon cancer and subsequently had the mass removed. The adjacent lymph nodes were removed along with the tumor. That was followed by 24 weeks of chemotherapy as a preventative measure to eliminate any microscopic cancer tissue that could still be there.
How we helped: The Denver Actors Fund board of directors approved an initial gift of $2,000 to help Daniel and his family with their immediate needs. The Denver Actors Fund also encouraged the community to offer additional donations targeted to Langhoff, which brought in another $2,990. Local photographer Laura Mathews Siebert raised an additional $1,500 for the Langhoffs by hosting an all-day photo session. In July 2016, a PET scan revealed no detectable cancer in Langhoff's body.
Update 1: Just as Daniel was beginning rehearsals for "Jesus Christ Superstar" at the Arvada Center in March 2017, he learned that a growth in his abdomen contains cancer cells. He left the musical to prepare for a diagnostic surgery that revealed even more tissue damage than doctors expected. "I am now fighting a new version of the same problem, and I am more physically compromised than I was before," says Daniel. "But what I am dealing with is treatable, manageable and potentially still operable." Next for Daniel are two auspicious trips to clinically advanced research centers – the University of Colorado Heath Center this week, and MD Anderson in Houston next month to determine the best treatment approach. The Denver Actors Fund has approved an additional $2,000 grant to assist the family with immediate expenses. This brings the grand total raised for Langhoff and his family through the Denver Actors Fund and subsequent community efforts to $14,020 – but the need remains great and ongoing.
Update 2:Daniel Langhoff died on November 12, just 10 days after the birth of his second daughter, Naomi. In just  two weeks, the community contributed $36,984 in targeted donations through a special Denver Actors Fund initiative, all of which will go to Rebecca Joseph and will help her to provide for the future needs of her daughters. To date, the total amount of support for the Langhoff family through the Denver Actors Fund has risen to  $75,388.
How you can help us help the Langhoff family: The Denver Actors Fund will continue to accept targeted donations to Rebecca Joseph. with expenses, If you would like to direct a specific donation, simply mail checks made out to The Denver Actors Fund (with Daniel Langhoff's name written in the topic field), to P.O. Box 11182, Denver, CO 80212. Or use this donation link. When asked where you would like your donation directed, choose the "For the Langhoff Family" option in the pull-down menu. Or just tell us to direct your gift to Daniel's family in the comment section. Otherwise, your donation will be applied to the replenishment of the DAF's general fund.
A message from Daniel Langhoff (from 2015): "This year has presented me with more cataclysmic life changes than I've ever before experienced, both wonderful and challenging. My investigation, diagnosis, surgery, and chemotherapy has definitely been a challenge, but has also brought overwhelming support from this widespread and deeply compassionate theatre community. The grant I received from the Denver Actors Fund gives my family and me peace of mind, solace of heart, and enhances the idea that as we are many people and organizations that share this idiom and gift that is theatre; we really are one large family, and the outpouring from these people, and from the DAF, is a new example to me and mine of the magic inherent to our art that is our life. So many thanks are owed, and I'm happy to spend the rest of my life giving them."
(Note: At the Denver Actors Fund, anonymity of aid recipients is presumed and fully protected, unless and until the recipient chooses to have his or her story told.)
---
ABOUT THE DENVER ACTORS FUND:

Video above: The Denver Actors Fund receives the Colorado Theatre Guild's 2016 Community Impact Award.
The Denver Actors Fund is a modest source of immediate, situational relief when members of the local theater community find themselves in medical need. To date, the Fund has allocated $86,000 to artists facing medical need. In addition to financial relief, a team of more than 60 Denver Actors Fund volunteers offers good neighborly assistance including meal prep and delivery, child care, transportation, errands, construction, pet-sitting and more. For more information, visit our web site at DenverActorsFund.Org.
---
HOW YOU CAN HELP:
To DONATE the Denver Actors Fund:
Please CLICK HERE (with our humble thanks)
---
HOW TO APPLY FOR AID:
To apply for Denver Actors Fund aid: Fill out this brief online form here
---
MORE WAYS TO HELP:
DONATE BY MAIL:

Send checks made out to the Denver Actors Fund to:
P.O. Box 11182
Denver, CO 80212
ATTEND UPCOMING DENVER ACTORS FUND EVENTS:
Friday and Saturday, Nov. 24-25: Equinox Theatre will donate 10 percent of all ticket sales for this weeken's performances of Disaster the Musical to the Denver Actors Fund. 7:30 p.m. both nights at the Bug Theatre, 3654 Navajo St. BUY TICKETS

Monday, Nov. 27:
Vintage Theatre will donate all proceeds from its industry-night performance of
Honeymoon in Vegas
on will go to Langhoff's family, including, remarkably, box office. The DAF's Sue Leiser will lead a collection brigade. All tickets are $15 for this performance only. At 1468 Dayton St., Aurora,
303-839-1361
or
BUY TICKETS
Tuesday, Nov. 28: National Giving Tuesday
Sunday Dec. 3:
Miners Alley Playhouse's annual benefit performance with all proceeds (door, bucket, bar tips) going to the Denver Actors Fund. Curtain 6 p.m. in Golden.
BUY TICKETS
Tuesday, Dec. 5: Colorado Gives Day: Please help us get the word out and encourage any friends, family or other potential donors. This is the single largest annual revenue day of the year, and we need all the organic support we can to get the word out. You can schedule donation early (as in now). DONATE
Monday, Dec. 11: Denver Actors Fund Presents … "Elf" at the Alamoo Drafthouse Denver, with live entertainment from the Longmont Theatre Company's "Harry Connick Jr.'s The Happy Elf." BUY TICKETS
Wednesday, Dec. 13: Boulder Ensemble Theatre Company is donating all proceeds from its performance of Every Christmas Story Every Told on Dec. 13 to the DAF's Daniel Langhoff Fund. At the Dairy Center for the Arts, 2590 Walnut St., Boulder. BUY TICKETS
Tuesday, Dec. 19: The Nightly Met Christmas Special at the D.L. Parsons Theatre in Northglenn, hosted by Avery Anderson and Annie Dwyer, featuring Anna High, and Ryan Chrys and Rough Cuts. Tickets $8-$10. All proceeds to the Denver Actors Fund. BUY TICKETS
---
BUY A POSTER!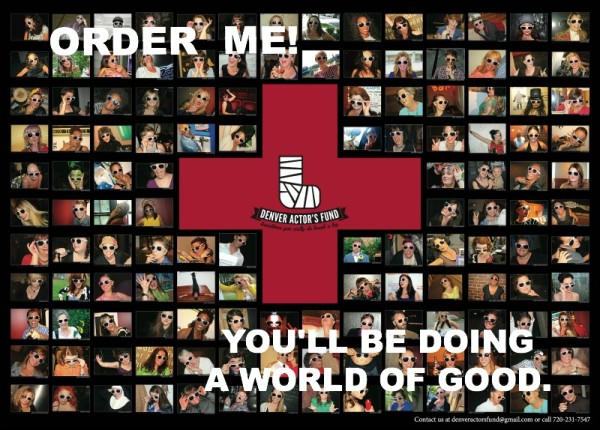 134 women (and a few token dudes) from the Colorado theater community, all supporting the Denver Actors Fund. They cost $20 per poster (20×28). To order, email your quantity to denveractorsfund@gmail.com. We'll take care of delivery and payment from there.
VISIT OUR ONLINE MERCH STORE:
Click here to see how you can buy DAF products such as T-shirts, key chains, puzzles and much more