Denver Actors Fund in Action: Nick Thorne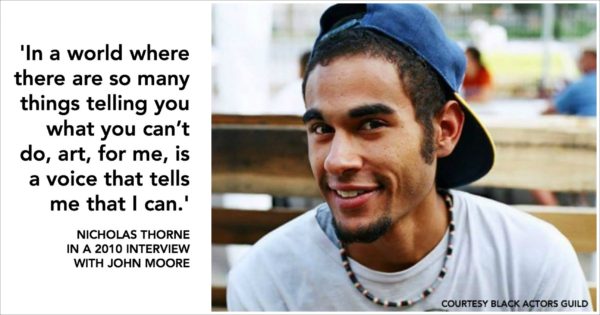 About Nick Thorne: Actor, director and producer Nicholas Thorne died on Feb. 8, 2017, of complications from a severe asthma attack. He was 25, and a graduate of Denver School of the Arts and the University of Northern Colorado at Greeley. He was the Artistic Director and a co-founder of the Black Actors Guild, which he helped lead for eight years. Thorne was a creative and fun-loving comedian, a mentor at a very young age, a fierce competitor and fearlessly passionate about the people around him, his friends told Bree Davies for a tribute article in Westword. He was considered by many destined for greatness. READ IT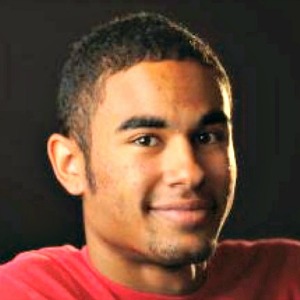 In a 2010 interview with then Denver Post Theatre Critic John Moore (later founder of the Denver Actors Fund), Thorne said: "The ability to imagine something, even if it's the most far-fetched thing in the world, and then bring it to life onstage, is incredible. But what I think makes art even more incredible is the fact that you can provoke emotions, educate and change minds all while entertaining at the same time." READ IT
About the Black Actors Guild: In 2009, Thorne and three fellow teenage pals formed a unique community of young artists that has grown into a multicultural and diverse group dedicated to preserving African-American culture by performing original improv comedy and theatre in classrooms and on the street. The players take on issues of race and class to make a positive impact in Denver. But the road has not been easy. Corin Chavez, one of the original founders, died in 2015. "These young men were strong leaders of their community while at Denver School of the Arts and after," said DSA Theatre Teacher Shawn Hann. "They had a vision, desire and focus, and they would let no one tell them no. They saw a place in Denver for the Black Actors Guild to thrive, and they dedicated their lives to the work. There is no replacing these young men." Other members have included co-founder Kevin Quinn Marchman, currently a cast member in the Denver Center's Shakespeare in the Parking Lot schools program, co-founder Ryan Foo; and Barton Cowperthwaite, who recently returned to Denver as a member of the national touring company of An American in Paris. In an interview with the DCPA NewsCenter, Cowperthwaite said: "They were creating something Denver that was culturally significant. I would not be where I am today if not for the Black Actors Guild."
How we will honor Nick Thorne: A community crowdsourcing campaign settled the Thorne family's medical and funeral expenses, and so, with the family's  blessing, The Denver Actors Fund has made a $500 donation to the Black Actors Guild in Thorne's memory.
A message from Kevin Quinn Marchman: "Through youthfully reckless ambition, Nicholas Thorne helped the Black Actors Guild grow into a creative entity focused on independent artistry and educating a new a generation of Denver artists. Thank you 1,001 times over."
How you can honor Thorne's memory, too: If you would like to add to our contribution to the Black Actors Guild in memory of Nick Thorne, simply mail checks in any amount made out to Denver Actors Fund (with The Black Actors Guild written written in the topic field), to P.O. Box 11182, Denver, CO 80212. Or use this donation link. If you use the online option, be sure to designate that your donation is a targeted donation to the Black Actors Guild. Otherwise, your donation will be applied to the replenishment of the DAF's general fund.
Video: Barton Cowperthwaite talks about The Black Actors Guild:
Video above by John Moore for the DCPA NewsCenter.
A sample of Nick Thorne's writing:
"Game-Spitting Skit" (2010)
(The scene begins with two men sitting at a table.)
Babyface: Welcome to the 2010 World Series of Game Spitting! I'm Byron "Babyface" Michaels, and joining us today is all-star, four-time champion, Lucas "Lady-Killer" Robinson.
Lucas: It's good to be here, Babyface. I haven't seen this much competition since my classic championship run back in 1996. I like the focus that Deryll has. It's key for a situation like this, and it could serve him well in the end.
Babyface: Indeed. Let's go down to the field for today's official rules.
Referee: All right, gentlemen, I want a good, clean round. Watch your hands and eyes, offer to pay, and remember to ask about her. I want respect out there, gentlemen.
Baby Face: And just like that, we are underway! Look at how Deryll is getting himself into position.
(A girl is putting on make-up.)
Lucas: I've never seen any type of position like this before, Babyface. I don't know what he is setting himself up to do.
(Deryll creeps up behind the girl.)
Dawkins: Hey, how ya' doin'?
Girl: (Screams) The hell are you doing?
Dawkins: Oh, I'm sorry, girl! I was just trying to say what's up!
Girl: Don't nobody want to say what's up to you! How you come up behind me like that?!
(He exits.)
Babyface: That didn't go too well for him.
Lucas: No, it did not. What he tried to do was be seductive, which isn't a bad thing, but it was too much here. He should have had a formal introduction, and at least a dinner worth more than $25 to make an attempt like that. He dove in head-first and hit the bottom of the pool on that one."
(Note: At the Denver Actors Fund, anonymity of aid recipients is presumed and fully protected, unless and until the recipient chooses to have his or her story told.)
---
ABOUT THE DENVER ACTORS FUND:

Video above: The Denver Actors Fund receives the Colorado Theatre Guild's 2016 Community Impact Award.
The Denver Actors Fund is a modest source of immediate, situational relief when members of the local theater community find themselves in medical need. To date, the Fund has allocated more than $86,000 to artists facing medical need. In addition to financial relief, a team of more than 60 Denver Actors Fund volunteers offers good neighborly assistance including meal prep and delivery, child care, transportation, errands, construction, pet-sitting and more. For more information, visit our web site at DenverActorsFund.Org.
---
HOW YOU CAN HELP:
To DONATE the Denver Actors Fund:
Please CLICK HERE (with our humble thanks)
---
HOW TO APPLY FOR AID:
To apply for Denver Actors Fund aid: Fill out this brief online form here
---
MORE WAYS TO HELP:
DONATE BY MAIL:

Send checks made out to the Denver Actors Fund to:
P.O. Box 11182
Denver, CO 80212
ATTEND UPCOMING DENVER ACTORS FUND EVENTS:
ATTEND THE UNITED IN LOVE BENEFIT CONCERT ON APRIL 30:
Beth Malone, who starred in the DCPA Theatre Company's reimagining of "The Unsinkable Molly Brown" and then was nominated for a Tony Award her work in Broadway's "Fun Home," has joined the homegrown lineup for 'United in Love,' a special concert event presented by Ebner-Page Productions and benefiting the Denver Actors Fund on Sunday, April 30, at the Lone Tree Arts Center. The concert is co-headlined by Tony Award winner Annaleigh Ashford, Tony nominee Beth Malone ("Fun Home") and Broadway veteran Mara Davi ("Dames at Sea") for a music-filled night to help the nonprofit that in three years has made more than $86,000 available to local theatre artists facing situational medical need. The concert also will feature longtime Denver performer (and Denver First Lady) Mary Louise Lee, Broadway's Jodie Langel ("Les Misérables"), composer Denise Gentilini ("I Am Alive") along with Jimmy Bruenger, Eugene Ebner, Becca Fletcher, Clarissa Fugazzotto, Robert Johnson, Daniel Langhoff, Susannah McLeod, Chloe McLeod, Sarah Rex, Jeremy Rill, Kristen Samu, Willow Samu, Thaddeus Valdez, and the casts of both "The Jerseys" and the upcoming 13 the Musical (featuring Hinkle and an all-student cast). The lineup is subject to change, and additional stars may be added. For tickets, call 720-509-1000 or go to http://www.lonetreeartscenter.org/sho…
"DENVER ACTORS FUND PRESENTS …" MONTHLY FILM SERIES:
The Alamo Drafthouse Cinema in Littleton hosts a monthly film series in partnership with the Denver Actors Fund featuring films inspired by musicals and plays that are currently being performed by a Colorado theatre company. Next up on Sunday, May 21. is the film The Wedding Singer featuring pre-screening entertainment by cast members from the Performance Now's upcoming stage production of the same title. Join us for live musical performances, trivia, ticket giveaways … and the movie! CHOOSE YOUR SEATS NOW

---
BUY A POSTER!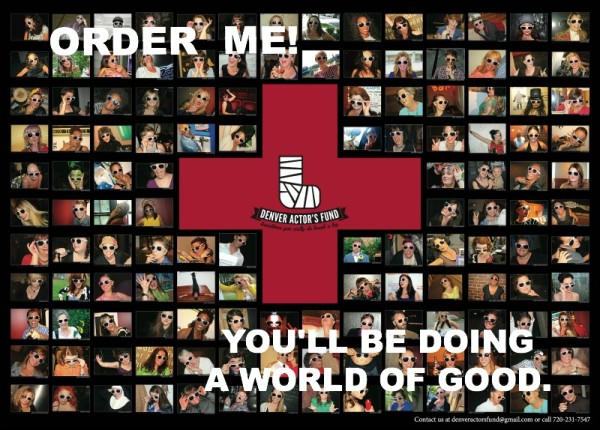 134 women (and a few token dudes) from the Colorado theater community, all supporting the Denver Actors Fund. They cost $20 per poster (20×28). To order, email your quantity to denveractorsfund@gmail.com. We'll take care of delivery and payment from there.
VISIT OUR ONLINE MERCH STORE:
Click here to see how you can buy DAF products such as T-shirts, key chains, puzzles and much more