Aid recipient: Denver actor Jeff Jesmer, who works at many Denver theatres as both an actor and scenic builder/designer, is currently appearing as David Cameron in Vintage Theatre's "The Audience." Other recent roles include  John Proctor in "The Crucible,"  Richard in "The Lion in Winter" and Paul in "The Champagne Charlie Stakes" (all for Firehouse Theatre Company) as well as Cogsworth in Vintage 's "Beauty and the Beast." The Minnesota native attended Metropolitan State University of Denver and trained in theatre with Stacey D'Angelo at Community College of Aurora. Jesmer, also a Firehouse board member, was a hospital corpsman in the U.S. Navy in the early 1990s, and  a single parent for 18 years.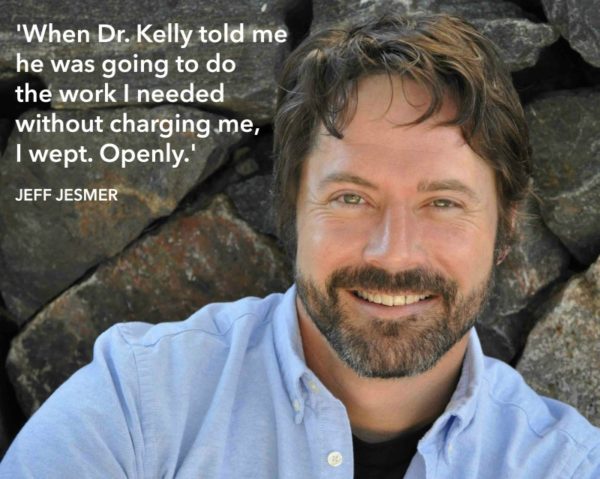 His medical story: Jesmer recently was in need of significant dental surgery, so The Denver Actors Fund referred him to Thornton dentist (and former Broadway dancer) Brian Kelly. Through a unique ongoing partnership with the Denver Actors Fund, Kelly accepts a limited number of emergency dental cases referred through the DAF as an in-kind donation. Kelly's goal is to transition every referred patient from gum disease to health.
How we have helped: Dr. Kelly performed a root canal, did eight fillings and rounded off a damaged tooth for Jesmer. The estimated value of Kelly's services to Jesmer is $2,380.
A message from Jeff: "I had been very reluctant to seek dental work in the past because of  money and also, eventually, shame. I went to Dr. Kelly to have him look at some dental problems (read: holes). His affable nature made my anxiety disappear. When Dr. Kelly told me he was going to do the work I needed without charging me, I wept. Openly. In the dentist's office. Dr. Kelly is a treasure. Not only was the man charming and  attentive to my needs, apparently he is also a saint in our community. I still have difficulty processing the gift he gave me. Dr. Kelly has done far more than just fix my smile. Look him up. Share this article. Spread love.
How you can help The Denver Actors Fund help more Colorado artists in need: To date, The Denver Actors Fund has made more than $225,000 available to Colorado artists in medical need. If you would to help us replenish, simply mail checks made out to The Denver Actors Fund to P.O. Box 11182, Denver, CO, 80212. Or use this donation link.
Read testimonials from other Denver Actors Fund beneficiaries here
Note: At the Denver Actors Fund, anonymity of aid recipients is presumed and fully protected, unless and until the recipient chooses to have his or her story told.
---
HOW YOU CAN HELP US REPLENISH:
To DONATE the Denver Actors Fund, please CLICK HERE (with our humble thanks)
---
ABOUT THE DENVER ACTORS FUND:

Video above: The Denver Actors Fund receives the Colorado Theatre Guild's 2016 Community Impact Award.
The Denver Actors Fund is a modest source of immediate, situational relief when members of the local theater community find themselves in medical need. In addition to $225,000 in  financial relief, a team of more than 60 Denver Actors Fund volunteers has offered good neighborly assistance to more than 100 beneficiaries including meal prep and delivery, child care, transportation, errands, construction, pet-sitting and more. For more information, visit our web site at DenverActorsFund.Org.
---
HOW TO APPLY FOR AID:
To apply for Denver Actors Fund aid: Fill out this brief online form here
---
MORE WAYS TO HELP:
DONATE BY MAIL:

Send checks made out to the Denver Actors Fund to:
P.O. Box 11182
Denver, CO 80212
ATTEND UPCOMING DENVER ACTORS FUND EVENTS:
Monday, April 23: Monthly film series: "Glengarry Glen Ross"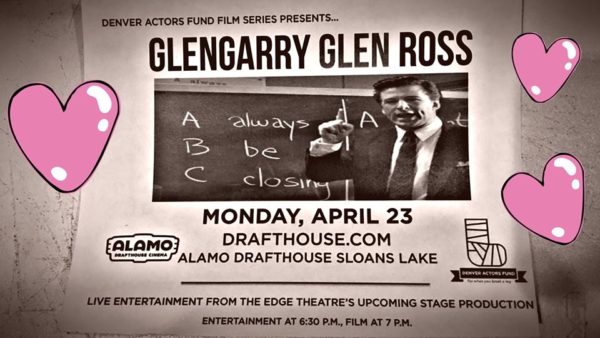 Join us on Monday, April 23, at Alamo Drafthouse by Sloan's Lake for our next monthly film series event: A down-and-dirty, fun screening of David Mamet's foul-mouthed "Glengarry Glen Ross," a 1992 classic starring Alec BaAldwin, Al Pacino, Jack Lemmon, Ed Harris, Alan Arkin, Kevin Spacey and Jonathan Pryce. The film depicts two days in the lives of four real-estate salesmen and how they become desperate when the corporate office sends a trainer to motivate them by announcing that, in one week, all except the top two salesmen will be fired. Cast members from The Edge Theatre Company will offer a sneak peek at their current production beginning at 6:30 p.m. Monday, April 23, at the Sloan's Lake Alamo. Rough language and good food? Think of it as a two-course, too-coarse meal! 😉 CHOOSE YOUR PREFERRED SEATS HERE
VISIT OUR ONLINE MERCH STORE:
Click here to see how you can buy DAF products such as T-shirts, key chains, puzzles and much more