Financial-aid recipient: Jihad Milhem is a Denver actor who this summer played King Priam's son, Paris, in the Colorado Shakespeare Festival's "Troilus & Cressida." Previous Denver roles include James St. James in K: The Rise and Fall of the New York Klub Kids for Denver's Pandemic Theatre Collective; and Happiness is a Warm Gun for The LIDA Project. Milhem moved to Denver after having worked in New York City and Philadelphia for 12 years. He can be seen this fall in The Edge Theater Company's "Marie Antoinette."
His story: Jihad was assaulted after performing in the play "K: The Rise and Fall of the New York Klub Kids" with Pandemic Theatre Collective at the Milk Bar near 10th and Broadway. His knee was dislocated, and his anterior cruciate ligament (ACL) was completely torn, requiring reconstruction. While Medicaid covered his surgical costs, Milhem has been unable to return to his restaurant job as he continues his rehabilitation. And that has made paying the rent and other expenses difficult. (Side note: The Colorado Shakespeare Festival staff was kind enough to incorporate Milhem's injury into the story, allowing him to continue to perform in "Troilus & Cressida.")
How we will help: The Denver Actors Fund has made $900 available to Milhem to help satisfy his immediate needs including rent, and give him some financial breathing room going into September.
How you can help us help Jihad Milhem more: If you would like to target a specific donation to Jihad Milhem, simply mail checks made out to Denver Actors Fund (with Jihad Milhem's name written in the topic field), to P.O. Box 11182, Denver, CO 80212. Or use this donation link. If you use the online option, be sure to designate that your donation is a targeted donation to Jihad Milhem. Otherwise, your donation will be applied to the replenishment of the DAF's general fund.
A message from Jihad Milhem: "My Denver Actors Fund aid makes it possible for me to go through this next month of healing and physical therapy without having to worry about keeping a roof over my head or food in my stomach. Words cannot begin to express the gratitude and respect I have for the DAF. So many actors like myself would be lost without the help the DAF provides. All the thanks must go out to the Denver theatre community – this embodiment of all of your kindness and caring has truly made my life better. This token of your concern and charity graces me, and all I can hope is to one day help you good folks help someone else one day."

(Note: At the Denver Actors Fund, anonymity of aid recipients is presumed and fully protected, unless and until the recipient chooses to have his or her story told.)
ABOUT THE DENVER ACTORS FUND:
The Denver Actors Fund is a modest source of immediate, situational relief when members of the local theater community find themselves in medical need. In addition to financial relief, a team of more than 60 Denver Actors Fund volunteers offers good neighborly assistance including meal prep and delivery, child care, transportation, errands, construction, pet-sitting and more. For more information, visit our web site at www.DenverActorsFund.Org.
HOW YOU CAN HELP:
To DONATE the Denver Actors Fund: Please click here (with our humble thanks):
APPLY FOR AID:
To apply for Denver Actors Fund aid: Fill out this brief online form here
MORE WAYS TO HELP:
DONATE BY MAIL:

Send checks made out to the Denver Actors Fund to:
P.O. Box 11182
Denver, CO 80212
ATTEND UPCOMING DENVER ACTORS FUND EVENTS:
COMING SEPT. 26: "Miscast 2016," the Denver Actors Fund's major annual fundraiser, takes place at Town Hall Arts Center. Come for the fun as actors from all over the metro area and Front Range perform in roles they would never – ever – normally cast to perform. BUY TICKETS
"DENVER ACTORS FUND PRESENTS …" MONTHLY FILM SERIES: The Alamo Drafthouse Cinema in Littleton hosts a monthly film series in partnership with the Denver Actors Fund featuring films inspired by musicals that are currently being performed by a Colorado theatre company. Next up on Monday, Oct. 12, is "Night of the Living Dead," featuring pre-screening entertainment by cast members from Equinox Theatre Company's upcoming stage production. Tickets available soon.
BUY A POSTER!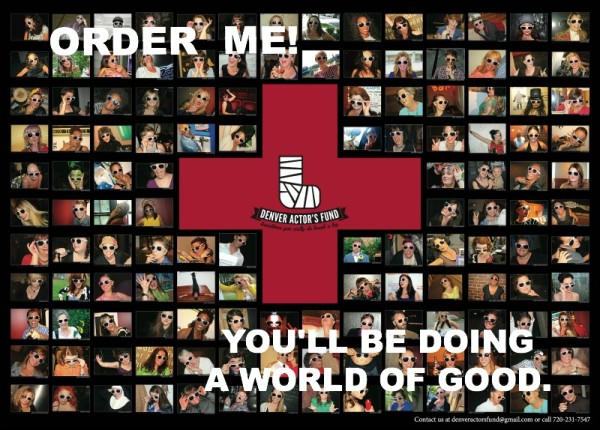 134 women (and a few token dudes) from the Colorado theater community, all supporting the Denver Actors Fund. They cost $20 per poster (20×28). To order, email your quantity to denveractorsfund@gmail.com. We'll take care of delivery and payment from there.
VISIT OUR ONLINE MERCH STORE:
Click here to see how you can buy DAF products such as T-shirts, key chains, puzzles and much more