'Thank you so much for your invaluable help to me.'
Financial-aid recipient: Joey Wishnia, who won the Colorado Theatre Guild's Lifetime Achievement Award in 2011, was educated at Rhodes University and received a teaching diploma in Speech and Drama from Trinity College in London. He came to the United States in 1993 and quickly established himself in the local theatre community as actor and director concentrating on classical theatre. He has worked in practically every facet of the entertainment industry, most recently having performed in
Vintage Theatre's "Sunset Boulevard." He has also written scripts for children's theatre, devised and appeared in four one-man shows and developed several educational programs aimed at encouraging children to read.
His story: Joey Wishnia has Macular Degeneration, which involves monthly visits for eye injections. He also has recently had two cataract removal surgeries (one eye at a time) and also has had two teeth extracted. These medical setbacks have made it hard for Joey to keep up on his everyday expenses.
How we will help: The Denver Actors Fund initially made $522.40 available to Wishnia to help satisfy his immediate financial needs and give him some breathing room going into September.
Update February 2017: The Denver Actors Fund has made an additional $900 available to Joey Wishnia to help pay for his continuing eye injections.
Update May 2018: The DAF Board approved an additional grant of $520.37 to pay for Joey's continuing eye injections for macular degeneration.
Update March 2019: The DAF Board approved an additional grant of $682.25 to pay for Joey's continuing eye injections, bringing his total overall support including targeted donations from the public to $2,939.62.
How you can help us help Joey Wishnia more: If you would like to target a specific donation to Joey Wishnia family to give them a little more breathing room, simply mail checks made out to Denver Actors Fund (with Joey Wishnia's name written in the topic field), to P.O. Box 11182, Denver, CO 80212. Or use this donation link. If you use the online option, be sure to designate that your donation is a targeted donation to Joey Wishnia. Otherwise it will be applied to the replenishment of the DAF's general fund.
A message from Joey Wishnia: "I would like to express my heartfelt thanks to the Denver Actors Fund. Not only because they have helped me, but because they hold an umbrella over the heads of our theatre community to protect us from the rain that always comes unexpectedly."

(Note: At the Denver Actors Fund, anonymity of aid recipients is presumed and fully protected, unless and until the recipient chooses to have his or her story told.)
ABOUT THE DENVER ACTORS FUND:
The Denver Actors Fund is a modest source of immediate, situational relief when members of the local theater community find themselves in medical need. In addition to financial relief, a team of more than 60 Denver Actors Fund volunteers offers good neighborly assistance including meal prep and delivery, child care, transportation, errands, construction, pet-sitting and more. For more information, visit our web site at www.DenverActorsFund.Org.
HOW YOU CAN HELP:
To DONATE the Denver Actors Fund: Please click here (with our humble thanks):
APPLY FOR AID:
To apply for Denver Actors Fund aid: Fill out this brief online form here
MORE WAYS TO HELP:
DONATE BY MAIL:

Send checks made out to the Denver Actors Fund to:
P.O. Box 11182
Denver, CO 80212
COME TO OUR EVENTS:
Friends, we at The Denver Actors Fund believe in building community while building funds. Most of our events are performative in nature so that you have a good time while helping a good cause. Here are some of the events that are currently being planned on our behalf.

MONDAY, MARCH 18:
Lauren Bahlman and Jessica Austgen, improv comedians, book nerds and hosts of a popular podcast called "
Required Readcast
," are hosting a special event in collaboration with Benchmark Theatre: Their first-ever LIVE recording of the podcast, during which they comically dive back into the age-old required-reading list to see which books are still awesome … and which scarred them for life. (For a taste, just listen to this hilarious conversation about "
Lord of the Flies
.") On March 18, the quippy literary pair will be discussing George Orwell's
1984.
Which is perfect because Benchmark Theatre will be staging the dystopian classic from March 15-April 13. "We've been wanting to discuss this one on the pod for a while, and thought it would be a perfect collaboration with the opening of the Benchmark production," Bahlman said. "Maybe we can bring a little levity to the situation. We're hoping to have one of the cast members as a guest as well." All proceeds from that evening, which begins at 7:30 p.m. at 1560 Teller St. in Lakewood, will go to The Denver Actors Fund. Suggested donation of $5. Drinks and such will be available. No reservation necessary.
WEDNESDAY, MARCH 20:
Local actor (and former DAF aid recipient)
Emma Rebecca Maxfield
(Performance Now's
The Wedding Singer
) and actor Andy Seracuse (Vintage Theatre's
A Gentleman's Guide to Love and Murder
) present an evening of songs at the Vintage Theatre with special guest Brandon Bill. Maxfield and Seracuse plan to independently stage an upcoming production of
The Last Five Years
in September with a "large portion of our proceeds going to The Denver Actors Fund every step of the way," Maxfield says. So attend the fundraising event at Vintage on March 20 and enjoy an evening of cabaret. A portion of the ticket sales will go to Vintage; of what remains, a portion will go toward
The Last Five Years
, and an equal portion to the DAF. 7:30 p.m. at 468 Dayton St., Aurora, 303-839-1361 or
vintagetheatre.com
.
FRIDAY AND SATURDAY, MARCH 22-23: Darrow Klein, star of the Arvada Center's new production of "The Diary of Anne Frank," is also one of the youngest and oldest (as in longest) supporters of The Denver Actors Fund. She is arranging to take collections for the Denver Actors Fund following the March 22-23 performances. This effort is being initiated entirely by Darrow, who is also donating one week of her own acting stipend. If you plan to see this important and acclaimed show about the 13-year-old Jewish girl who chronicled the horrors of being trapped in Nazi-occupied Amsterdam, why not plan to attend on one of our special DAF nights? Performances take place at 6901 Wadsworth Blvd. For ticket information, call 720-898-7200 or go to arvadacenter.org
Click here for the complete current lineup of events
BUY A POSTER!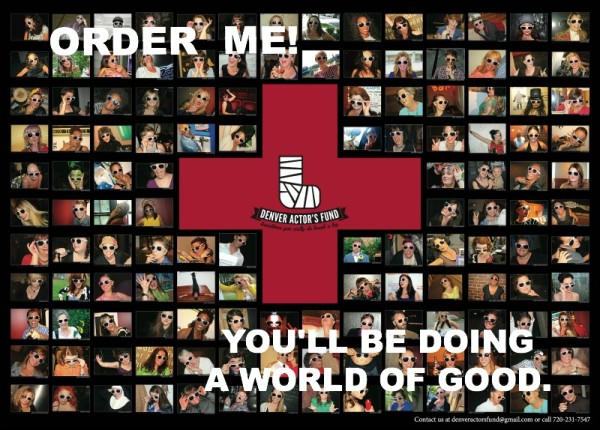 134 women (and a few token dudes) from the Colorado theater community, all supporting the Denver Actors Fund. They cost $20 per poster (20×28). To order, email your quantity to denveractorsfund@gmail.com. We'll take care of delivery and payment from there.
VISIT OUR ONLINE MERCH STORE:
Click here to see how you can buy DAF products such as T-shirts, key chains, puzzles and much more