Denver Actors Fund in Action: Joey Wishnia
Financial-aid recipient: Joey Wishnia, who won the Colorado Theatre Guild's Lifetime Achievement Award in 2011, was educated at Rhodes University and received a teaching diploma in Speech and Drama from Trinity College in London. He came to the United States in 1993 and quickly established himself in the local theatre community as an actor and director concentrating on classical theatre. He has worked in practically every facet of the entertainment industry, most recently having performed in
Vintage Theatre's "Sunset Boulevard." He has also written scripts for children's theatre, devised and appeared in four one-man shows and developed several educational programs aimed at encouraging children to read.
His story: Joey Wishnia has Macular Degeneration, which involves monthly visits for eye injections. He also has recently had two cataract removal surgeries (one eye at a time) and also has had two teeth extracted. These medical setbacks have made it hard for Joey to keep up with his everyday expenses.
How we will help: The Denver Actors Fund has made $522.40 available to Wishnia to help satisfy his immediate financial needs and give him some breathing room going into September.
Update: In May 2018, the DAF Board approved an additional grant of $520.37 to pay for Joey's continuing eye injections for macular degeneration, bringing his total overall support including targeted donations from the public to $2,237.37.
How you can help us help Joey Wishnia more: If you would like to target a specific donation to Joey Wishnia, simply mail tax-deductible checks made out to Denver Actors Fund (with Joey Wishnia's name written in the topic field), to P.O. Box 11182, Denver, CO 80212. Or use this donation link. If you use the online option, be sure to designate that your donation is a targeted donation to Joey Wishnia. Otherwise it will be applied to the replenishment of the DAF's general fund.
A message from Joey Wishnia: "I would like to express my heartfelt thanks to the Denver Actors Fund. Not only because they have helped me, but because they hold an umbrella over the heads of our theatre community to protect us from the rain that always comes unexpectedly."

(Note: At the Denver Actors Fund, anonymity of aid recipients is presumed and fully protected, unless and until the recipient chooses to have his or her story told.)
ABOUT THE DENVER ACTORS FUND:
The Denver Actors Fund is a modest source of immediate, situational relief when members of the local theater community find themselves in medical need. In addition to financial relief, a team of more than 60 Denver Actors Fund volunteers offers good neighborly assistance including meal prep and delivery, child care, transportation, errands, construction, pet-sitting and more. For more information, visit our web site at www.DenverActorsFund.Org.
HOW YOU CAN HELP:
To DONATE the Denver Actors Fund: Please click here (with our humble thanks):
APPLY FOR AID:
To apply for Denver Actors Fund aid: Fill out this brief online form here
MORE WAYS TO HELP:
DONATE BY MAIL:

Send checks made out to the Denver Actors Fund to:
P.O. Box 11182
Denver, CO 80212
ATTEND UPCOMING DENVER ACTORS FUND EVENTS:
"DENVER ACTORS FUND PRESENTS …" MONTHLY FILM SERIES:The Alamo Drafthouse Cinema in Littleton hosts a monthly film series in partnership with the Denver Actors Fund featuring films inspired by musicals that are currently being performed by a Colorado theatre company. Next up on Monday, Aug. 22, is "The Wizard of Oz," featuring pre-screening entertainment by cast members from Candlelight Dinner Theatre's current stage production, scheduled through Sept. 11. Click here to reserve your seat.
COMING SEPT. 26: "Miscast 2016" at Town Hall Arts Center. BUY TICKETS
BUY A POSTER!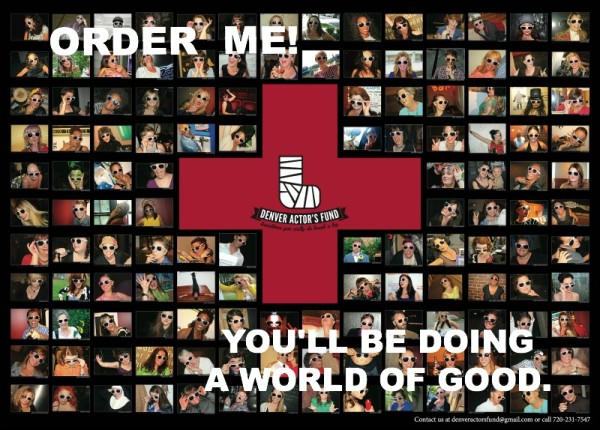 134 women (and a few token dudes) from the Colorado theater community, all supporting the Denver Actors Fund. They cost $20 per poster (20×28). To order, email your quantity to denveractorsfund@gmail.com. We'll take care of delivery and payment from there.
VISIT OUR ONLINE MERCH STORE:
Click here to see how you can buy DAF products such as T-shirts, key chains, puzzles and much more