Denver Actors Fund in Action: Maggie Stillman
Note: At the Denver Actors Fund, anonymity of aid recipients is presumed and fully protected, unless and until the grant recipient wants to have his or her story be told.

Aid recipient No. 2: Maggie Stillman
Who she is: Director and founder of the Byers-Evans House Theatre Company, which is in the process of becoming the Ripple Effect Theatre Company that this year will move into residence at the Laundry on Lawrence (home of  the LIDA Project).
Her story: Maggie has been on medical leave from work since Dec. 9 and earned only $150 for the month of December. After an E.R. visit and a battery of expensive tests, doctors still haven't made a diagnosis. Among other issues, she can't eat without getting sick. Because her short-term disability claim was denied, Maggie needs $350 to pay for her yearly insurance deductible. "I have more tests scheduled, and without being able to pay for the deductible, I wouldn't be able to go," she says. "But I need to go. I need that diagnosis." To top it off … she has pinkeye, too, and is presently quarantined.
Outcome: A check for $350 was issued by the Denver Actors Fund today.
A message from Maggie: "You are helping me so much. We have such an amazing and beautiful community. I've thought that for so many years. I promise, I will pay the kindness forward. To all of the beautiful souls who have dedicated even $1 to this fund, just know that it makes a difference in the lives of people you know, people you work with, people who feel less stressed because of your generosity. My stress thermometer pretty much hit 100 degrees on Tuesday, and today it came back down by several degrees because of the Denver Actors Fund. Every dollar counts, because every dollar stands for Love. Thanks for the Love. 'Thank you' isn't enough."
 Update: The tests that Maggie needed to get her diagnosis have revealed that she needs to have her gall bladder removed immediately. She'll be having that surgery tonight, and we'll keep you updated.
How you can donate to the Denver Actors Fund:
The new Denver Actors Fund is a modest source of immediate, situational relief when members of the local theater community find themselves in sudden medical need. To donate, please go here (with our humble thanks):
To apply for Denver Actors Fund aid: Download the brief form by clicking here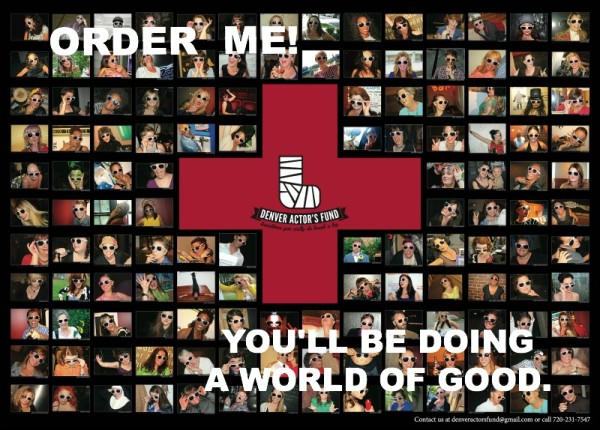 Buy a poster! 134 women (and a few token dudes) from the Colorado theater community, all supporting the Denver Actors Fund. $20 per poster (20×28). To order, email your quantity to denveractorsfund@gmail.com
Visit our online merch store: T-shirts, key chains, puzzles and much more
Why it matters: Watch this video: