Financial-aid recipient: ShaShauna Staton is an actor, director, wife, mother and daughter of the beloved late founder of Shadow Theatre founder, Jeffrey Nickelson. Most recently, Staton appeared in Vintage Theatre's "Ain't Misbehavin" at the very same theatre her father opened in April 2008, about 16 months before his death at 53. Staton played Armelia alongside Dwayne Carrington, Leonard E. Barrett, Hannah Wheeler and Cicely O'Kain. Other credits include Vintage's "A Song for Coretta," the Aurora Fox's "Once on This Island" and Shadow's "In Search of Eckstine: A Love Story." Following her father's death, Staton brought back his youth program called EmUrge Theatre, which presented "EmUrgency" at Vintage Theatre.
Her story: On April 26, ShaShauna went into premature labor, necessitating an emergency C-section and the arrival of her third child, Bradford Staton III, two months early. Her husband missed the next two weeks of work to care for his wife and three children. That loss of income brought immediate and pressing financial difficulties upon the Staton family.
How we will help: The Denver Actors Fund made $529.03 available to the Statons to help satisfy their immediate financial needs and allow them to fully focus on the health and well-being of their children.
How you can help us help the Statons more: If you would like to target a specific donation to the Staton family to give them a little more breathing room, simply mail checks made out to Denver Actors Fund (with the Statons' name written in the topic field), to 4594 Osceola St., Denver, CO 80212. Or use this donation link. If you use the online option, be sure to designate that your donation is a targeted donation to the Statons. Otherwise it will be applied to the replenishment of the DAF's general fund.
A message from ShaShauna Staton: "We are truly grateful for the Denver Actors Fund. This has been an extremely hard time for my family, and the DAF has been a complete lifesaver. This is a fantastic support system for our community, and we thank you."

(Note: At the Denver Actors Fund, anonymity of aid recipients is presumed and fully protected, unless and until the recipient chooses to have his or her story told.)
ABOUT THE DENVER ACTORS FUND:
The Denver Actors Fund is a modest source of immediate, situational relief when members of the local theater community find themselves in medical need. In addition to financial relief, a team of more than 60 Denver Actors Fund volunteers offers good neighborly assistance including meal prep and delivery, child care, transportation, errands, construction, pet-sitting and more. For more information, visit our web site at www.DenverActorsFund.Org.
HOW YOU CAN HELP:
To DONATE the Denver Actors Fund: Please click here (with our humble thanks):
APPLY FOR AID:
To apply for Denver Actors Fund aid: Fill out this brief online form here
MORE WAYS TO HELP:
DONATE BY MAIL:

Send checks made out to the Denver Actors Fund to:
4594 Osceola St.
Denver, CO 80212
ATTEND UPCOMING DENVER ACTORS FUND EVENTS
TUESDAY, MAY 10:
"Be Brave!"
The Denver Actors Fund celebrates the life of its late President, Brenda Billings, with an evening of songs from musicals she directed with the Evergreen Players and Miners Alley Playhouse. Songs will be performed from
Hair, Hairspray, Godspell
,
The Fantasticks
and
Songs for a New World.
This promises to be a night of wonderful music and surprise guest appearances that all fans of the musical theatre – and living life to the fullest – will enjoy. Hosted by Paul Dwyer. Musical Direction by Mitch Samu. Proceeds will equally benefit the Denver Actors Fund and Miners Alley Playhouse. Advance reservations strongly encouraged.
Ticket information here.
ATTEND THE "DENVER ACTORS FUND PRESENTS …" MONTHLY FILM SERIES: The Alamo Drafthouse Cinema in Littleton hosts a monthly film series in partnership with the Denver Actors Fund featuring films inspired by musicals that are currently being performed by a Colorado theatre company. Next up on Monday, May 23 is "Legally Blonde," featuring pre-screening entertainment by cast members from Littleton Town Hall Arts Center's upcoming production, scheduled May 20-June 19. "Legally Blonde" film director Robert Luketic and screenwriters Kirsten Smith and Karen McCullah are scheduled to appear at this special screening and will participate in a Q&A and autograph-signing in the lobby afterward. Luketic's films include "The Ugly Truth," "Killers," "Paranoia" and "21." More information.
BUY A POSTER!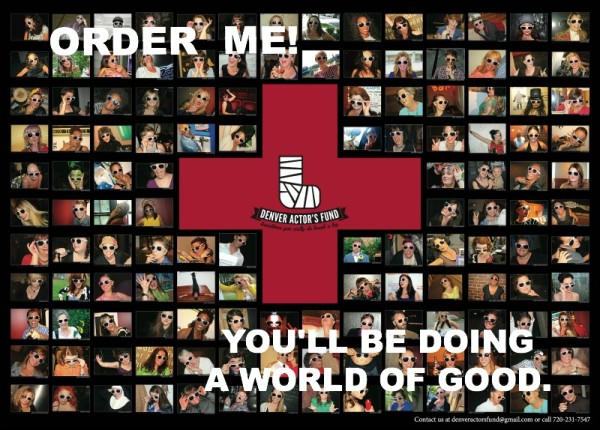 134 women (and a few token dudes) from the Colorado theater community, all supporting the Denver Actors Fund. They cost $20 per poster (20×28). To order, email your quantity to denveractorsfund@gmail.com. We'll take care of delivery and payment from there.
VISIT OUR ONLINE MERCH STORE:
Click here to see how you can buy DAF products such as T-shirts, key chains, puzzles and much more