By John Moore
Feb. 26, 2013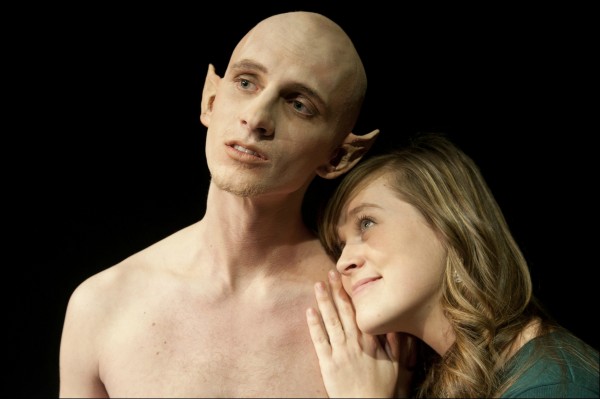 No one can ever know for certain what the "right" thing to do is when faced with sudden and unexpected tragedy. But after a period of reflection, the Equinox Theatre Company has decided the best way for it to honor Adam Perkes, the late star of its current staging of "Bat Boy, the Musical," is to resume the production that opened just four days before Perkes' death.
And in a remarkable display of communion within the Colorado theater community, acclaimed theater artist Nick Sugar has agreed to join the aggrieved cast and step back into one of his signature roles.
"I think it is important to honor Adam, and his struggle," said Sugar. "I don't think anyone should ever have that much pain."
Sugar won a 2004 Westword Best of Denver Award for his performance with Theatre Group as the misunderstood half-human, half-bat boy named Edgar. Five years later, Sugar directed an irreverent staging of the tabloid-inspired musical for Littleton's Town Hall Arts Center, starring Mark Lively.
Perkes was found dead Feb. 20 in a Glenwood Springs hotel room, after what authorities say appears to have been an overdose of drugs and alcohol. The production was placed on indefinite hiatus, but the cast and creative team have decided to return with performances on Fridays and Saturday nights March 8-9 and 15-16.
"If we walked away now, we would only look back on this whole experience with nothing but pain in our hearts," said Equinox producer Deb Flomberg. "Instead, by coming together and creating art, we are finding a way to triumph over that pain."
Perkes' father, Brent, expressed both delight and relief today on hearing the news that "Bat Boy" will live on. "We were feeling bad about that, so my family will be happy to hear that," he said after his son's funeral service.
During the ceremony, Perkes' uncle, David Bowman, read a message that Adam's mother, Brenda, wanted delivered specifically to the "Bat Boy" family:
Adam's family wants wants you to know, and he wants you to know, that he was totally committed to finishing the musical, and he was totally committed to everyone involved with it. He had every intention of seeing it through, despite the fact that he was really struggling with his illness. His trip to the Hot Springs was to try to relax and get a grip on the severe (panic) attacks that have been plaguing him. He simply made a poor decision in trying to stop an attack. Adam would be, and is, deeply sorry."
Exiting the church, Brenda Perkes stopped and waved to the section of the church where Adam's theater friends were seated. "Thank you for coming," she silently mouthed as she walked out.
Flomberg and director Colin Roybal agonized over the decision to continue the show, then decided, with input from the cast, that if "Bat Boy" were to return, it would be best to have an accomplished actor with previous experience in the role. Sugar has won 10 Denver Post Ovation Awards and five Colorado Theatre Guild Henry Awards as actor, director or choreographer.
"He's incredibly good at what he does," Flomberg said.

Sugar understands all too well what the Perkes and Equinox families are going through. Sugar has lost three siblings, two in their 20s. His father died in 2000, his mother two months ago on Christmas day. And just last night, he had to put down his canine companion of nearly 15 years, Zucci.
"Anyone who has ever loved and lost knows that grief," Sugar said. "I think it's going to be a very healing process for all of us."
Flomberg approached Sugar even though he has no personal affiliation with her small theater company. But Sugar, she said, understands the importance of the time-honored theater maxim: "The show must go on."
"He doesn't know us, and he doesn't know me," Flomberg said. "He's used to working in bigger theaters with bigger budgets, so for him to step into our world and help us — it speaks to his giving nature, and it speaks to the giving nature of this community as a whole. The theater community has proven time and again that we are here to support each other."
Sugar also expressed a desire to help in any way he can the two dozen or so cast and crew who are putting on "Bat Boy," including Flomberg, who, as producer, had a significant financial investment in the show.
"This whole company of artists is hurting," said Sugar, "and as a fellow artist, I feel an honor and a duty to do whatever I can to help them."
Flomberg admitted it is with a sense of both awe and trepidation that she goes back into rehearsals tonight. No matter who assumed the role of Edgar, it will be impossible for anyone on her team to separate the character from the actor who originally played the role, if only for one weekend.
In the story, the town veterinarian brings the Bat Boy to his home, where he is accepted as a member of the family and taught to act like a "normal" boy. But in a wink at "Frankenstein," the narrow-minded people of the small Virginia town eventually turn on him. The vet's daughter (played by Rachelle Wood) sings the lyrics, "He never knew what he was worth. I could not stop his fall. But in his precious hours on Earth, he taught us all: Let go the fears to which you cling. And through your tears, you'll hear him sing."
Flomberg quoted those very words at Perkes' wake on Saturday night.
"There are very close parallels between Edgar and Adam," Flomberg said. "The message of the show is about a young man who is rejected by society and is ultimately very alone. In essence, that was Adam, too."
Moving forward does not exactly feel right, she said. But moving forward with Sugar does not exactly feel wrong.
"It's exciting, in a way," she said. "It's flattering that he would do this."
Perkes will be buried beside his infant sister Natasha in Hyde Park, Utah, on Saturday, March 2.
The family has asked that memorial donations be made in Perkes' name to the National Alliance for Mental Illness (NAMI) at 1100 Filmore St., Denver, 80206.
Equinox's "Bat Boy, the Musical": Ticket information
Showtimes: No performances March 1-2; then 7:30 p.m. Fridays and Saturdays March 8-9 and 15-16
Location: At the Bug Theatre, 3654 Navajo St.
Information and ticket sales: 720-984-0781 or the Bug Theatre's home page
Click here to subscribe to the CultureWest.org Monthly E-Newsletter