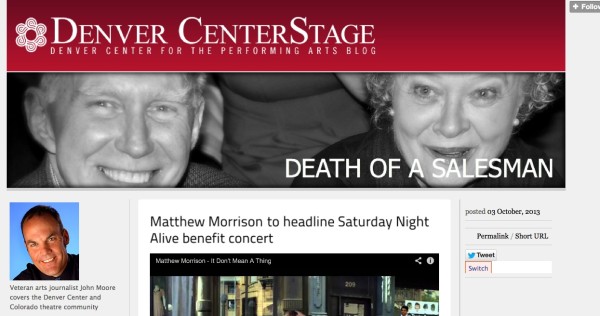 By John Moore.
In case you are wondering where the rest of my stuff is … I got this job, you see. Maybe you heard about it — as a journalist for the Denver Center for the Performing Arts. It's kind of a dream job. And the best part is, the fine folks at the Denver Center are encouraging me to keep up as best I can with covering the rest of the Colorado theater community as well. Including my duties as Executive Director of the new Denver Actors Fund.
But not all of my coverage is being posted here anymore. I have a new home in the Denver Center ether-world called Denver CenterStage. It is intended to complement, not replace, CultureWest.Org.
We've been fast out of the gate. It occurs to me that we have already posted 44 pieces of new content about Colorado theater on Denver CenterStage in the first three weeks of its existence. And that doesn't include additions to our ongoing "It's Opening Night in Colorado Theater" photos series that is moving merrily along.
Some very interesting things have been happening around this theater town. Below are links to some of the highlights. But I'd be ever so grateful if you might bookmark Denver CenterStage and check in there regularly as well — just to make sure you aren't missing anything.
John Ashton deployed by FEMA on eve of his starring role in Boulder Ensemble Theatre's "Seminar"
Kidney update: Erin Rollman's gift saved nine lives
Denver School of the Arts honors Helen Thorpe

Panel: "Death of a Salesman" is the most important American play ever written

Kim Staunton: Truth trumps race in "Death of a Salesman"
Doors Open Denver Center: It's a banner year for local actors
Meet the cast video series: Short, 2-minute interviews with all of the actors appearing in the Denver Center's fall plays. Here is where to find all of them that have been posted to date.
Matthew Morrison to headline 2014 "Saturday Night Alive" gala

Denver Center launches statewide youth playwriting initiative
"Caveman" Cody Lyman comes home to defend his turf
"I Believe" … that you can win the "Book of Mormon" ticket lottery, just like I did … twice!
Luciann Lajoie's Denver-born "*Date" opens in Austin, Texas
Click here to subscribe to the CultureWest.org Monthly E-Newsletter
How you can donate to the Denver Actors Fund
If you could not attend your fundraiser tomorrow, you can still help get us off the ground with your donation. Just send your tax-deductible check (ith our humble thanks) to:
Denver Actors Fund
4594 Osceola St.
Denver, CO 80212