To see caption information on any photo above, or to see the gallery on a mobile phone, click here. (It will be on the lower-left corner.) Or just click "show info" on any photo.
By John Moore
Oct. 4, 2013
Opening No. 120: Boulder Ensemble Theatre Company's "Seminar": In Theresa Rebeck's new exploration of academic privilege and nasty human behavior, four aspiring young novelists find themselves in over their heads when they sign up for private writing classes with Leonard, a force of nature and washed-up international literary figure (John Ashton). Under his reckless instruction, the wordplay is not the only thing that turns vicious. Also featuring Matthew Blood-Smyth, Devon James, Mary Kay Riley and Sean Scrutchins. Directed by Stephen Weitz. Showtimes: 7:30 p.m. Thursdays through Saturdays; plus 4 p.m. Sundays through Oct. 20 at the Dairy Center for the Arts, 2590 Walnut St., Boulder, 303-440-7826 or betc's home page. Thanks: Maxie Beth Bilyeu, Rebecca Remaly Weitz.
To see the complete "Opening Nights" photo series to date (these are outtakes), click here: www.culturewest.org/?p=6068. All photos by John Moore for www.CultureWest.Org.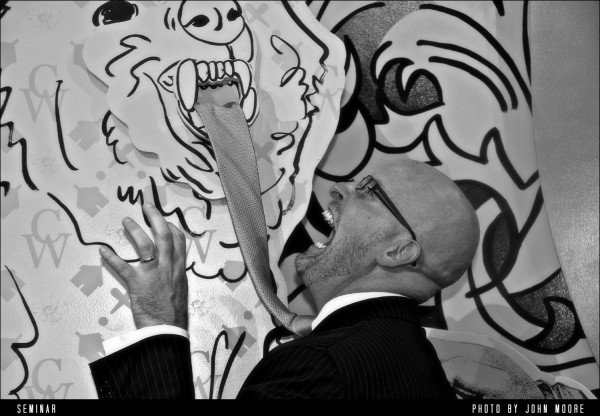 Director Stephen Weitz gets his tie caught in a furry, salivating work of art at the Dairy Center.
More "Seminar" coverage:
John Ashton capped a crazy week with a triumphant opening performance on Friday night. Three days before the opening performance, Ashton was deployed by his day job, FEMA, to working 12-hour daily shifts in response to the flooding in Boulder. The extra busy-ness didn't seem to affect his performance. The company drew a standing ovation.
Click here to subscribe to the CultureWest.org Monthly E-Newsletter
How you can donate to the Denver Actors Fund
The Denver Actors Fund (my new non-profit that provides immediate assistance to members of teh Colorado theatre community who find themselves in immediate, situational medical need) is hosting a Happy Hour starting at 5:30 p.m. on Tuesday, Oct. 8, at Cap City, 1247 Bannock St, Denver, 80204. Please join us for a drink — and learn about volunteer opportunities should you be so inclined.
If you cannot attend, you can still help get us off the ground with your donation. Just send your tax-deductible check (with our humble thanks) to:
Denver Actors Fund
4594 Osceola St.
Denver, CO 80212