To see caption information on any photo above, or to see the gallery on a mobile phone, click here. (It will be on the lower-left corner.) Or just click "show info" on any photo. If you prefer see this feature in its previous format (with each new photo stacked on top of the last), click here.
By John Moore
Oct. 1, 2013
Opening No. 119: Denver Center Theatre Company's "Death of a Salesman": Some call this the most important play ever written. Arthur Miller's Pulitzer- and Tony-winning drama is the story of an aging, deluded and failing salesman who cannot accept that his dreams for his family are no match for the sad realities of their ordinary lives. This heartbreaking indictment of the American Dream is an actor's dream. It stars real-life husband and wife Mike Hartman and Lauren Klein through Oct. 20. Directed by Anthony Powell. Starring Mike Hartman and Lauren Klein, with John Patrick Hayden, M Scott McLean, Anthony Bianco, Michael Santo, James O'Hagan-Murphy, Brian Shea, Kate Gleason, Kyra Lindsay and Adrian Egolf. Showtimes: 6:30 p.m. Tuesdays through Thursdays; 7:30 p.m. Fridays; 1:30 and 7:30 p.m. Saturdays; 1:30 p.m. Sundays at the Space Theatre, Denver Performing Arts Complex, 14th and Curtis streets, 303-893-4100 or www.denvercenter.org. All photos by John Moore for www.CultureWest.Org. To see the complete "Opening Nights" photo series to date (these are outtakes), click here: www.culturewest.org/?p=6068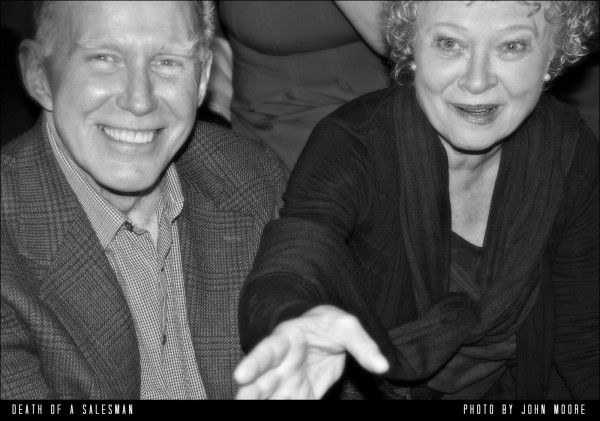 After actors Mike Hartman and Lauren Klein conquered the iconic roles of Willy and Linda Loman on opening night, the real-life married couple deserved a party. Though they settled for a seat.
Click here to subscribe to the CultureWest.org Monthly E-Newsletter
How you can donate to the Denver Actors Fund
If you could not attend your fundraiser tomorrow, you can still help get us off the ground with your donation. Just go to our fundraising page here to contribute — with our humble thanks.