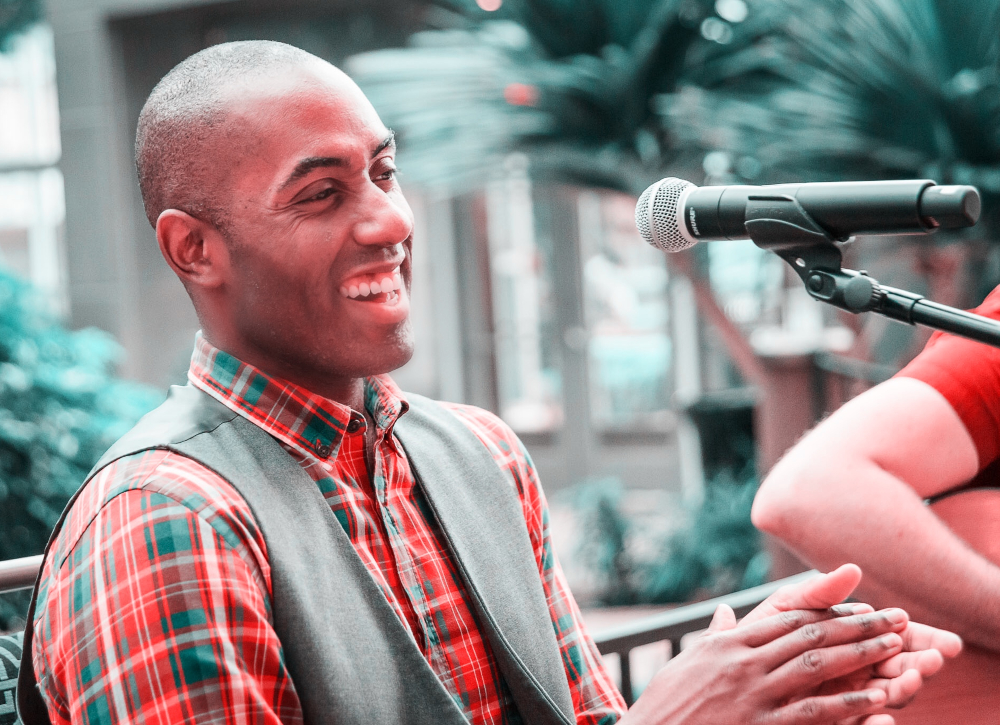 'Kenny Moten does everything with integrity. He's a solid human being.'
If you think being a performer is hard, try being a performer and the owner of your own entertainment and consulting company. Kenny Moten makes the transition from actor to producer to businessman and back again in same manner that often describes his rich singing voice: Smooth as silk.
Moten, creator and owner of Narrative Creative Consulting, has been unanimously appointed to The Denver Actors Fund Board of Directors, President Will Barnette announced today.
Moten presents and stars in his latest creation, In Tandem, tomorrow (December 7) at the Lincoln Center in Fort Collins. It will be an original concert featuring Colorado musicians performing songs from Carole King, Amy Winehouse, The Lumineers, Sia and more. And it is just one of six events Moten has scheduled over the next few months at theatres from Aurora to Johnstown.
"We are excited to have Kenny's entrepreneurial drive and his genuine, caring heart to help us move The Denver Actors Fund forward," Barnette said. "Kenny's roots as a performer in the Colorado theatre community go back for decades – all of which will makes him a wonderful addition to our board."
The 5-year-old Denver Actors Fund makes financial and practical assistance available to members of the Colorado theatre community facing situational medical need. Last month, The Denver Actors Fund surpassed $300,000 in distributed grants in addition to meals, groceries, transportation and other assistance.
Moten is an award-winning vocalist, creative director and writer who has performed on stages from New York to Los Angeles. Among his career highlights:
"Kenny is rare because owning an entertainment business is brutal in a way that is very different from the way performing is brutal," said Moten's frequent creative partner Jalyn Courtenay Webb, who also serves as The Denver Actors Fund's new liaison to theatre companies in Northern Colorado. "When you're the boss, you are not only responsible for yourself, but for the people you hire and the team you put together. But Kenny has just the right temperament for it. He does everything with integrity. He's a solid human being."
Moten, who is originally from Hagerstown, Md., graduated from Highlands Ranch High School and the University of Colorado Denver. He transitioned from Barnstormer to leading man with a remarkable 2005 performance in Ain't Misbehavin' at the late Country Dinner Playhouse opposite now Denver First Lady Mary Louise Lee. Westword's Juliet Wittman called Moten not only "a wonderful singer with a voice full of poignancy and power," but also "a charming and seductive performer who brings impressive precision and a smooth, lean elegance to the stage."
Other major credits include Swing at the Candlelight Dinner Playhouse and Altar Boyz at the Clocktower Cabaret, but it wasn't long before Moten was off to New York. He re-settled in Fort Collins a few years ago and has since been on a roll that has not only furthered his personal and professional interests, but has gainfully employed dozens of local actors and crew members on his many public and corporate projects.
"The thing I love about Kenny is that he's so fun, but he's also completely no-nonsense when it comes to the work," said Webb. "He expects the highest quality and the highest level of performance possible from his performers, and we respect that. He knows what he wants — and he goes out and gets it."
The Denver Actors Fund was founded in 2013 by former Denver Post Theatre Critic John Moore, who has been following Moten's career from the beginning. Moore, the DAF's Executive Director, said above all the many other reasons he is excited to have Moten join the board of his grassroots nonprofit: "He gets things done." Moten also becomes the first DAF board member based outside of the Denver metro area, which is crucial now that The Denver Actors Fund has expanded eligibility to theatre artists throughout Colorado. Moten joins a board consisting of Barnette, Liz Scott-Mckean (Miners Alley Playhouse in Golden) and Penny Dwyer.
"I joined The Denver Actors Fund board because I believe in the importance of collective creativity, in the power of collaboration and in the inspiring spirit of the Colorado theatre community," Moten said. "The DAF has accomplished incredible things in its first five years, and I want more people to know about it – both within our community of actors as well as our community of theatregoers.
"I am excited to be a part of continuing, expanding, and elevating DAF programing. There is always work to be done. There are always larger conversations to be had, and I look forward to serving as an advocate for Colorado artists."
Kenny Moten's Upcoming Shows