Financial-aid recipients: Eric Mather is one of Denver's most gifted comic actors, most recently having played Inspector Hans Kemp in Town Hall Arts Center's "Young Frankenstein." Denver Post Theater critic John Moore once wrote of Mather: "Here's a guaranteed formula for staging a successful comedy: Cast Eric Mather, wind him up like a child's toy, and just … let him go." He is co-host of the monthly "Drunken Bachelor Talk Show" at Lannie's Clocktower Cabaret, and is experienced in commercials, voice-overs and improv comedy. His deep theatrical resume includes being a member the Walden Family Playhouse's resident company in Lakewood, creating many original children's musicals. He was twice nominated for Denver Post Ovation Awards before being named best actor in comedic role as the God-like title character in Miners Alley Playhouse's "The Visitor." His job was to engage Sigmund Freud in the philosophical and spiritual debate of a lifetime. Eric's wife, Jenny Weiss Mather, has appeared in many musicals around town, most recently in Vintage Theatre's "Mack and Mabel." The couple appeared together at Backstage Breckenridge Theatre in the 2013 farce "Out of Order," followed by "Beauty and the Beast," as Lumiere and Babette.
Their story: Last August, at just 25 weeks pregnant, Jenny Weiss Mather went into pre-term labor that mandated an emergency airlift from Aspen Valley Hospital to Presbyterian St. Luke's in Denver. Jenny underwent surgery to keep her son in the womb for another two weeks, giving Myles a better chance at a healthy life. Myles was born on Aug. 25, weighing just 1 pound, 9 ounces. Myles spent his first two months in the Neo-natal Intensive Care Unit (NICU) at St. Luke's, and he is now receiving follow-up oxygen treatment at home. All of this came soon after Mather's son Braeden broke both his arms at a time when the couple had no medical insurance. After Myles was born, friends launched an online giving campaign that raised a whopping $8,823. But all of that has been exhausted by medical bills, and the couple are still swimming upstream because they have maxed out their health-insurance benefits.
How we will help: The Denver Actors Fund has granted the Mathers $2,500, matching the largest individual grant in the short history of the non-profit organization.
How you can help us help the Mathers more: Even with the gift from The Denver Actors Fund gift, the Mathers still face more than $5,000 in post-insurance medical bills. To help us help the Mathers more, simply mail checks made out to Denver Actors Fund with the Mathers' name written in the topic field, to 4594 Osceola St., Denver, CO 80212. Or use this donation link. In the comment field, be sure to designate whether your donation is intended for the replenishment of the DAF's general fund, or a direct, targeted donation to the Mathers.
A message from the Mathers: "The last few months of our lives have been an incredible blessing with the arrival of our son. We just want to thank Denver Actors Fund and the community for helping us in this time of financial need. The money we are receiving will go directly to Aspen Valley Hospital and the emergent care that Jenny received, which represents a significant portion of the medical bills we are dealing with now. It really does take a village."

(Note: At the Denver Actors Fund, anonymity of aid recipients is presumed and fully protected, unless and until the recipient chooses to have his or her story told.)
ABOUT THE DENVER ACTORS FUND:
The Denver Actors Fund is a modest source of immediate, situational relief when members of the local theater community find themselves in medical need. In addition to financial relief, a team of more than 60 Denver Actors Fund volunteers offers good neighborly assistance including meal prep and delivery, child care, transportation, errands, construction, pet-sitting and more. For more information, visit our web site at www.DenverActorsFund.Org
HOW YOU CAN HELP:
To DONATE the Denver Actors Fund: Please click here (with our humble thanks):
APPLY FOR AID:
To apply for Denver Actors Fund aid: Fill out this brief online form here
MORE WAYS TO HELP:
DONATE BY MAIL:

Send checks made out to the Denver Actors Fund to:
4594 Osceola St.
Denver, CO 80212
ATTEND DESIGNATED DENVER ACTORS FUND PERFORMANCES:
JANUARY 28: StageDoor Theatre is giving ALL proceeds from its Industry Night performance of "Calendar Girls" to the Denver Actors Fund. 7:30 p.m. Pay what you can at the door. Call Jill Manser at
303-995-8311.
ATTEND THE NEW "DENVER ACTORS FUND PRESENTS …" FILM SERIES: The Alamo Drafthouse Cinema in Littleton is launching a new monthly film series in partnership with the Denver Actors Fund. The series, "Denver Actors Fund Presents …" will feature films inspired by musicals that are currently being performed by a Colorado theatre company. The series kicks off Sunday, Feb. 14, with an exclusive screening of the cult classic "Heathers." Ignite Theatre Company, whose upcoming production of "Heathers The Musical" will perform songs from the show prior to the screening. Click here for tickets.
BUY A POSTER!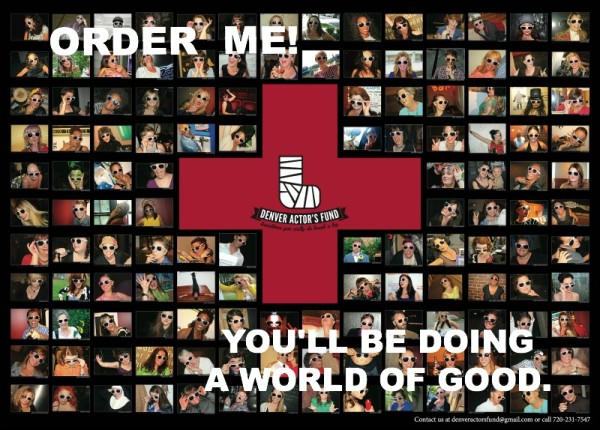 134 women (and a few token dudes) from the Colorado theater community, all supporting the Denver Actors Fund. They cost $20 per poster (20×28). To order, email your quantity to denveractorsfund@gmail.com. We'll take care of delivery and payment from there.
VISIT OUR ONLINE MERCH STORE:
Click here to see how you can buy DAF products such as T-shirts, key chains, puzzles and much more