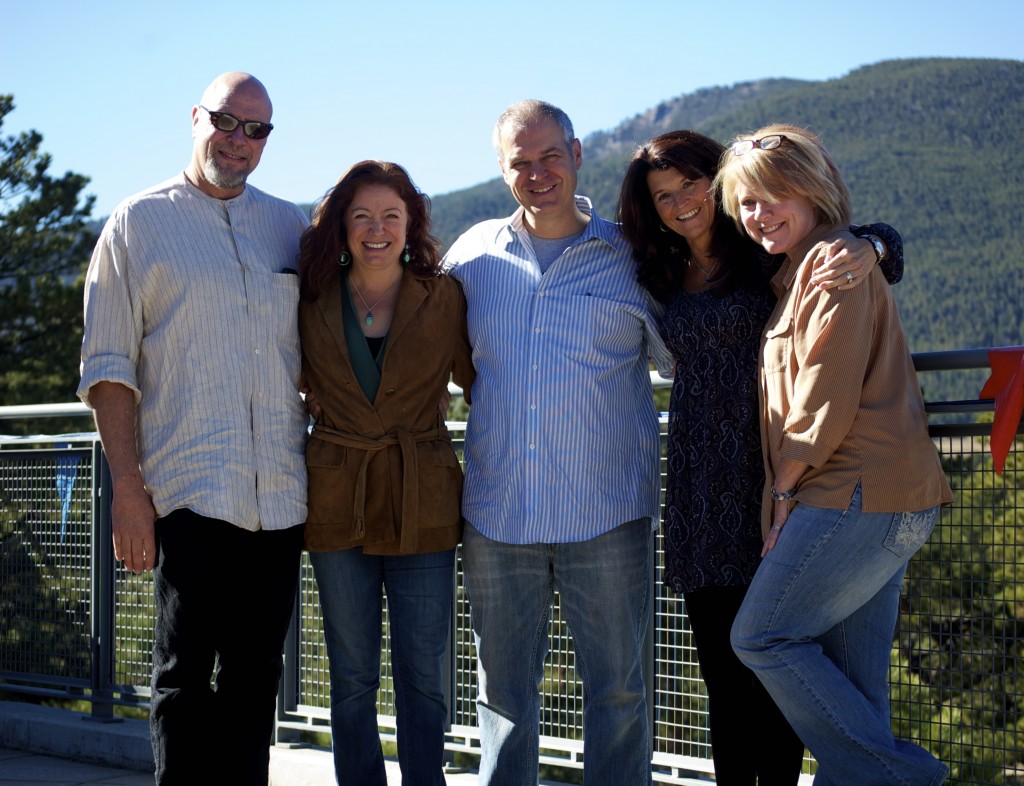 By John Moore
Nov. 8, 2012
Rick Bernstein has announced the "slow and steady" transition of the leadership of his Miners Alley Playhouse in Golden to a well-known local team headed by Evergreen Players board president Brenda Billings and director Len Matheo.
Matheo and Billings will take over as co-executive artistic directors on Jan. 1. Bernstein and his wife, current artistic director Paige Larson, will remain as producers and consultants through the end of 2013. That overlapping time together will not only make for an orderly transition, Matheo said, it will give the theater time to adequately recognize Bernstein and Larson for what will have been 24 years of telling intimate stories for theatergoers in west Jefferson County.
"Rick and Paige are the patriarch and matriarch of this family, and they always will be," Matheo said.
Bernstein is stepping down now because, he said, "I think it's time for the theater to grow.
"I wanted small. I wanted control. I wanted my own personal autonomy … and that creates limitation. But I also know that with what's going on with the economy and in the community right now, the best thing for this organization is to open up the doors and give it the opportunity to grow to the next level."
Larson emphasized that the theater is in good financial condition, that it will be business as usual during the transition, and that the founding couple would not be stepping aside now if they were not certain they have recruited the best possible replacements.
"They're just like us," Bernstein said of Billings and Matheo. "They have great attitudes. They have great heart. I think they do theater for the right reasons, and I think they are going to continue our work with great panache."
Bernstein founded the little Morrison Theatre in 1989. He moved into the 120-seat gem of a theater he built above the old Foss Drug Store in the heart of downtown Golden in 2003. Miners Alley Playhouse — named after the actual alley that runs behind the theater at 1224 Washington St. — opened in June 2003 with "The Elephant Man."
Miners Alley is known for staging a variety of intimate fare, including farces, American classics and dry English comedies, with a particular niche for telling powerful Jewish tales. Matheo said nothing will significantly change, other than to expect two musicals among the theater's seven annual offerings. "That's something audiences have been asking for," Bernstein said.
Brenda Billings is a member of the large and well-known theater family headed by the late P.K. Worley, who served the Evergreen Players for 25 years in many capacities before his death in 2011. Billings recently directed "Hair" in Evergreen with a cast that included her daughter, Jacqui Jo. Her other daughter, Jamie, performed in the national touring production of "Spring Awakening" that visited Denver last year. Brenda Billings' term heading the 62-year-old Evergreen Players' board of directors expires in December, when she will be replaced by Kathleen Davis.
Brenda Billings is dedicating this next chapter of her theatrical life to her dad. "He would be so excited about this," she said. "And if he were alive, he would be calling me every day, asking, 'OK, what's next?' "
But this is actually the story of three married couples: Matheo's wife, actor Lisa DeCaro, will be joining the MAP board, along with Billings' husband, Jim, who will also serve as Miners Alley's treasurer. He is the president of Skyline Property Management Inc., and vice president of Billings Investments, both of Golden. He and Brenda both previously served on the board for the Colorado Children's Chorale.
For 15 years, Matheo and DeCaro have operated their own business called Courtroom Performance, which prepares attorneys and their real-life witnesses for depositions and trials. They have acted and directed with many local theater companies, including the Evergreen Players, Firehouse, Edge and Vintage. DeCaro has appeared this year in both "Parallel Lives" and "Hair" for the Evergreen Players, and in "Six Degrees of Separation" for Vintage.
Looking ahead to 2013
The 2013 season — Miners Alley's 10th in Golden — was previously announced by Bernstein and Larson, and it now becomes, essentially, their farewell tour:
Nov. 9-Dec. 23, 2012: "Greetings!" (see video above)
Jan. 11-Feb 17, 2013: "Mrs. Mannerly"
March 1-April 7, 2013: "The Pitmen Painters"
April 19-May 26, 2013: "The Memory of Water"
June 7-July 14, 2013: "Collected Stories"
July 26-Sept 1, 2013: "Not Now Darling"
Sept. 14-Oct. 27, 2013: "I Never Promised You a Rose Garden"
Nov. 8-Dec. 22, 2013: "It's a Wonderful Life, the Radio Play"
Bernstein is appearing in "Greetings," opening Friday, Nov. 9. Larson and DeCaro will perform together in April's "The Memory of Water." After four new offerings, the slate culminates with reprisals of three Bernstein favorites from his first 10 years in Golden. That includes the pioneering mental-health drama "I Never Promised You a Rose Garden," by local writer Joanne Greenberg, again directed by Bernstein.
Billings and Matheo will announce their first season — for 2014 — by late summer. Until then, Matheo said his first few months will be about learning. "The first few months, we will be shadowing (Bernstein and Larson), seeing how things are done, getting introduced to all the people behind the scenes, and cultivating the board of directors."
Billings ("Hairspray") and Matheo ("All My Sons") will continue their long associations with the Evergreen Players with directing gigs in 2013. They also hope the two companies can share resources and perhaps enter into future producing partnerships. "John and Kathleen Davis have done the lion's share of the work for the Evergreen Players for 30 years, and that is not going to change," DeCaro said. "They are taking positive steps to take things to the next level as well."
Where it all began
Miners Alley Playhouse was built when Bernstein secured a $150,000 loan from the Golden Civic Foundation, with a $50,000 matching grant. Mesa Meadows Land Co. kicked in another $250,000 toward the elevators, bathrooms, lobby and bar. The theater was designed by Donelson Architecture in Golden and built by Michael Pines as a thrust stage, with seating on three sides.
Bernstein says his biggest heartbreak would have been for the theater to close. That nearly happened in 2007, when the 94-year-old Foss Drug that not only anchors the playhouse above but all of downtown Golden, went out of business. That space is now a  thriving retail center that houses a restaurant, liquor store, outdoor clothing store and bicycle shop.
In 2010, Miners Alley became the first small company to win the Colorado Theatre Guild's  Henry Award for best season. That included Larson starring in "A Picasso," about an imagined 1941 meeting between the famous artist and a Gestapo agent.
Bernstein started the Morrison Theatre with $5,000 in 1989. Miners Alley currently operates on a $350,000 annual budget and attracts up to 12,000 theatergoers a year — more than double the total in 2004. Bernstein never paid himself until 1992 – when he started earning $69 a month.
"I think we created a legacy," Bernstein said. "We created a venue and we created artistic programming that the community tells us is very valuable to the people of Golden."
This new transaction does not involve a cash payment beyond guaranteeing Bernstein and Larson's 2013 contracts — because the business is essentially a nonprofit that operates under a lease held by Pat Foss and the Mesa Meadows Land Co. That lease is up in 2013 , but all parties anticipate a smooth negotiation.
An era will end
Looking back, Larson said, "I think we have created exactly what we hoped for, through a really tough journey. We set out to create an atmosphere where actors and directors and technicians are valued as family. And that's what happened."
Matheo said the goal moving forward is artistic consistency. "We just want to continue their legacy of doing great theater," he said.
"And the great thing about next year is that we are going to be doing this together, all six of us," DeCaro added. "We love these guys, and we are going to to continue to build on this great brand that Rick and Paige have built."
If any longtime Miners Alley theatergoers are saddened by the news, Bernstein said, don't be. "Keep coming," he said. "Support the theater. I really believe we have the right people in place to tell the stories our audience wants to hear, to add new stories and to incorporate musical theater. So enjoy the change. Enjoy the fun."
For more information: 303-935-3044 or www.minersalley.com