To see caption information on any photo above, or to see the gallery on a mobile phone, click here. (It will be on the lower-left corner.) Or just click "show info" on any photo.
By John Moore
Dec. 26, 2013
Welcome to my ongoing, 2013 labor-of-love photo series bringing you iconic snapshots from behind the scenes on opening nights in Colorado theater. All photos by John Moore for www.CultureWest.Org. To see the official "Opening Nights" photo series to date (these ones are specifically the "Balls" outtakes), click here.
Opening No. 141: "Balls V! A Holiday Spectacular": For the fifth straight year, a trio of "Balls Babes" and a standing bass player joined forces to present a rollicking benefit variety show that included audience sock puppet sing-alongs, spontaneous haikus and worthless prizes. "Balls" is slightly bonkers, mostly heartwarming with an emphasis on fun. It played Dec. 1 and 2 this year at Lannie's Clocktower Cabaret. It again starred GerRee Hinshaw (host of The Bug Theatre's "Freak Train"), Melanie Owen Padilla (of the Cedar Avenue Blues Band) and local actor Mare Trevathan of Boulder's Local Theatre Company. Musical accompaniment by Jim Ruberto. Rotating special guests included John Common and Jess DeNicola, Lannie's emcee Naughty Pierre, comedian Matt Monroe, singing comedian Shayna Ferm and juggler Reid Belstock. This year, proceeds went to the Colorado Coalition Against Sexual Assault, a non-profit promoting safety, justice and healing for survivors of sexual violence. If you missed this year's "Balls," you can still make a donation to CCASA here.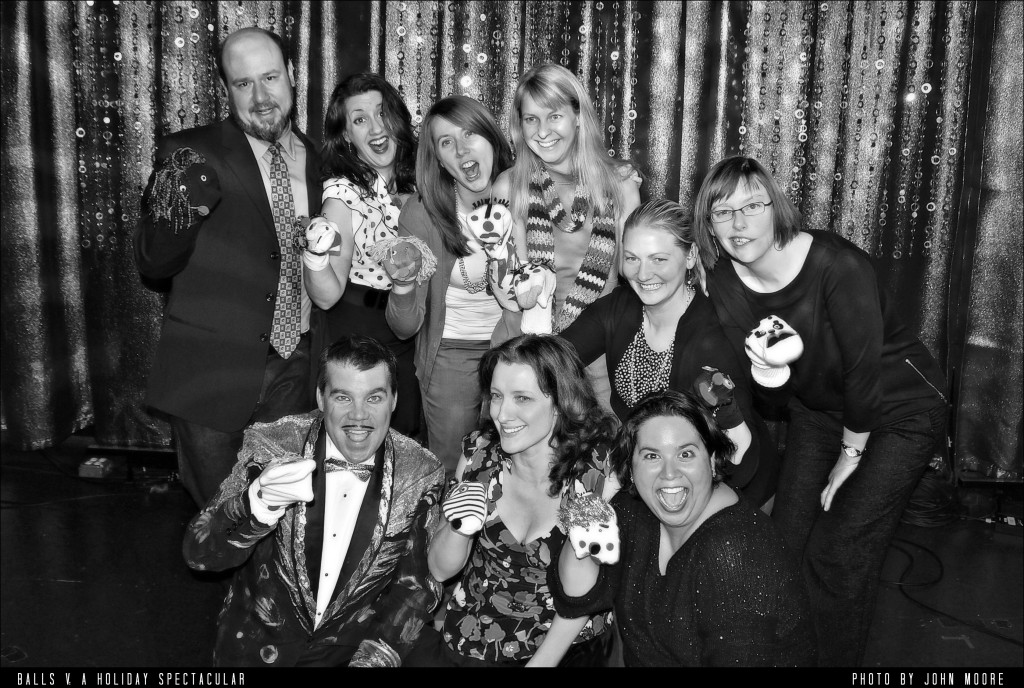 Among this lovely crowd of sock-puppets and do-gooders are "Balls" cast members GerRee Hinshaw, Melanie Owen Padilla, Mare Trevathan and Jim Ruberto, as well as staff members from the Colorado Coalition Against Sexual Assault, including executive director Erin Jemison and program manager Karen Moldovan.
Click here to subscribe to the CultureWest.org Monthly E-Newsletter
Colorado theater schedules, however you like them:

All currently running theater productions
All theater listings by company
All theater listings by opening date

Support the Denver Actors Fund:Buy our awesome fundraising poster:
So all year long I have been taking photos of beautiful women (and token dudes) from the Colorado theater community, all wearing my cheap sunglasses. Now the result of that work is this great poster supporting the Denver Actors Fund nonprofit I founded in June. Order this poster for just $20. Just send an email to denveractorsfund@gmail.com with your quantity number and address. Thanks!
How you can donate directly to the Denver Actors Fund:
The new Denver Actors Fund is a modest source of immediate, situational relief when members of the local theater community find themselves in sudden medical need. To donate to the Denver Actors Fund, please go here (with our humble thanks):