Photos: My night at Boulder's Dinner Theatre's 'Spamalot'
To see caption information on any photo above, or to see the gallery on a mobile phone, click here. (It will be on the lower-left corner.) Or just click "show info" on any photo.
By John Moore
Dec. 26, 2013
Welcome to my ongoing, 2013 labor-of-love photo series bringing you iconic snapshots from behind the scenes on opening nights in Colorado theater. All photos by John Moore for www.CultureWest.Org. To see the official "Opening Nights" photo series to date (these ones are specifically the "Balls" outtakes), click here.
Opening No. 146: Boulder's Dinner Theatre's "Monty Python's Spamalot": Monty Python has come to Boulder a first time to taunt poor King Arthur, the principled if idiotic leader of the quest for the Holy Grail. Why God the all-knowing has misplaced a cup is anyone's guess. "Spamalot," the Tony Award-winning best musical of 2005, lovingly rips off the beloved, warped source film, with its full allotment of dancing divas and knights, flatulent Frenchmen, killer rabbits and that one snickeringly legless fightin' knight. While the plot loosely follows the same course of events as the film, the stage equivalent is very much its own sacrilegious thing, so do not come expecting a carbon copy. We open in Finland, after all. I mean, this is a bona fide Broadway musical, so it's got to have some actual women too. And here those women are Laker Girls. For real. Starring Wayne Kennedy as the utterly guileless King Arthur, with Alicia Dunfee as his Lady of the Lake. The ensemble includes Brett Ambler, Scott Beyette, Brian Cronin, Barrett Harper, Jessica Hindsley, Bob Hoppe, Brian Jackson, Norrell Moore, Brian Norber, Joey Revier, Scott Severtson, Burke Walton, Tracy Warren, Tracey Zimmerman and … STG … Jerry Lewis (the real Jerry Lewis) as the Voice of God. Directed by Piper Lindsay Arpan, who appeared in the Broadway production of "Spamalot." Showtimes: 7 p.m. Wednesdays, 7:45 p.m. Thursdays-Saturdays; 1:30 and 7:45 p.m. Sundays (dinner service 90 minutes before) through March 1 at 5501 Arapahoe Ave., 303-449-6000 or BDT's home page Thanks: Michael J. Duran, Seamus McDonough, cast and crew.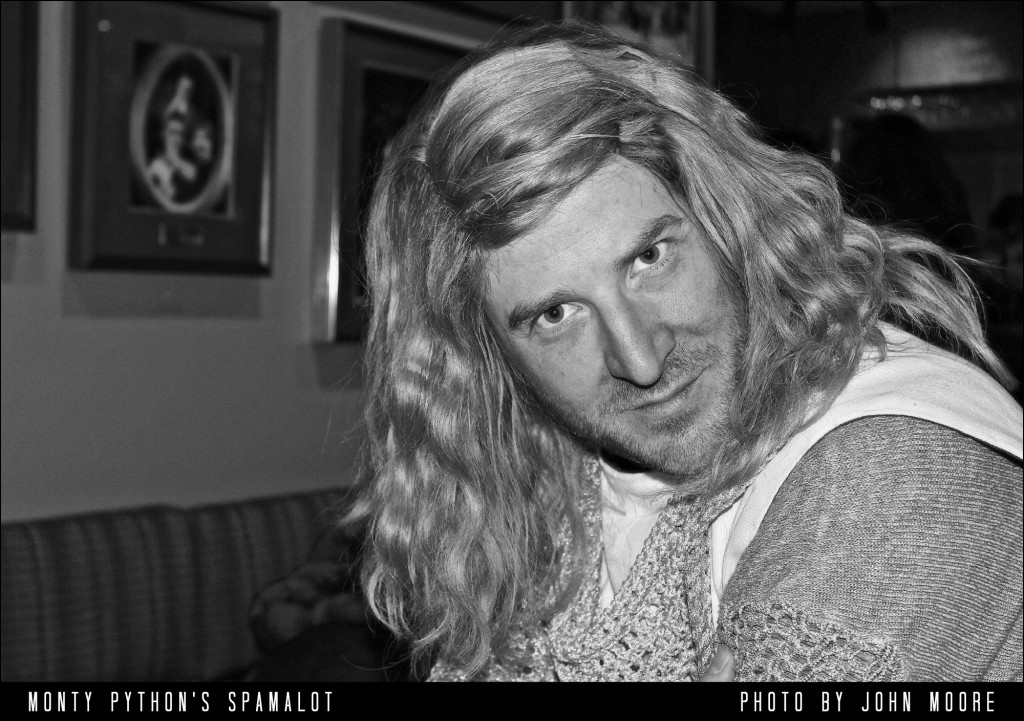 Introducing one of the lesser-known Knights of the Round Table: Sir Fabio. Scott Severtson, who's not normally this … maned … plays Sir Dennis, a k a Galahad.
Click here to subscribe to the CultureWest.org Monthly E-Newsletter
Colorado theater schedules, however you like them:

All currently running theater productions
All theater listings by company
All theater listings by opening date

Support the Denver Actors Fund:Buy our awesome fundraising poster:
So all year long I have been taking photos of beautiful women (and token dudes) from the Colorado theater community, all wearing my cheap sunglasses. Now the result of that work is this great poster supporting the Denver Actors Fund nonprofit I founded in June. Order this poster for just $20. Just send an email to denveractorsfund@gmail.com with your quantity number and address. Thanks!
How you can donate directly to the Denver Actors Fund:
The new Denver Actors Fund is a modest source of immediate, situational relief when members of the local theater community find themselves in sudden medical need. To donate to the Denver Actors Fund, please go here (with our humble thanks):