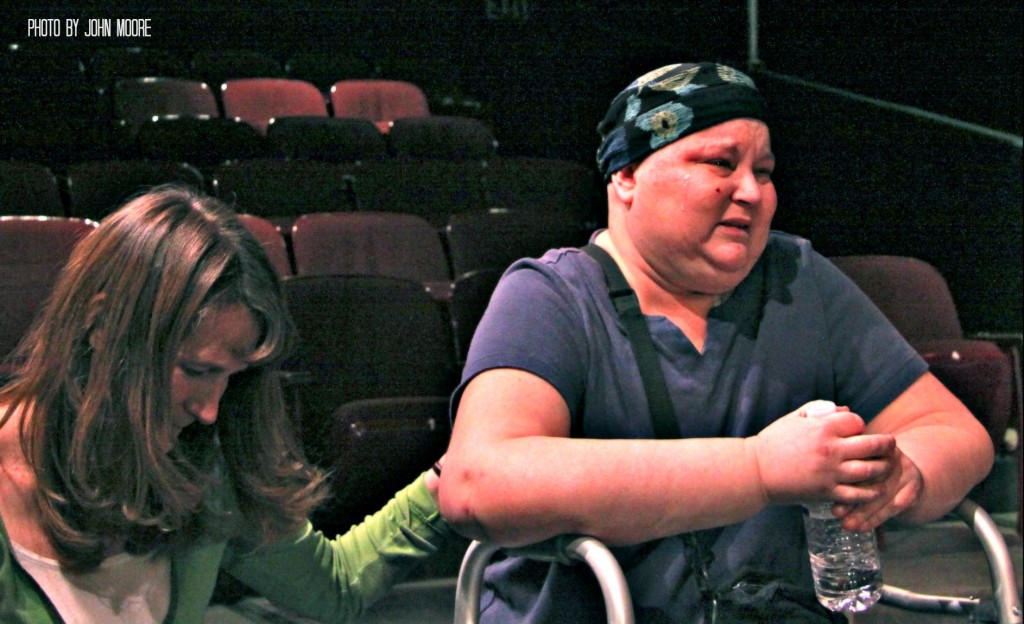 UPDATE: It's here … an electronic means for helping Shelly Bordas with a donation. There also will be a "pay-what-you-can" performance of "9 to 5" on March 4, with all proceeds going to Shelly. Call 303-794-2787.
By John Moore
Feb. 10, 2013
For the past month, I have been following the very funny comic actress Shelly Bordas in her journey back to the stage after a 3 1/2 year battle with breast cancer that she was told in November was behind her.
Shelly celebrated the news by auditioning for the Town Hall Arts Center's "9 to 5," and landed the comic role of the drunk secretary. We were both looking forward to soon bringing you my newest five-part video documentary on Shelly's journey, culminating with her triumphant opening night on Feb. 22.
But the diagnosis quickly changed. The cancer had moved to Shelly's brain. And so yesterday, after a 10-day hospital stay and her 15th surgery, Shelly told the cast that she could no longer continue in the show.
"The doctors don't give me a lot of time," she said. "… And every second I am at rehearsal is another second that I am away from my son."
Her foremost goal now, she said, is to take her young son, Nathan, on a Disney cruise, she said, "because I need to see that happen."
Shelly has appeared in dozens of plays around Colorado, but she is best known for her work with the now defunct Theatre Group, including memorable turns in "Cell Block Sirens of 1953," "Bat Boy, the Musical" and, more recently, "Debbie Does Dallas." She also has performed at the Arvada Center, the Avenue Theater, Backstage Theatre in Breckenridge and many others.
Shelly has been writing, teaching and directing youth theater for more than 15 years. She founded her own school, Acting Up, giving teenagers professional acting instruction. Many have gone on to work in New York. She has been teaching kids at the Town Hall Arts Center in Littleton for nine years. She has also been an instructor for Denver Public Schools, Gunnison High School, Stage Eleven and the Cherry Creek School District.
She left the cast on Saturday in typical good humor. "I am afraid I am going to leave you guys to deal with somebody who is never going to be near as good as me," she said to laughs. "So that sucks for you guys."
I will tell you that, despite her recent setback, Shelly's story is just beginning. And we have agreed it should be chronicled. So, while I can't say when, the video documentary will continue. When it is completed, you will see it here.
Help send Shelly and her son on a Disney cruise
To help Shelly defray the cost of taking her son on a Disney cruise, send donations addressed to Shelly Bordas to the Town Hall Arts Center, 2450 W. Main St., Littleton, CO, 80120.
Bonus coverage: Listen to my very funny "Running Lines" podcast episode with Shelly when she was appearing in Theatre Group's 2006 production of "Debbie Does Dallas." She played Lisa and was also the musical's "cheerographer."