Mikeal Macbeth has created this this video montage of Angela Johnson performances. Used by permission.
By John Moore
Feb. 4, 2013
Though she was just a young woman, Angela Johnson was known as "the queen of community theater" in Northern Colorado. She was a classically trained vocalist who accepted any role given to her "happily and joyfully," her friend and vocal coach Jalyn Webb said Monday night.
Friends far and wide are reeling from the shocking news that Johnson died overnight in her sleep Sunday. She was 34.
Johnson was known for posting positive "quote of the day" online affirmations. "She was the kind of person everybody aspired to be," said Webb. "She was truly without a single thread of malice in her body." Echoed friend Mickie Stevens in a Facebook post: "It's impossible to comprehend the sudden and unexplainable loss of such a beautiful soul, but I do know that her singing, acting, cross-stitching, pirate celebrating, and yes, dancing, will live on in (our) memories."
Johnson loved singing, acting and every other aspect of theater performance. She performed or worked with most every company in Northern Colorado, most recently as a box-office worker at the Candlelight Dinner Playhouse in Johnstown.
Of all the companies she performed with, including the Loveland Community Theater,  Jesters Dinner Theater, Front Range Music Theatre, Union Colony Dinner Theatre and Up in Lights Productions, her work with the Loveland Opera Theatre dating to 2006 was probably most most special to her. Angela had two sides of her to her theatrical career, and with the Loveland Opera Theatre, she got to fully explore both. Angela was a performer and  administrative assistant to executive director Juliana Bishop Hoch, who calls Angela "the backbone of the company." Hoch taught Angela as a vocal student for 10 years before hiring her on staff.
"She helped me with details of running the business and brainstorming ideas," said Hoch, citing Johnson's idea for a sold-out "Everybody Loves Puccini" gala. "We worked together as a dynamic team and there is a huge hole in my heart now that she is gone."
On Thursday, Hoch announced that the Loveland Opera Company's upcoming production of "La Boheme" (Feb. 15-24) will be dedicated to Angela. Hoch called her voice "angelic" and gorgeous.
"As long as I live, I will never forget her hysterical rendition of 'As We Stumble Along' from 'The Drowsy Chaperone,' which she performed at an LOT gala. It brought the house down. … We have lost a great friend, performer and talent in our musical community."
Angela Johnson was born March 9, 1978, into a performing family. She is the daughter of Judy Johnson, a piano teacher, and father Murell Johnson, a music teacher. He taught high-school band and choir for nine years in Utah before moving to Colorado, where he has since participated in many musical events himself, from church choirs to high-school musical productions.
Angela's  sister, Shauna, is the technical director at Candlelight, where Neal is a sound technician. Another brother, Craig, also performed in community theater before starting his own family.
"With my parents' backgrounds, one can only imagine the environment my siblings and I grew up in," Neal Johnson said. "Music was not a part of our lives — it was our lives. We all participated in music in school in one facet or another, spanning from all-state choir to high-school musicals to multiple state marching-band championships."
Angela was an integral part of it all, Neal said, including being a drum major for the Loveland High School marching band. That began the family's 14-year marching-band campaign, he said.
"We still sing as a family to this day," Neal added. "You should hear our six-part harmony of 'Happy Birthday.' "
Johnson, a mezzo soprano, graduated from Loveland High in 1996 and the University of Northern Colorado's College of Music in 2000. One of her favorite on-stage roles was as Tzeitel in the Union Colony Dinner Theatre's 2008 production of "Fiddler on the Roof."
"What a sweet, gentle, loving person," Cathy Monroe-Salaymeh, former owner of the Union Colony Dinner Theatre, wrote on Facebook.
"She was just a really sharp, invested, funny woman," added Webb.
Johnson had a great fondness or the Up in Lights youth theater academy in Loveland. She is featured in a promotional video (posted at the top of this page) in which she espouses the merits of a company that allows young people to spread their joy for musical theater.
There is no word yet on a cause of death.
Services will be held as follows:
Thursday, Feb. 7, 5-7 p.m.: Visitation at Kibbey-Fishburn Funeral Home, 1103 Lincoln Ave., Loveland
Friday, Feb. 8, 8 a.m." Visitation at the Church of Jesus Christ of Latter-day Saints, 3800 Mountain Lion Drive, Loveland
Friday, Feb. 8, 9 a.m.: Funeral at the Church of Jesus Christ of Latter-day Saints, 3800 Mountain Lion Drive, Loveland.
Angela's immediate family also included sister-in-law Robin, wife of Craig (parents of Emily, Rebekah, George and Ben); sister-in-law Amanda, wife of Neal; grandmother Lois Milligan, and numerous aunts, uncles and cousins.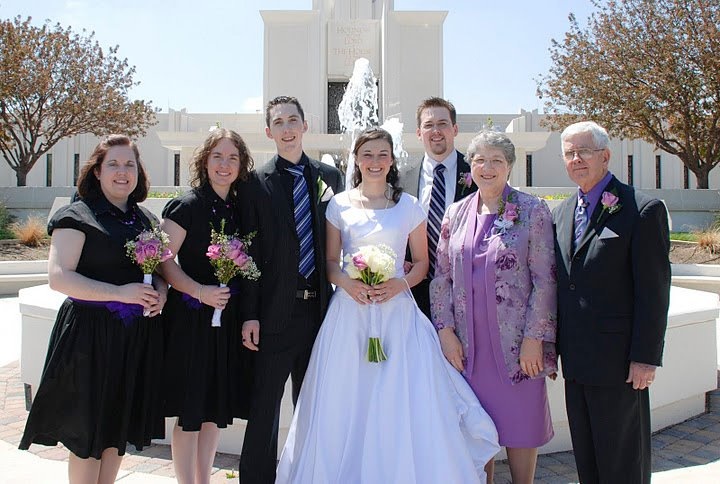 More from Johnson's online profile:
Angela's love affair with musical theater began very early, as her family has been involved in theatre for many years. Her first role was Lucy in "You're a Good Man, Charlie Brown" at age 13. She went on to do plays and musicals at Bill Reed Middle School and Loveland High School. Since that time, she has performed with Loveland Community Theater, the Jesters Dinner Theater, Front Range Music Theatre, Loveland Opera Theatre, the Union Colony Dinner Theatre, Up in Lights Productions and the Candlelight Dinner Playhouse.

Some of Angela's favorite roles include: Rose in "The Secret Garden" (JDT, 2004), Tzeitel in "Fiddler on the Roof" (UCDT, 2008), Bloody Mary in "South Pacific" (JDT, 2009), Donna in "The Taffetas" (FRMT, 2009), Jessica Cranshaw in "Curtains" (UIL, 2009), and Mrs. Dilber in "Scrooge! the Musical" (CDP, 2011).

In addition to being an accomplished vocalist, Angela also plays the piano, organ, flute and piccolo.

Angela Johnson espouses the merits of Loveland's Up in Lights youth theater academy at about the 0:50 mark of the video above.
Subscribe to the CultureWest.org Monthly E-Newsletter