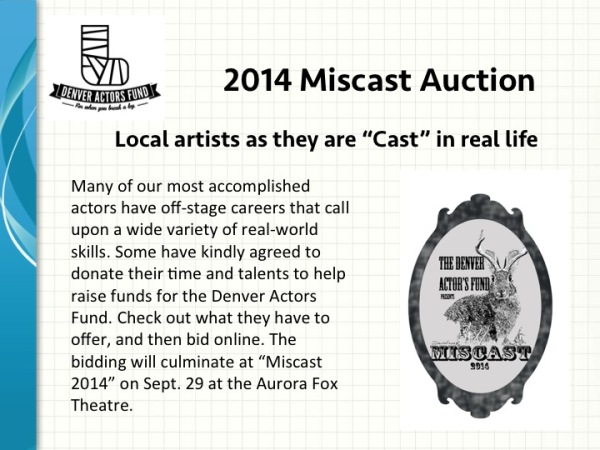 As the countdown to "Miscast 2014" enters its final week, the Denver Actors Fund is tickled to introduce the 2014 Miscast Auction: Services provided by artists as they are "cast" in real life.
Many of our most accomplished actors and artists have off-stage careers that call upon a wide variety of real-world skills. Some have kindly agreed to donate their time and talents to help raise funds for the Denver Actors Fund. Check out what they have to offer here, and then bid online by using our public Google doc here.
The bidding will continue online until 3p.m. Sept. 29. It will then continue and culminate at "Miscast 2014" on Sept. 29 at the Aurora Fox Theatre.
"Miscast 2014″ is an opportunity for members of the local theatre community to sing songs and act out scenes they would never … ever! … get cast to perform on any legitimate stage. This popular tradition dates back a decade to its origination by the late Next Stage Theatre Company.
For more information on Miscast 2014, click here
MISCAST 2014
HERE ARE THE SERVICES UP FOR AUCTION.
TO BID, ADD YOUR OFFER TO THIS PUBLIC GOOGLE DOC