Town Hall Arts Center leads balanced field of 2013 Henry Award nominees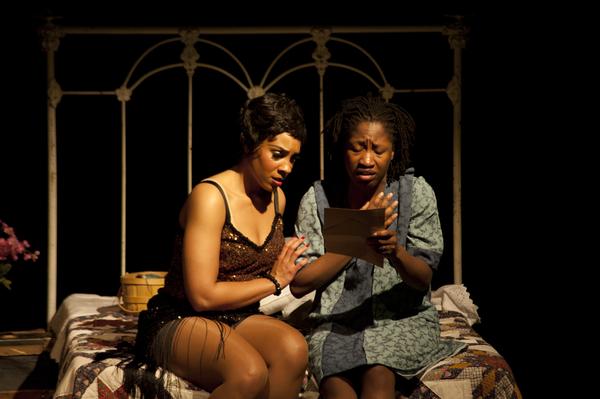 Ashlie-Amber Harris, left, is nominated for her supporting work in both the Aurora Fox's The Color Purple," above, and the Town Hall Arts Center's "Hair." SuCh, also pictured above, is a nominee for outstanding actress in a musical.
By John Moore
June 19, 2013
The Town Hall Arts Center leads all companies with 17 nominations for 2013 Colorado Theatre Guild Henry Awards, largely on the strength of its 12 nods for "Hair: The American Tribal Love-Rock Musical," the most for any musical.
The eighth annual nominations are more evenly spread out than in any preceding year, with 16 nods for Curious Theatre Company, 15 for the Arvada Center and 13 for the Denver Center Theatre Company, which garnered only three acting noms.
The upstart Boulder Ensemble Theatre Company did the best by far among small companies that don't produce musicals. BETC garnered nine nominations for four plays. Boulder's Dinner Theatre also scored nine.
The winners will be announced July 22 at a fundraising gala to be held for the first time at the Arvada Center.
This is the first year that Colorado Theatre Guild member companies from outside the seven-country metro area are fully eligible for Henry Awards — as long as at least six judges found a way to attend their shows. That opened the field to seven newly nominated companies from Fort Collins to Breckenridge to Colorado Springs. In all, 21 stagings from outside the metro area received consideration for nominations.
The Lake Dillon Theatre Company announced itself rather loudly, with eight nominations. Seven of those nods went to its spare, tough rendition of "Kiss of the Spider-Woman," directed by Christopher Alleman. A high-profile production of the same title at the Vintage Theatre in Aurora was shut out.
OpenStage & Company of Fort Collins received two nominations for its production of "Amadeus," including one for 81-year-old Jonathan Farwell as lead actor in a play. He played the scheming Salieri. Colorado Springs TheatreWorks co-produced Curious Theatre Company's "The Elaborate Entrance of Chad Deity," which got drew noms.
Among individual musicals, "Hair" was followed by the Arvada Center's "Man of La Mancha" with 10 nominations, Boulder's Dinner Theatre's "42nd Street" with eight, and Dillon's "Kiss of the Spider-Woman" with seven.
The leading plays were Curious Theatre's "The Brothers Size" and BETC's "Ghost-Writer," with six each. Curious claimed three of the five spots in the outstanding play category, including "The Elaborate Entrance of Chad Deity" (a co-production with TheatreWorks) and "Time Stands Still." The other contender in that category is Vintage's one-man play "RFK: A Portrait of Robert Kennedy," which also scored noms for its director (Terry Dodd) and star (James O'Hagan-Murphy).
"RFK's" fourth nomination is in the category that is sure to get a lot of unprecedented attention: Best scenic design in a smaller-budgeted play.
The Guild, responding to feedback from membership, has taken the controversial step this year of splitting out its four design categories — scenic, costuming, lighting and sound — into large-budget and small-budget tiers. For the first time, there are four nominees in each category, divided between those whose producing member companies have an annual operating budget of more than (or less than) $1.1 million. So there will be two winners in each of those four design categories when the recipients are announced on July 22.
"In recent years, the theater community reached out and asked that we consider ways that allow our larger and smaller companies to compete, more appropriately, with each other," said Colorado Theatre Guild general manager Gloria Shanstrom.
The change is an acknowledgement that companies with more money to spend have a better opportunity to impress audiences and judges than companies with  fewer resources and smaller playing spaces. For 2013, the "larger budget" companies are the Denver Center, Arvada Center, Curious Theatre and TheatreWorks in Colorado Springs. Next year that group will grow to include Theatre Aspen, which is just joining the Guild; and the Colorado Shakespeare Festival, which removed itself from consideration for the 2013 Henry Awards after faring poorly in the 2012 contest. That decision was made last summer by then Colorado Shakes producing artistic director Phil Sneed, who, ironically enough, is now the executive director of this year's Henry-hosting theater, the Arvada Center. Interim Colorado Shakes artistic director Timothy Orr has placed the company's 2013 efforts back into consideration for the 2014 Henry Awards.
That still leaves about 85 member companies in the "smaller budget" category, at least for this year, and it will be interesting to see what kind of response this change elicits. The bottom line is that each design category now grows from five nominees to eight. So, combined, there are 12 additional nominees in those four categories than there were last year. Perhaps surprisingly, the tiering process did not only benefit smaller-budgeted companies. By placing four nominees into the "larger budget" class, that also created new nominees for larger companies in some instances.
To be eligible for a Henry Award, a presenting company must first be an active member of the Colorado Theatre Guild. Then, each show must have been seen by at least six judges – a mix of reviewers and informed volunteers who score every play in individual award categories using a  point scale of between 1 and 50. Only six ballots count toward each production's eventual score. To accommodate the inclusion of outlying companies, the voting panel was expanded to include qualified judges already living in those communities.
This year, the Colorado Theatre Guild says a total of 206 member shows were eligible for consideration, and of those, 167 were seen by the necessary minimum of six judges. That's an all-time high for the Henrys, up from 142 last year, and attributable largely to the field work conducted throughout the year by Shanstrom. In the end, 59 member companies were considered for at least one staging. Of those, 21 companies and 41 productions received at least one nomination.
As always, the nominees produced several multiple individual nominees, but there is only one this year among actors. Ashlie-Amber Harris is competing against herself for outstanding supporting actress in a musical for her work in both Town Hall's "Hair" and the Aurora Fox's "The Color Purple," which, frankly, was the far more demanding role (she played Shug Avery).
Nick Sugar often scores multiple Henry noms, and this year is no different. Sugar, whose latest directing effort is an acapella comedy called "Minimum Wage" opening Friday at the Avenue Theater, pulled three nominations — and was responsible for several more. He was cited for directing and choreography for "Hair," and for his choreography of Town Hall's dark Neil Simon turn, "Sweet Charity."
The other three-time nominee is Shannon McKinney, who won three of the four "larger budget" spots for lighting Curious' "The Brothers Size" and "The Elaborate Entrance of Chad Deity," as well as the Arvada Center's "Man of La Mancha."
Donna K. Debreceni is a double nominee for musical direction — for Town Hall's "Forever Plaid" and "Hair." Chris Campbell pulled the same feat for costuming the Arvada Center's "Blithe Spirit" and "Man of La Mancha." Perennial scenic design honoree Brian Mallgrave is listed twice among "larger budget" scenic designs for his work on the Arvada Center's "Blithe Spirit" and "Man of La Mancha." Linda Morken took noms for costuming both Boulder's Dinner Theatre's "42nd Street" and "The Wizard of Oz." Terry Dodd was cited for directing "RFK" at Vintage, as well as co-designing the set.
2013 upstarts include Abster Productions, which scored four nominations for its regional premiere of "August: Osage County," including two nominees in the high-octane category of lead actress in a play: Anne Oberbroeckling and Abby Apple Boes. That category will prove to be the humdinger of the evening. Those two women are joined by Rhonda Brown as Molly Ivins in LIDA Project's "Red Hot Patriot," Laura Norman in BETC's Ghost-Writer" and the Denver Center Theatre Company's great Kim Staunton ("Fences").
Starkey Theatrix is making its first appearance among Henry nominees: Its homegrown seasonal offering "Home for the Holidays" earned a directing nod for Chris Starkey and a choreography nod for Ronni Gallup. Same for the Byers-Evans Theatre Company, which pulled its first nod, for Kevin Brainerd's costuming of "A Doll's House."
Every year inevitably produces list of companies or shows left noticeably on the sidelines. Miners Alley Playhouse and Performance Now, companies that have fared well in Henrys past, did not receive nominations. The most obvious snub among shows were two musicals: The Arvada Center's "Legally Blonde" and the Denver Center's "Sense and Sensibility, the Musical," which it has designs on taking to Broadway.  Neither were nominated for best musical. "Legally Blonde," which won CultureWest's True West Award for best musical of 2012, didn't get a single Henry Award nomination. The Creede Repertory Theatre is easily one of the best theater companies in the state, but being 250 miles southwest of Denver, only two of its shows were eligible for nomination — the two that it presented in the Denver area as well. That resulted in no nominations.
One show that might appear to have been snubbed is Germinal Stage Denver's "Long Day's Journey Into Night," but while Germinal is a Guild member, founder Ed Baierlein did not enter his shows into consideration.
Additional special awards for regional theater, lifetime achievement and outstanding volunteer will be announced in July. The awards will take begin at 6 p.m. Monday, July 22, at 6901 Wadsworth Blvd. Tickets are $25 or $50, and go on sale Monday, June 24, by phone only by calling 720-898-7200.
 

Click here to subscribe to the CultureWest.org Monthly E-Newsletter
WAS YOUR SHOW EVEN ELIGIBLE?
To view the complete list of 167  productions that were eligible for Henry Award ocnsideration, click here:
THE 2012-13 HENRY AWARD NOMINEES:
Outstanding Season for a Theater Company
Arvada Center
Boulder Ensemble Theatre Company
Curious Theatre Company
Denver Center Theatre Company
Town Hall Arts Center
Outstanding Musical
"42nd Street," Boulder's Dinner Theatre
Directed by Michael J. Duran, Musical Director Neal Dunfee
"The Color Purple," Aurora Fox
Directed by donnie l. betts, Musical Director David Wohl
"Hair," Town Hall Arts Center
Directed by Nick Sugar, Musical Director Donna K. Debreceni
"Kiss of the Spider-Woman," Lake Dillon Theatre Company
Directed by Christopher Alleman, Musical Director Jonathan Parks
"Man of La Mancha," Arvada Center
Directed by Rod A. Lansberry, Musical Director David Nehls
Outstanding Play
"The Brothers Size," Curious Theatre Company
Directed by Dee Covington
"The Elaborate Entrance of Chad Deity," Curious Theatre Company/TheatreWorks
Directed by Chip Walton
"Ghost-Writer," Boulder Ensemble Theatre Company
Directed by Josh Hartwell
"RFK: A Portrait of Robert Kennedy," Vintage Theatre Productions
Directed by Terry Dodd
"Time Stands Still," Curious Theatre Company
Directed by Christy Montour-Larson
Outstanding Ensemble
"Ghost-Writer," Boulder Ensemble Theatre Company
Directed by Josh Hartwell
"Hair," Town Hall Arts Center
Directed by Nick Sugar, Musical Direction by Donna K. Debreceni
"How the World Began," Boulder Ensemble Theatre Company
Directed by Stephen Weitz
"Man of La Mancha," Arvada Center
Directed by Rod A. Lansberry, Musical Direction by David Nehls
"Time Stands Still," Curious Theatre Company
Directed by Christy Montour-Larson
Outstanding Lead Actor in a Musical
Casey Andree, "Hair," Town Hall Arts Center
Joshua Blanchard, "Kiss of the Spider-Woman," Lake Dillon Theatre Company
John Scott Clough, "42nd Street," Boulder's Dinner Theatre
Matt LaFontaine, "Hair," Town Hall Arts Center
William Michals, "Man of La Mancha," Arvada Center
Outstanding Lead Actress in a Musical
Brianna Firestone, "Sweet Charity," Town Hall Arts Center
Selah Grace, "Kiss of the Spider-Woman," Lake Dillon Theatre Company
Norrell Moore, "Hair," Town Hall Arts Center
SuCh, "The Color Purple," Aurora Fox Theatre
Megan Van De Hey, "Baby! The Musical," Cherry Creek Theatre Company
Kathi Wood, "Little Shop of Horrors," Phamaly Theatre Company
Outstanding Direction of a Musical
Christopher Alleman, "Kiss of the Spider-Woman," Lake Dillon Theatre Company
donnie l. betts, "The Color Purple," Aurora Fox Arts Center
Michael J. Duran, "42nd Street," Boulder's Dinner Theatre
Rod A. Lansberry, "Man of La Mancha, Arvada Center
Nick Sugar, "Hair," Town Hall Arts Center
Outstanding Lead Actor in a Play
Laurence Curry, "The Brothers Size, "Curious Theatre Company
Jonathan Farwell, "Amadeus," OpenStage Theatre & Company
Cajardo Lindsey, "The Brothers Size, "Curious Theatre Company
James O'Hagan-Murphy, "RFK" A Portrait of Robert Kennedy," Vintage Theatre Productions
Steef Sealy, "The Seafarer," Ashton Entertainment
Outstanding Lead Actress in a Play
Abby Apple Boes, "August: Osage County," Abster Productions
Rhonda Brown, "Red Hot Patriot: The Wit and Wisdom of Molly Ivins," LIDA Project
Laura Norman, "Ghost-Writer," Boulder Ensemble Theatre Company
Anne Oberbroeckling, "August: Osage County," Abster Productions
Kim Staunton, "Fences," Denver Center Theatre Company
Outstanding Direction of a Play
Dee Covington, The Brothers Size, Curious Theatre Company
Terry Dodd, "RFK: A Portrait of Robert Kennedy," Vintage Theatre Productions
Josh Hartwell, "Ghost-Writer," Boulder Ensemble Theatre Company
Peter J. Hughes, "August: Osage County," Abster Productions
Chip Walton, "The Elaborate Entrance of Chad Deity, Curious Theatre Company/TheatreWorks
Robert Wells, "The 39 Steps," Town Hall Arts Center
Outstanding New Play or Musical
"A Knight to Remember," written by Buntport Theater
Directed by Buntport Theater
Produced by Buntport Theater
"Ed, Downloaded," written by Michael Mitnick
Directed by  Sam Buntrock
Produced by Denver Center Theatre Company
"Elijah: An Adventure," written by Michael Mitnick
Directed by Pesha Rudnick
Produced by Local Theater Company
"Newark Violenta," written by Jonson Kuhn
Directed by Richard Cowden
Produced by The Edge Theatre Company
"Sweet Tooth," written by Buntport Theater and Adam Stone
Directed by Buntport Theater, Musical Direction by Adam Stone
Produced by Buntport Theater
Outstanding Musical Direction
Donna K. Debreceni, "Forever Plaid," Town Hall Arts Center
Donna K. Debreceni, "Hair, "Town Hall Arts Center
Neal Dunfee, "42nd Street," Boulder's Dinner Theatre
David Nehls, "Man of La Mancha," Arvada Center
Jonathan Parks, "Kiss of the Spider-Woman," Lake Dillon Theater Company
Chris Starkey, "Home for the Holidays," Starkey Theatrix
Outstanding Supporting Actor in a Musical
Ben Dicke, "Man of La Mancha," Arvada Center
Ed Dixon, "Sense & Sensibility the Musical," Denver Center Theatre Company
Tyrell D. Rae, "Hair," Town Hall Arts Center
Thomas Rainey., "Kiss of the Spider-Woman," Lake Dillon Theatre Company
Burke Walton, "Hair," Town Hall Arts Center
Outstanding Supporting Actress in a Musical    
Jennifer DeDominici, "Man of La Mancha," Arvada Center
Ruth Gottschall, "Sense & Sensibility the Musical," Denver Center Theatre Company
Ashlie-Amber Harris, "The Color Purple," Aurora Fox Arts Center
Ashlie-Amber Harris, "Hair," Town Hall Arts Center
Madison Kitchen, "Next to Normal," Ignite Theatre Company
Outstanding Supporting Actor in a Play
Sam Gregory, "Driving Miss Daisy," Senior Housing Options
Kevin Hart, "The Seafarer," Ashton Entertainment
Chris Kendall, "How the World Began, Boulder Ensemble Theatre Company
Bob Moore, "The Sunshine Boys," Lake Dillon Theatre Company
Warren Sherrill    , "The Seafarer," Ashton Entertainment
Outstanding Supporting Actress in a Play
Kathleen M. Brady, "When We Are Married," Denver Center Theatre Company
Rachel D. Graham, "Doubt," Cherry Creek Theatre Company
Devon James, "Time Stands Still," Curious Theatre Company
C. Kelly Leo, "Maple and Vine," Curious Theatre Company
Jeanne Paulsen, "Romeo & Juliet," Denver Center Theatre Company
Outstanding Choreography
Ronni Gallup, "Home for the Holidays," Starkey Theatrix
Kitty Skillman Hilsabeck, "Man of La Mancha," Arvada Center
Nick Sugar, "Hair," Town Hall Arts Center
Nick Sugar, "Sweet Charity," Town Hall Arts Center
Tracey Warren, "42nd Street," Boulder's Dinner Theatre
Outstanding Costumes: Large budget
Chris Campbell, "Blithe Spirit," Arvada Center
Chris Campbell, "Man of La Mancha," Arvada Center
Clare Henkel, "Dirty Rotten Scoundrels," Arvada Center
Christina Poddubiuk,  "Romeo and Juliet," Denver Center Theatre Company
Outstanding Costumes: Small budget
Kevin Brainerd, "A Doll's House," Byers-Evans House Theatre Company
Linda Morken, "42nd Street," Boulder's Dinner Theatre
Linda Morken, "The Wizard of Oz," Boulder's Dinner Theatre
Roxanne Storlie & Rebecca Spafford, "Amadeus," OpenStage Theatre & Company
Outstanding Lighting Design: Large budget
Shannon McKinney, "The Brothers Size, "Curious Theatre Company
Shannon McKinney, "The Elaborate Entrance of Chad Deity," Curious Theatre Company/TheatreWorks
Shannon McKinney, "Man of La Mancha," Arvada Center
Jane Spencer, "The Giver," Denver Center Theatre Company
Outstanding Lighting Design: Small budget
Seth Alison, "The 39 Steps," Town Hall Arts Center
Kerry Cripe, "Ghost-Writer," Boulder Ensemble Theatre Company
Jon Scott-McKean, "Hair," Town Hall Arts Center
Jacob M. Welch, "Kiss of the Spider-Woman," Lake Dillon Theatre Company
Outstanding Scenic Design: Large budget
Brian Mallgrave, "Blithe Spirit," Arvada Center
Brian Mallgrave, "Man of La Mancha," Arvada Center
Charles Packard, "The Elaborate Entrance of Chad Deity," Curious Theatre Company/TheatreWorks
Vicki Smith, "Fences," Denver Center Theatre Company
Outstanding Scenic Design: Small budget  
Abster Productions, "August: Osage County," Abster Productions
Kathryn Kawecki, "Elijah: An Adventure," Local Theater Company
David LaFont and Terry Dodd, "RFK: A Portrait of Robert Kennedy," Vintage Theatre
Amy Campion, "42nd Street," Boulder's Dinner Theatre
Outstanding Sound Design: Large budget  
Brian Freeland, "The Elaborate Entrance of Chad Deity," Curious Theatre Company/TheatreWorks
Jason Ducat, "The Brothers Size, "Curious Theatre Company
Tyler Nelson, "Ed, Downloaded," Denver Center Theatre Company
Rodolfo Ortega and Craig Breitenbach, "Romeo and Juliet," Denver Center Theatre Company
Outstanding Sound Design: Small budget  
Wayne Kennedy, "42nd Street," Boulder's Dinner Theatre
Andrew Metzroth, "Ghost-Writer," Boulder Ensemble Theatre Company
Adam Stone, "Wake," Buntport Theater
Luke Allen Terry, "RFK: A Portrait of Robert Kennedy," Vintage Theatre Productions

Click here to subscribe to the CultureWest.org Monthly E-Newsletter
How you can donate to the Denver Actors Fund
The new Denver Actors Fund is a modest source of immediate, situational relief when members of the local theater community find themselves in sudden medical need. Photo by John Moore. To donate to the Denver Actors Fund, please go here (with our humble thanks):