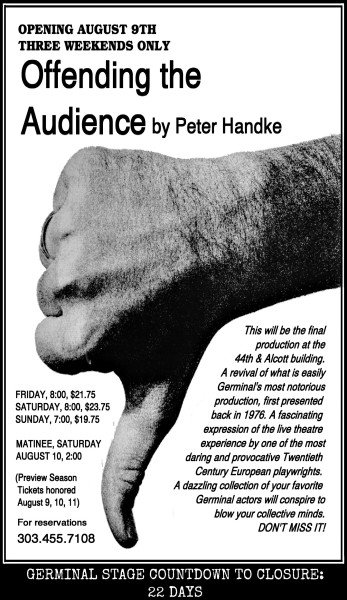 By John Moore
Aug. 5, 2013
If you think sitting through 80 minutes of a play called "Offending the Audience" might be tough on you … pshaw. You're getting off easy. Think of the more than 40 veteran actors who have subjected themselves to more than a month of nightly lingual gymnastics; to brain-numbing, contradictory, circuitous and repetitious s-wordplay.
"Offending the Audience," opening Aug. 9, will be the final production staged at the 40-year-old Germinal Stage-Denver's 26-year home at 44th Avenue and Alcott Street in northwest Denver. (Read the complete story about Germinal's decision to vacate its home here.)
"Offending the Audience" is an "anti-play" written in 1966 by Austrian Peter Handke. There is no plot. There are no characters. It is rather a kind of choral monologue that puts both audiences and theater itself in their improper places: On the defensive, shifting in their seats, and yes, perhaps maybe even mildly offended. Not necessarily because of its invective, but because it puts the artifice of the theatrical experience under the microscope with both proud condescension and avant-garde sentimentality. … Doesn't that sound like fun?
So why do they do it? Why did dozens of actors heed director Ed Baerlein's call to "leave 'em squirming"?
For Leroy Leonard, the seeds were sown in 1976. He was a 17-year-old senior at Alameda High School, where he was taught by Jim Hunt, recently awarded the Colorado Theatre Guild's Life Achievement Award.
"But my first theater foray, where I got into my car and drove out to see a play on my own, was to see 'Offending the Audience' at Germinal Stage on Market Street," Leonard said.
Three original cast members are back from that seminal 1976 production — Ed Baierlein, wife Sallie Diamond and Paul Caouette. Leonard is believed to be the only 2013 cast member who was an "Offended" audience member in 1976.
"I was completely confused," Leonard said. "I didn't hate it, but I didn't really know what to think about it … so it was just very … confusing … for me."
But having done so much theater at Germinal ever since makes this current endeavor exciting for Leonard. "To be a part of this show is very meaningful for me in a full circle kind of way," he said.
"I am a very sentimental guy, so in the middle of the piece, when Ed talks about the plays that have been presented here, my tears are already welling in my eyes."
Don't talk to castmate Stephen R. Kramer about tears. He's been with Germinal for 28 years.
"This the first step in mourning for me," Kramer said. "You know; it's anger, denial, bargaining, depression, acceptance. It's going to be hard."
Baierlein was Kramer's best man when he married Carol Timblin, also a 2013 "Offending the Audience" cast member, more than 20 years ago. "We wore Germinal formal wear at our wedding," said Timblin, meaning that the wedding party wore costumes from the most recent George Bernard Shaw production at Germinal.
"The tough part for me in losing the building is that when my daughter, Chelsea, was born, we were working on 'Woyzeck' (by Georg Buchner), which I translated and directed," Kramer said. "While we were working on the set, Ed actually would carry her around and show her all the pictures on the wall and sing to her. She was maybe 3 months old. She is 22 now.
"I had never heard Ed sing before. It was a softening that I had never seen before."
Baierlein has promised that Germinal will continue as a nomadic company, but he's nearing 70, and having had both hip and prostate surgeries, there are no guarantees.
"All we are doing is closing the building," said Kramer. "We just need fewer seats. We are at 115 now, and that's too many. The market won't hold it. So we are looking for between 50 and 75 — and Ed is actually excited about finding a space. Every time he looks at a building, he sits down at a computer and he mocks it up. It's really energizing him, and that is fun to see."
But say for some reason … this is the swan song. If that's the case, Kramer said, "I had to be here."
Leonard says this final production in the old building feels right.
"I can't imagine a more appropriate way to close the building," he said, "than with a cast made up of so many people from all different phases of this theater's history."
Back to that original question:
Here are other cast members' answers to the question, "So why are you doing it?"
Linda Barner: After 40 years of involvement in theater in Denver, I had to be a part of this production because Germinal Stage-Denver has been a huge part of that theater experience. When we're in "places," and I look around at all my other casties, I see my life in Denver theater reflected back; it's very much like a family reunion.
Paul Barner I: This is a unique production. Look at all the people here who have worked at Germinal. All these good people … I could not say no.
Paul Barner II: I am doing it for the money.
Laura Booze: This theater is part of Denver history, and having done several plays here, it is just important for me to see it close, and I am so sad that it is closing.
Samara Bridwell: I feel unbelievably privileged to be part of this show. I feel like a total cool kid. I'm stoked. I wish I had met Ed 20 years ago so I could have gained his knowledge over the years. But instead, I have too cram it all in now.
Paul Caouette: I was one of the original cast members (in 1976). But I'm not doing it now as a recapitulation. God knows it wasn't "rewarding" from a traditional actor's perspective … and I don't expect it to be any different this time. But it fills my heart with glee each time I hear Ed chuckling as we go about with our invectives. It's an honor to be part of this menagerie who have given life to Germinal Stage-Denver.
Sallie Diamond: I think I just to see everyone again till God knows when, and to see what the experience would be like to have a cast this rangey in such a comparatively (for Germinal Stage-Denver) free-form on the stage at once.
Eric Field: Ed Baierlein is a genius of theater and performance arts. He first cast me 24 years ago, essentially unschooled and untrained, and let me become a professional and effective actor (and showed me how), in show after demanding show, of all kinds and genres, with endless teachable (and taught) moments, insights, discoveries, honesties, high standards, artistry, idiosyncracy, and no bullshit. Work for Ed? Anytime. Do this brilliant, bizarre, joyous show? Yes, with him directing it. Join the cast of thousands? Wouldn't have missed it for the world! (Especially all these talented, fun-loving, generous, high-achievement actors, many of whom I've worked with and love, many others I had always dreamed of sharing a stage with.) Do the last show at the Germ? My mom's cousin was on the last plane out of Angkor Watt before the war closed in. The last rant out of GSD wasn't even a doubt.
Katharyn Grant: I wanted to connect with the wonderful people I'd worked with at Germinal in the past, and honor a theater where I'd had so many profound experiences, both as a performer and as an audience member.
Paul Greengross: I'll be coming out from Granada Hills, Calif., to join the cast on the final weekend. I hope I'm not offending the cast by barging in. I was involved in several shows in the 1980s. Germinal and Ed had a great impact on my development as an actor, so it's important for me to be there at the end of this amazing run. I also want to be there to pay tribute to my late friend and comrade David Kristin, who passed away this past year. I'm looking forward to seeing my old acting buddies.
Lori Hansen: The Germinal Stage has been an integral part of my life for the past 14 years, having done 13 shows there. Ed is a brilliant actor and director and I learn from him every time I have the honor to be cast. I have the utmost love, respect and gratitude to the entire Baierlein family and they will always have a very important place in my heart. I wouldn't have missed this last show for the world.
Elgin Kelley: I want to say goodbye to Ed, especially after all the great stuff Germinal has done. It was nice to be asked to be a part of this great community.
Patrick Mann: When Ed Baierlein calls you to be in the final show at "Terminal Stage-Denver," you would be crazy to say no. It's an honor to be a part of this theater's history."
John Moore (the only first-time Germinal actor in the cast): I was talking with Ed Baierlein about chronicling the final play at Germinal Stage as a journalist. By dropping into rehearsals from time to time, taking photos and videos, interviewing cast members. He said, "Great, you are in the show." This has been my own personal year of saying, "What the hell?" So I said yes. After the first rehearsal, I wanted to punch the play in the face.
Lisa Mumpton: Because it's the swan song. It's the big event.
Melissa Pear and Lawrence Allen: Because it was an honor to be invited by Ed to be part of the last show at the historic Germinal Stage.
Erica Sarzin-Borrillo: It's hard to resist Ed Beirlein when he says, "We can't do this without you." These days, I make it a rule to not do a play for the sake of "doing a play." I have to find tremendous meaning that genuinely moves me, and that I feel certain will move an audience. This project was not about the play. It was not about the role … It was about Ed. Which is not to say it isn't a fine play. But I'm here in gratitude after these many many years, having been embraced by the Germinal, and the kind home it I came to know it as."
Penny Stames: I was a part of Germinal for several years starting in 1974, when it was a fledgling endeavor begun by a small group, including a dear friend and my guy at the time. I was primarily their costumer, but occasionally did small roles as well. When Ed phoned to ask me if I was interested, I first thought he was asking me to costume it. When he made it clear he wanted me to be a part of the actual "cast," I couldn't say no. How often do you get to be a part of something from start to finish? Germinal has been one of the most consistent venues for quality theater in Denver. To have been a part of it was an honor. To be a part of the last show a gift.
Carol Timblin: I'm here because Germinal is home; because it's my family. My son pointed this out to me last night when he came by and said, "Wow, I know almost everyone These people are part of his life as well. Because it's where I first worked with my (not yet) husband. Because I have loved all of the shows and knowledge I have gained here. and it's good to have closure for the old place to set off into the new beginning … Because my heart is here.
Augustus Truhn I: Ed has always been a unique ambassador for theater in Denver. I would describe that style as "anything goes" theater. Ed was kind to me in the '90s. He gave me some good roles and always has been a blast to work with. I feel like this icon of Denver theater is going away, and I want to be a part of it.
Augustus Truhn II: I am an insatiable sadomasochist. So coming back to Germinal and doing this play is totally getting me off.
Petra Ulrych: When you get invited to the last party, you should come.
Gina Wencel: Because Ed has given me such wonderful roles to play – some of my most transcendent acting experiences have come under his direction. I also adore Sallie and Tad. I wanted to show my support and gratitude by performing in this last show at the Alcott space.
Suzanna Wellens: After working so often at Germinal Stage, it would have been painful for me to miss this right of passage. And what's more fun than taking on an outrageous artistic challenge? Especially in company with so many very smart and talented actors.
Diane Wziontka: As a single mom, I don't get to play creatively very much. I am honored to be a part of the Germinal send-off.
There you have it. Come at your own peril. You have been warned. You are welcome.
"Offending the Audience"
Aug. 9-25, 2013
2450 W. 44th Ave., 303-455-7108 or germinal's home page
Previous coverage:
Countdown to Closure: My blog chronicling the rehearsal process
Germinal Stage-Denver: Countdown to Closure. The whole photo series to date, with some additional outtakes.
The complete story on Germinal's decision to vacate its home.
How you can donate to the Denver Actors Fund
The new Denver Actors Fund is a modest source of immediate, situational relief when members of the local theater community find themselves in sudden medical need. Photo by John Moore. To donate to the Denver Actors Fund, please go here (with our humble thanks):

Click here to subscribe to the CultureWest.org Monthly E-Newsletter