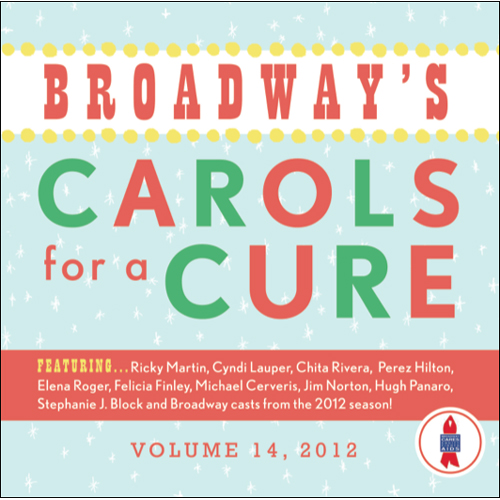 By John Moore
Nov. 29, 2012
The Arvada Center has the distinction of being one of only two regional theaters in the country invited to join current Broadway companies performing on the 14th annual "Carols for a Cure" double-CD, a mix of holiday classics and original material benefiting Broadway Cares/Equity Fights AIDS.
Right alongside the likes of Ricky Martin, Cyndi Lauper and Perez Hilton, there is the Arvada Center's cast of the just-opened "Miracle on 34th Street" singing "Jolly Old St. Nicholas."
The 2012 CD features the Broadway companies of "Newsies," "Evita," "Once," "Peter and the Starcatcher" and "Jersey Boys," among others. Perez Hilton is currently making his professional theatrical debut performing in the off-Broadway revue "NEWSical The Musical."
"Carols for a Cure" can be purchased for $20 at any performance of "Miracle on 34th Street," running through Dec. 23 at 6901 Wadsworth Blvd. (720-898-7200 or the arvada center's home page). Start times vary, but the show, a musical variation of the classic film with music and Lyrics by Meredith Willson ("The Music Man"),  generally begins at either 6:30 or 7:30 p.m. Tuesdays through Fridays; as well as 1:30 and 7:30 p.m. Saturdays; 1:30 p.m. and 6:30 p.m. on Sundays. Check the web site for exact dates and times.
The CD also can be ordered for $23 online at
broadwaycares.org
or by calling 212-840-0770, ext. 238, from 8 a.m. -3 p.m. MST.
Lauper, who wrote the music for "Kinky Boots," opening on Broadway this spring with Denver's Andy Kelso and Annaleigh Ashford in the cast, sings "Blue Christmas" on the CD. Martin, who plays Che in "Evita," is joined by Elana Roger (Evita), Michael Cerveris (Peron) and Max von Essen (Magaldi) singing "We Three Kings/Los Reyes Magos." Broadway legend Chita Rivera joins Stephanie J. Block, Jim Norton, and others from "The Mystery of Edwin Drood" singing "Good Queen Wenceslas." Hugh Panaro ("The Phantom of the Opera") sings with his castmates on an original song titled "Outside the Box."
The "Carols for a Cure" series has raised more than $3 million since 1999, providing support and care for those living with AIDS, as well as lending support to women's health issues. A portion of the proceeds will go directly to Denver's Project Angel Heart, which provides meals to homebound AIDS patients.
"Carols for a Cure" song list:
Disc 1:
LOS TRES REYES MAGOS- Evita featuring Ricky Martin and Elena Roger
CALL YOUR MOM- Spider-Man: Turn Off the Dark
YOU DON'T HAVE TO BE ALONE ON CHRISTMAS- Chaplin
FOR MY CHILD'S FIRST CHANUKAH- Lisa Yaeger
GOD REST YE, MERRY GENTLEMEN- Newsies
GOOD QUEEN WENCESLAS- The Mystery of Edwin Drood
THE WEXFORD CAROL- Once
DOMINICK THE DONKEY- Peter and the Starcatcher
OUTSIDE THE BOX- The Phantom of the Opera
THE WREATH OF KINDNESS- The Lion King
BLUE CHRISTMAS- Kinky Boots featuring Cyndi Lauper
Disc 2:
ANGELS WE HAVE HEARD ON HIGH- Bring it On
A PEREZ HILTON CHRISTMAS – featuring Perez Hilton, NEWSical The Musical
NYE@THE VENUS CLUB- Rock of Ages
THE BIRTHDAY OF A KING- Mary Poppins
SOUL CAKE- Mamma Mia!
KEEP THE HOME FIRES BURNING- Rebecca
O HOLY NIGHT- Wicked
HARK! THE HERALD ANGELS SING- I Love You, You're Perfect, Now Change at the John W. Engeman Theatre
JOLLY OLD ST. NICHOLAS- Miracle on 34th Street at The Arvada Center
HAVE YOU HEARD ABOUT THE BABY/GLORY TO THE NEWBORN KING- Jersey Boys
Another way to support those in need this holiday season:
Support KUSA entertainment reporter Kirk Montgomery's second CD benefiting 9Cares/Colorado Shares: "Opie Gone Bad – Another Christmas."
The CD featuring Grammy winner Dianne Reeves, American Idol's Ace Young and Dianna DeGarmo, as well as Chris Daniels, Denver First Lady Mary Louise Lee, actor Pam Grier, members of Phamaly Theatre Company and Kirk himself.
The CD is available at all King Soopers stores.