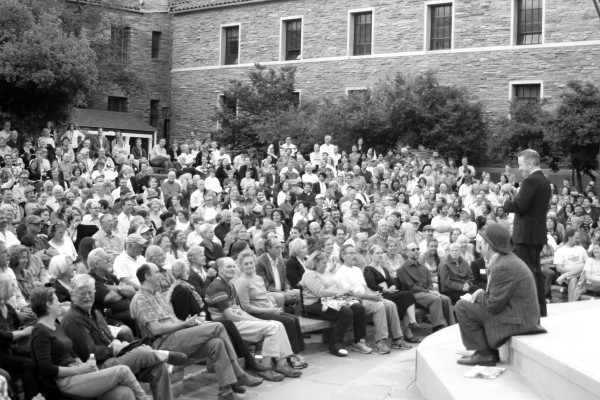 Interim artistic director Timothy Orr addresses a sold-out opening-night crowd at the Colorado Shakespeare Festival's "A Midsummer Night's Dream" in July. Photo by John Moore.
By John Moore
Aug. 29, 2013
An ill wind has blown from North Carolina to California this month as two major Shakespearean festivals have announced they are either closing or suspending operations. But the latest sign of the apocalypse for Shakespeare festivals as an industry did not gust through Boulder.
Rather, the Colorado Shakespeare Festival posted an encouraging turnaround in the summer of 2013. Just-released figures show ticket sales reached 23,861, an increase of 10.3 percent over 2012, Philip Sneed's final season as executive artistic director. That marks the company's first year-to-year attendance increase in five years.
But in California, the venerable Shakespeare Santa Cruz just announced it will close at the end of the year with a cumulative debt that has risen this season from $1.5 million to $2 million. And the North Carolina Shakespeare Festival, known as NC Shakes, has suspended operations in High Point through July 2014. Officials cited "extreme financial challenges" that include a $200,000 deficit from its most recent season. The two companies have 68 years between them.
According to the Institute of Outdoor Drama, the total number of outdoor Shakespeare festivals is down by more than 50 percent nationwide over the past 20 years, and that overall paid attendance has fallen more than 60 percent in that time.
"I think it's a tragedy what is happening elsewhere," said Colorado Shakes interim artistic director Timothy Orr. "That could have been us a couple of years ago. But we had a great summer."
That should come as a relief to audiences who watched the 56-year-old Colorado Shakespeare Festival lose $1 million between 2007-09. The festival's financial state has been precarious ever since.
Colorado Shakes is structured in much the same way as Shakespeare Santa Cruz: Both are mid-sized professional theater companies that operate on college campuses that also subsidize them. The University of Colorado's College of Arts and Sciences contributes the use of its facilities and $135,000 to Colorado Shakes' annual operating budget. Shakespeare Santa Cruz performed at the University of California-Santa Cruz, and got a $250,000 annual infusion from the school. Still, the theater company spent $500,000 more than it made this season.
Denver Center Theatre Company artistic director Kent Thompson ran the Alabama Shakespeare Festival for 16 years, and has directed at NCShakes. He thinks the latest news is not necessarily the death-knell for Shakespeare festivals. But as resources have continued to dwindle, "the margin for risk-taking has narrowed and narrowed and narrowed," he said.
And the days of festivals living off the evaporating largess of universities "are probably numbered," Thompson added. Colleges simply can't afford them anymore. In Colorado, state budget cuts have slashed per-student spending by 50 percent over the past 10 years.
In February, Steven Leigh — dean of the University of Colorado's College of Arts and Sciences, flatly stated that the Colorado Shakespeare Festival would have to change its mission to survive. "It has to contribute to our academic mission in order for us to spend money on it," Leigh told the Boulder Weekly. And if it didn't, he said then, "We may not be able to do it anymore."
Colorado Shakes promoted Orr to the title of interim artistic director, which he will keep until a permanent replacement is named after the 2014 season — most likely someone from the world of academia, Leigh said.
Then came the summer, which happened to include two of Shakespeare's most bankable titles: "A Midsummer Night's Dream" and "Macbeth." Orr thinks there were many other reasons for the bounce-back, including audiences responding to "the perception of danger that was in the air," he said. But most of all, Orr believes, "audiences responded to really high-quality theater, combined with a very solid marketing strategy."
Larry Hecht, Head of Acting at the Denver Center Academy, played a significant role in the Boulder bounce: He played Puck in "Midsummer," among others. He thinks the biggest mistake at Shakespeare Santa Cruz (where he has performed) is one Boulder should learn from: Not taking full advantage of the natural assets surrounding the theater.
"Shakespeare Santa Cruz performed in what is considered to be one of the most beautiful regions in the country, if not the world," said Hecht. "But they never fully grasped that they had this phenomenal natural resource with which to promote their work."
His advice for Colorado Shakes: More regional tourism, and more integration with the university as a full presenting partner. He thinks CU's music, dance and theater departments should be engaging audiences with live entertainment outside the theater and presenting special programs. Most of all, he believes Colorado Shakes needs to build loyal audiences outside of Boulder. "Very few audiences seem to come up from Denver," said Hecht, which most everyone blames at least in part to the unending late-night construction on Highway 36.
"I just think there's no need for it to seem so isolated," he said. "A night at the festival should be fun and jolly for everyone."