Denver Actors Fund in Action: Norrell Moore
Financial-aid recipient: Norrell Moore has been regularly performing in the local theatre community since 2012, when she played Vivienne Kensington and Rachel Jackson in high-profile, back-to-back productions of Legally Blonde The Musical at the Arvada Center and Bloody Bloody Andrew Jackson at the Aurora Fox. Major roles that followed included playing the heart-wrenching hippie conformist Sheila in Town Hall Arts Center's Hair, featured performer in  Boulder's Dinner Theatre's Sisters of Swing, and Fiona in BDT's Shrek before blowing Gabriel's horn – and the roof right off of Town Hall – as Reno Sweeney in Anything Goes, for which she won a 2014 True West Award. Most recently, Norrell appeared in Jesus Christ Superstar at the Arvada Center, and opening Sept. 12, she will be part of the ensemble for the Arvada Center's A Chorus Line. Norrell is originally from Waynesburg, Pa., and is engaged to local actor Joe Majestic, who received $2,000 from The Denver Actors Fund in January 2015 when he underwent surgery for a double hernia.
Her story: Norrell Moore was diagnosed with Stage 1 breast cancer in November 2016 at the age of 30. After a first round of chemo, her doctor found yet another lump in her breast, and so Norrell opted for a double mastectomy to best reduce the odds of a recurrence. "I talked with enough women who had gone through breast cancer who regretted that they didn't just do it in the first place," Norrell said. "The cancer usually came back for them, and I didn't want that to be my reality." Norrell will now be taking daily preventative pill for the rest of her life.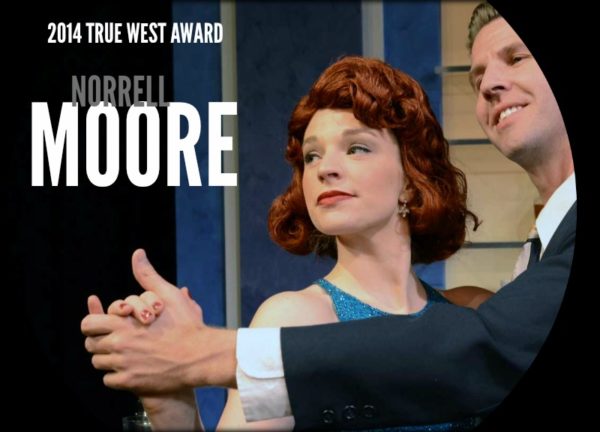 How we will help: The Denver Actors Fund board of directors has approved a gift of $3,800 to cover $2,100 in unpaid medical bills plus $1,800 in lost wages (she's a server at Snooze) as well as some essential living expenses while Norrell was undergoing (and recovering from) chemo and surgery. 
How you can help us help Norrell Moore more: Friends from Pennsylvania to Denver contributed to a separate online campaign to help Norrell back in January, but she will be facing ongoing recurring medical expenses for life. For example, her daily preventative pill costs about $100 a month and is only partially covered by an insurance policy that will come with a new deductible each year. If you would like to direct a specific, additional donations to Norrell Moore, simply mail checks made out to The Denver Actors Fund (with Norrell's name in the topic field) to  P.O. Box 11182, Denver, CO, 80212. Or use this donation link. If you use the online option, be sure to designate that your donation is targeted for Norrell Moore. Otherwise, your donation will be applied to the replenishment of the Denver Actors Fund's general fund.
Update: Norrell Moore submitted a second round of bills from various specialists, lab work and tests, totaling $885.07. The Board is covering that expense as a parting gift as she and her fiance relocate to Chicago. (She will be back for the Arvada Center's Joseph and the Amazing Technicolor Dreamcoat." This brings the total amount of support generated by the DAF to Norrell to $4,785.07. While the move out -of-state makes Norrell ineligible for direct future support from the DAF, we can and will continue to collect targeted donations from anyone so moved to help with her ongoing expenses. (Instructions on how to donate in the paragraph above.)
A message from Norrell Moore: "Thanks to the Denver Actors Fund, paying for my medical bills is no longer too heavy a burden for my fiancée and me. It's so comforting to know that in dire times like these past nine months, the local theatre community has had our backs."
How Norrell is giving back: Norrell has volunteered to make a special appearance at Miscast 2017, the Denver Actors Fund's major annual fundraiser, on Sept. 25 at the Town Hall Arts Center. We can't tell you exactly what she has planned, but more information on Miscast is posted below. BUY ONLINE
Special thanks to BDT Stage: In February, BDT Stage hosted a DAF benefit performance of Thoroughly Modern Millie with the hope and expectation that when the time came for her to apply, funds such as these would be available to help Norrell Moore now and into the future. That evening raised $4,219 for the Denver Actors Fund.                      
Read more Denver Actors Fund testimonials by clicking here
Note: At the Denver Actors Fund, anonymity of aid recipients is presumed and fully protected, unless and until the recipient chooses to have his or her story told.
---
HOW YOU CAN HELP US REPLENISH:
To DONATE the Denver Actors Fund, please CLICK HERE (with our humble thanks)
---
ABOUT THE DENVER ACTORS FUND:

Video above: The Denver Actors Fund receives the Colorado Theatre Guild's 2016 Community Impact Award.
The Denver Actors Fund is a modest source of immediate, situational relief when members of the local theater community find themselves in medical need. To date, the Fund has allocated more than $119,000 to artists facing medical need. In addition to financial relief, a team of more than 60 Denver Actors Fund volunteers offers good neighborly assistance including meal prep and delivery, child care, transportation, errands, construction, pet-sitting and more. For more information, visit our web site at DenverActorsFund.Org.
---
HOW TO APPLY FOR AID:
To apply for Denver Actors Fund aid: Fill out this brief online form here
---
MORE WAYS TO HELP:
DONATE BY MAIL:

Send checks made out to the Denver Actors Fund to:
P.O. Box 11182
Denver, CO 80212
ATTEND UPCOMING DENVER ACTORS FUND EVENTS:
COMING SEPTEMBER 25: MISCAST 2017

"Miscast," the major annual fundraiser produced and presented by the Denver Actors Fund, is an opportunity for local performers to sing songs and act out scenes they would never … ever! … get cast to perform on any legit stage. Think gender-bending, race-bending and age-bending. Odd couples and mixed groups. Wrong is oh so right. "Miscast" has evolved over the years into one of the biggest nights of the year in the Colorado theatre community – and it is a really good show. The video below showing one 2016 number has now been viewed more than 400,000 times online. "Miscast2017" will be held Sept. 25 at the Town Hall Arts Center, and it will sell out, so reserve your seats now. Tickets only $20. BUY ONLINE
"DENVER ACTORS FUND PRESENTS …" MONTHLY FILM SERIES: The Alamo Drafthouse Cinema At Sloan's Lake hosts a monthly film series in partnership with the Denver Actors Fund featuring films inspired by musicals and plays that are currently being performed by a Colorado theatre company. Next up at 6:30 p.m. Monday, August 28: A Chorus Line, with entertainment from the Arvada Center. CHOOSE YOUR SEATS NOW
VISIT OUR ONLINE MERCH STORE:
Click here to see how you can buy DAF products such as T-shirts, key chains, puzzles and much more