Note: At the Denver Actors Fund, anonymity of aid recipients is presumed and fully protected, unless and until the recipient chooses to have his or her story told.


Aid recipient: Back in 2014, Twanna LaTrice Hill became just the fifth aid recipient in The Denver Actors Fund's young history. Twanna is Harvard, Princeton and Regis University educated, and she has performed in many productions with the Phamaly Theatre Company, including playing Annie in "It's a Wonderful Life" and Alma in the Alzheimer's drama "Taking Leave." She also has performed with the Denver Center Theatre Academy, Denver Museum of Nature & Science, the Eden Theatrical Workshop and others. She holds a bachelors degree in Russian (with minors in acting and creative writing) from Princeton; a masters in Soviet studies from Harvard; and an ABD in nonprofit public policy from Regis. From 1988-90, she was a student at the Denver Center's National Theatre Conservatory. She has worked tirelessly for state legislation that protects the privacy of sexual-assault victims.
Her initial story: In 2006, shortly after graduating from Regis, Twanna suffered a pulmonary collapse. After being in an induced coma for two weeks, she was further diagnosed with lupus, a neurological disease that puts her at constant risk of falling over. A series of financial setbacks in 2013 impacted her ability to manage her symptoms. After the start of the next calendar year, she was unable to meet her new annual Medicare deductible, which prevented her from receiving other medical benefits, and kept her from purchasing items that doctors recommended for her ongoing therapy.
How we first helped: In 2014, The Denver Actors Fund issued Twanna a check for $922 to pay for her Medicare deductible; the purchase of a lumbar back brace to ease the pain of a degenerative disc disease; and the purchase of a blood-pressure cuff that she needed to monitor her blood pressure and heart rate because of recurring tachycardia. Twanna later required surgery to repair nerve damage in her left arm.
Her more recent story: In April 2018, Twanna had a major dental crisis when a front tooth fell out, and surrounding teeth were disintegrating around the root. These issues were side effects from medication she took to address her previous medical incident.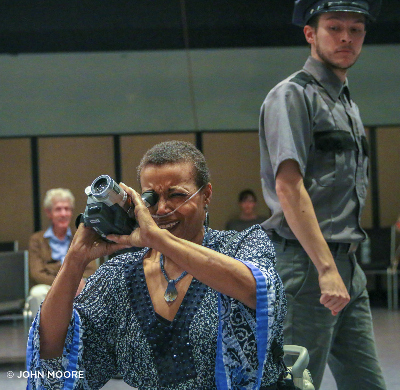 How we helped: The Denver Actors Fund referred Twanna to Thornton dentist (and former Broadway dancer) Brian Kelly. Through a unique ongoing partnership with The Denver Actors Fund, Kelly and his team at The Dental Center at Thornton Plaza accept a limited number of emergency dental cases as an in-kind donation. Kelly's goal is to transition every referred patient from gum disease to health. In this case, Dr. Kelly extracted the remaining root material and created a partial dental prosthetic that allowed for the placement of two new teeth. In recent months, Dr Kelly completed Twanna's follow-up care with crowns and eventually, complete dentures. The total cost of all these dental procedures came to $7,408. Of that, Twanna's insurance paid just $1,348. The Denver Actors Fund paid a $190 lab fee, and the rest — $5,870 — was Kelly's in-kind contribution to the DAF. To date, the total dental support for Twanna comes to $6,060, and our total overall medical support for Twanna since 2014 is now $6,982.
A message from Twanna: "I cannot thank Dr. Kelly and the Denver Actors Fund enough for helping me with what was truly a crisis that kept me hidden in my home. I have regained my beautiful smile (which I have always thought of as my best feature!), and I am incredibly grateful. The very existence of the Denver Actors Fund helps to restore my faith in the kindness of others who just want to help – and ask nothing in return. That is worth more to me than any medication or piece of equipment."
The Denver Actors Fund has now made more than $418,000 available to Colorado artists in medical need. If you would to help us replenish our general fund, simply mail checks made out to The Denver Actors Fund to P.O. Box 11182, Denver, CO, 80212. Or use this donation link.
Read testimonials from other Denver Actors Fund beneficiaries here
Note: At the Denver Actors Fund, anonymity of aid recipients is presumed and fully protected, unless and until the recipient chooses to have his or her story told.
---
HOW YOU CAN HELP US REPLENISH:
To DONATE the Denver Actors Fund, please CLICK HERE (with our humble thanks)
COLORADO GIVES DAY IS COMING ON DECEMBER 10. TO SCHEDULE YOUR DONATION, CLICK HERE
---
ABOUT THE DENVER ACTORS FUND:

Video above: The Denver Actors Fund receives the Colorado Theatre Guild's 2016 Community Impact Award.
The Denver Actors Fund is a modest source of immediate, situational relief when members of the local theater community find themselves in medical need. In addition to $418,000 in financial relief, a team of more than 60 Denver Actors Fund volunteers has offered good neighborly assistance to more than 100 beneficiaries including meal prep and delivery, child care, transportation, errands, construction, pet-sitting and more. For more information, visit our web site at DenverActorsFund.Org.
---
HOW TO APPLY FOR AID:
To apply for Denver Actors Fund aid: Fill out this brief online form here
---
MORE WAYS TO HELP:
DONATE BY MAIL:

Send checks made out to the Denver Actors Fund to:
P.O. Box 11182
Denver, CO 80211
VOLUNTEER:
Ever thought about taking a more active role in the Denver Actors Fund? Click here for more information
COME TO EVENTS THAT SUPPORT US:
MONDAY, DECEMBER 9: Firehouse Theater Company will hold a 7:30 p.m. Industry Night performance for its new comedy "Calendar Girls," with all ticket sales going to the Denver Actors Fund. "Calendar Girls," based on the 2003 British film by Tim Firth, tells of a British women's group who become a media sensation when they pose nude for a calendar to raise money for a new couch in a local hospital's waiting room. "Calendar Girls" features Suzanna Wellens, Christine Kahane, Linda Swanson Brown, Linda Button, Michelle Grimes, Erin T. Bell, Mary Campbell, Kristen Mair, Beki Pineda, Rand Moritzky, David Cervera, Brandon Palmer and Jeremy Umansky. The director is Linda Suttle. All tickets are $15. John Hand Theatre, 7653 E. 1st Place, 303-562-3232 or firehousetheatercompany.com
VISIT OUR ONLINE MERCH STORE:
Click here to see how you can buy DAF products such as T-shirts, key chains, puzzles and much more