Chris Gibley will lead expanded board that now also includes Gail Bransteitter, Dr. Kelli Lewis and Fletcher Woolsey
The Denver Actors Fund Board of Directors has voted unanimously for Littleton native Chris Gibley to become its next President. Gibley has 30 years of business experience holding senior management positions with Arthur Andersen, the Federal Reserve Bank, First Data Corporation and Decision Technologies.
Giibley replaces Will Barnette, who accepted the title of interim President in 2016 immediately following the death of his mother-in-law, Brenda Billings, and went on to serve a three-year term.
"I am humbled and grateful for the opportunity to work with all of the many people who serve our local theatre community in so many ways – and I want to meet every one of you," Gibley said.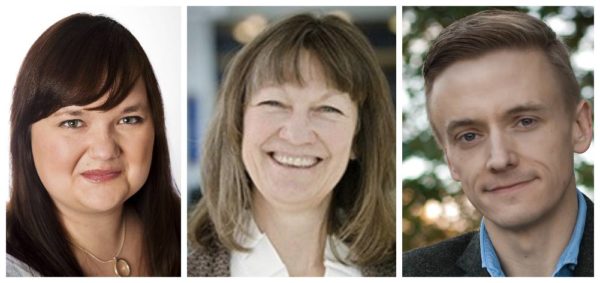 The Board also has voted to expand its membership to seven seats. After an extensive search by founder and Executive Director John Moore, the Board has added to its roster Central City Opera Director of Marketing Gail Bransteitter; emergency-room doctor Kelli Lewis; and Cherry Creek High School teacher Fletcher Woolsey. They join actor Penny Dwyer, Elizabeth Scott-McKeon of Miners Alley Playhouse and actor/producer Kenny Moten as continuing Board members.
"It has long been a goal for The Denver Actors Fund to expand both its core influencer and funder base beyond the Colorado theatre community, and this new group gives us a broader diversity of experience and imagination than we have ever had before," Moore said.
Gibley has worked with Fortune 500 companies in the telecommunications, manufacturing, banking, financial services, pharmaceutical and consumer products industries. His most recent engagements have focused on helping underserved, non-profit organizations. But The Denver Actors Fund is very personal to him. "My family has been involved in supporting the DAF in a major way from the very beginning," said Gibley, whose son, Evan, has performed at many DAF fundraising events and is a member of the DAF's new Teen Council.
"All of us are excited to help," said Gibley, who last year served as Executive Vice President of Project Careaoke, a new non-profit committed to raising money for area non-profits. That group raised $34,000 for The Denver Actors Fund at its inaugural event last September.
"The love and support and initiative the entire Gibley family has shown to our organization has been inspiring," Moore said. "With Chris' extensive experience and business connections, there is no limit to the good he might do for our organization as we continue to grow and initiate our longer-range plans to support the local theatre community in even bigger and more impactful ways."
The Denver Actors Fund is a non-profit organization that since 2013 has served as a source of both immediate financial and neighborly assistance to members of the Colorado theater community in situational medical need. To date, The Denver Actors Fund has distributed more than $350,000 to help recipients with medical bills, insurance, co-payments, supplies, dental care and more. (To read stories about some of the actors, directors, stage managers and others who have been helped, click here.)  In addition, the DAF's army of more than 60 volunteers have donated more than 500 hours of service ranging from providing meals, child care and transportation to pet-sitting, snow-shoveling, personal company and more.
Gibley takes over for Barnette at a time when The Denver Actors Fund has provided more than $100,000 in medical assistance to qualified applicants in the past year alone. To qualify, an artist must have lived in Colorado for at least six months of the past year and have participated in the creation of a credible Colorado theatre production within the previous five years. (Read more here.)
"Will Barnette came to us at a time when we were paralyzed with grief," Moore said on behalf of The Denver Actors Fund. "He lifted us up and not only got us moving again, today we are helping artists from all over the state at an unprecedented rate. We always will be grateful for the oversight, professionalism and decency Will brought to us."
Added Gibley: "I am so grateful to Will Barnette for his ongoing commitment to The DAF. Without Brenda Billings, and Will and his family, none of this would have been possible."
Gibley, who graduated from Arapahoe High School and the University of Colorado, is an accomplished guitarist who also plays piano, bass and drums. He enjoys musical theater, live music, reading, golfing, hiking, gourmet cooking, travel and volunteer service. He is the father of two boys and lives in Highlands Ranch. He can be reached by email at chris.gibley@gmail.com.
Here is a brief look at the three other newly elected officers to The Denver Actors Fund's Board of Directors:
AT LARGE BOARD MEMBER
Gail Bransteitter
Gail Bransteitter has a more than a decade of non-profit marketing experience and a passion for the performing arts. She is a graduate of Denver's George Washington High School and Cornell College in Iowa, where she received her B.A. in theatre. She began her career doing production work for theatre companies and schools throughout the metro Denver area. She then shifted into the non-profit sector where she worked as the National Communications Manager at Mercy Housing. She went on to serve as the Director of Marketing and Communications at Boys & Girls Clubs of Metro Denver before moving into her current role as the Director of Marketing at Central City Opera.
Bransteitter is an active patron and supporter of Colorado's performing-arts community and currently serves on the Board of Directors for Buntport Theater.
She attended The Denver Actors Fund's first fundraising event in 2013 and has continued to support the organization throughout the years. Gail hopes her experience in marketing, communications and fundraising will help The Denver Actors Fund expand its reach and increase the resources the organization can provide for those in need.
"I'm honored to join the Board of Directors and continue to advocate for the important work of The Denver Actors Fund," said Bransteitter. "This organization is an incredible resource for the local theater community, and it has made a tremendous difference for its beneficiaries."
AT LARGE BOARD MEMBER
Dr. Kelli Lewis
Dr. Kelli Lewis, a native of Ropesville, Texas, is the Medical Director at St. Joseph Emergency in both Littleton and Northglenn. She received an undergraduate degree in nursing, and practiced as a nurse for several years before graduating from Texas Tech University School of Medicine with honors. She trained in General Surgery at Stanford University and finished an Emergency Medicine residency at Denver Health. Kelli has practiced in Denver for the past 26 years, and is on staff at Denver's SCL Health hospitals.
Lewis is a shareholder in US Acute Care Solutions, and has held several leadership positions through the course of her career, including Medical Director, Peer Review Committees and Medical Staff President. She has been recognized in 5280 Magazine four times as a "Top Doc" in Emergency Medicine.
Her love for theatre goes back to her high-school days as a performer, and luckily did not end when she walked out of her first audition in college with a full-blown panic attack. After moving to Denver, she promptly became a faithful patron of many local theatres. Her continuing presence at BDT Stage has introduced her to some of her most treasured and longstanding friendships.
As a DAF board member, Lewis hopes to find new ways to be helpful to this community of actors as they encounter medical challenges. She has plans to introduce new options for health-care access, and be a resource for both education and advice. "I'm very excited to see what's possible," said Lewis, who added that, most of all, she wants to give back for all of the lovely moments of escape from a stressful career that Denver's acting community has provided to her.
Lewis lives in Denver with a menagerie of three exotic cats and a bewildered dog. She enjoys live theatre, travel, and playing piano, guitar, and banjo in her leisure moments.
AT LARGE BOARD MEMBER
Fletcher Woolsey
Colorado native Fletcher Woolsey has taught social studies at Cherry Creek High School for the past 13 years. Along with classroom experience, this time has afforded him the opportunity to run and manage several clubs, including National Honor Society and the speech-and-debate team. Fletcher graduated from Columbine High School in 2002 and Colorado State University in 2006.
Woolsey's world view is unalterably shaped in part by the fact that he was a freshman at Columbine at the time of the shooting in 1999. It helped guide him into his career in education, and has helped make him particularly compassionate when it comes to helping those who are suffering.
His interest in this specific board position comes from a variety of sources: First, his lifelong appreciation of the arts has made him eager to give back to this community in some form other than ticket sales and donations. Second, his experience as a student of political science and as a government teacher have made him acutely aware of the gaps in America's health-care system and the fundamental need for third parties who act as catchers in the rye for those lost in or devoured by the system.
Third, Fletcher is engaged to marry Rebecca Joseph, a relationship that has provided a first-hand account of what The Denver Actors Fund can do for artists in need. Rebecca is the widow of local actor Daniel Langhoff, who died of cancer in 2017, just days after the birth of their second child. The Denver Actors Fund covered some of Langhoff's medical expenses and helped raise more than $75,000 to help Joseph plan for the future needs of her daughters. Though that outpouring, Woolsey said, the DAF fulfilled its role in at least partially mitigating difficulties faced by families in the worst times of their lives.
Joseph also has accepted a new leadership position with The Denver Actors Fund, taking responsibility for the accounting oversight of all funds going in and out of The Denver Actors Fund.