Robert Michael Sanders and Megan Van De Hey. Photo by Ellen Kaye. Below right, Sanders appears in the Denver Center's "I Love You, You're Perfect, Now Change," with Shannan Steele, Daniel Langhoff and Lauren Shealy. Photo by Terry Shapiro.
By John Moore
May 2, 2013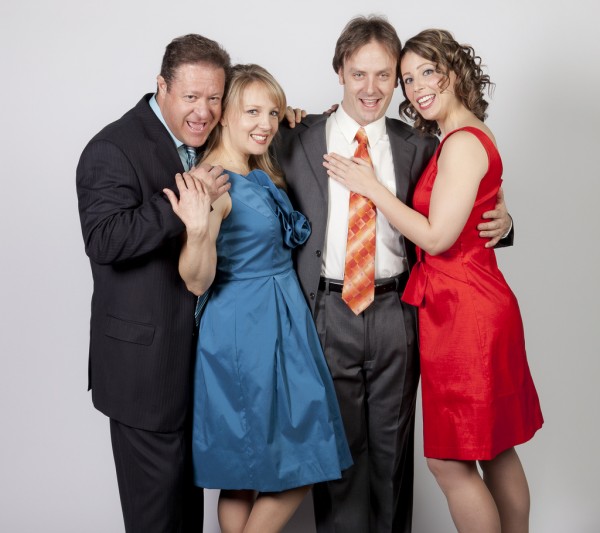 A modest effort by friends of a hospitalized Denver actor got off to anything but to a modest start tonight.
Sanders, who has at least temporarily lost much of his hand and arm coordination after a botched surgery at Denver Health Medical Center last week, has been transferred to Craig Rehabilitation Center.
Tonight, friends launched a fundraising page to help Sanders and his girlfriend, Megan Van De Hey, with the sudden emotional, physical and financial toll of the incident. The page, spearheaded by Van De Hey's recent "Always … Patsy Cline" castmate Carla Kaiser Kotrc and fellow actor Deborah Persoff, raised $2,485 toward a $5,000 goal in its first four hours online. The effort was boosted by a $1,000 anonymous pledge.
On April 24, Sanders underwent what was expected to be routine, outpatient rotator-cuff surgery. But it was believed he was given too much anesthesia, causing his blood pressure to drop during surgery, which otherwise went according to plan. It was only determined later, after Sanders could barely move his neck — and his arms and hands not at all — that something had gone wrong. After a quick investigation, Sanders was told by doctors that when his blood pressure fell, the three discs of his spine that control hand and some arm movement were temporarily deprived of oxygen. The impact of the oxygen deprivation is the equivalent of a skeletal stroke, he was told. But whether his spine was permanently damaged, or will slowly come back to full or partial function, is anyone's guess. Doctors say it is too early to tell whether Sanders will one day recover the full use of his hands, if his present condition is his new reality, or if his fate lies somewhere in between. Sanders was moved to Craig on Tuesday for extended-care physical therapy.
Here's how Sanders' situation is being presented on his care page:
Imagine being an actor, guitarist, teacher and construction worker and not being able to make your hands do what they are supposed to do. Robert is the kind of person you go to for help, not the other way around. But until he regains use of his hands, we will be his helping hands. Robert has hundreds of friends asking, "What can I do to help?" This would be one wonderful way to do that. Thank you for your continued love and generosity!"
Sanders just appeared as Pedro in the Arvada Center's "The Man of La Mancha." Next he is slated to stage manage Cherry Creek Theatre Company's "Baby" (featuring Van De Hey), followed by directing jobs with both the Town Hall Arts Center and Aurora Fox's youth children's theater programs. He played Fezziwig in the Aurora Fox's "A Christmas Carol" and was a featured player in the Denver Center's recent revival of its biggest hit, "I Love You, You're Perfect, Now Change." He is also well-known for his work building stages, including the Galleria Theatre's current "The Doyle & Debbie Show." Other acting credits include playing Caldwell B. Cladwell in a Denver production of "Urinetown," and in the ensemble of "Almost Maine" at the Aurora Fox.
Sanders is also an accomplished singer and guitarist, having released the album "Feel It Coming," under the name of Robert Michael, in 2007. He has been singing, playing guitar and writing songs for more than 20 years, winning multiple songwriting awards. His style is described as fusing rock, blues, country, funk, pop, easy listening and even hair metal.