"Dividing the Estate" cast members Ghandia Johnson (far left) and Kristen Adele (far right), are joined at the afterparty by Adrienne Martin-Fullwood, Sheila Traister, Lisa Young, Kathi Wood and Candy Brown.
By John Moore
May 1, 2013
Welcome to my ongoing, 2013 labor-of-love photo series bringing you iconic snapshots from behind the scenes on opening nights in Colorado theater. All photos by John Moore copyright 2013 for www.CultureWest.Org.
Opening No. 62: Arvada Center's "Dividing the Estate": In Horton Foote's dark comedy, a trapped and self-absorbed Texas family is at odds over the fate of their dwindling inheritance. In quintessentially Chekhovian fashion, these dysfunctional family members grapple with their uncertain future and bicker over entitlement as they face differing yet equally inevitable kinds of ruin — regardless of whether they stay together or go their separate ways. Starring Rachel Fowler, Mark Rubald, Anne Oberbroeckling, Leigh Nichols Miller, Sharon Kay White, Russell Costen, Michael McNeill and Gabra Zackman; and featuring Ghandia Johnson, Kristen Adele, Devon James, Emma Carpenter Martin and Ella Tieze. Directed by A. Lee Massaro. Through May 26. Showtimes: 7:30 p.m. Tuesdays, Wednesdays, Thursdays, Fridays and Saturdays. Matinees 1 p.m. Wednesdays; 2 p.m. Saturdays and Sundays in the black-box theater, 6901 Wadsworth Blvd., 720-898-7200 or the arvada center's home page. Thanks: Melanie Mayner, Lisa Cook and Rod Lansberry.
The following gallery is just one chapter in my ongoing photo series called "It's Opening Night in Colorado Theatre," bringing you iconic snapshots from behind the scenes all over Colorado theater. All photos by John Moore for www.CultureWest.Org. To see the actual, official photo series featuring one intimate, iconic snapshot from 62 Colorado opening nights (and counting), click here.
Click here to subscribe to the CultureWest.org Monthly E-Newsletter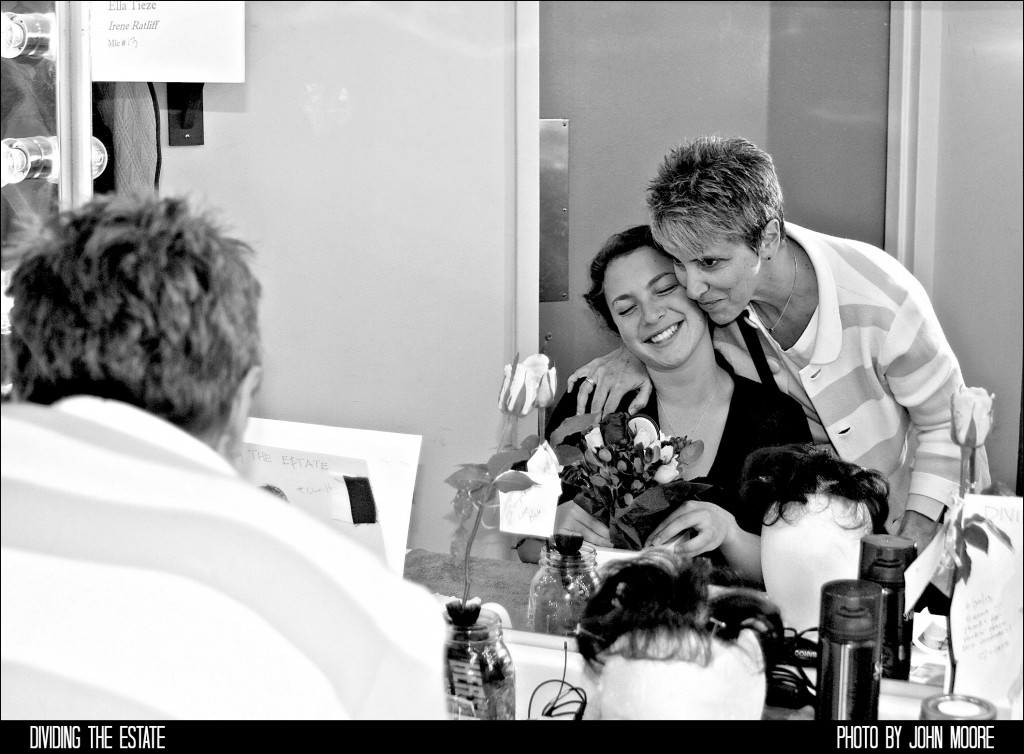 There was a special moment before the opening performance when director A. Lee Massaro entered the ladies' dressing room with a special greeting for her daughter, Ella Tieze, who plays a pivotal cameo in Horton Foote's dark comedy.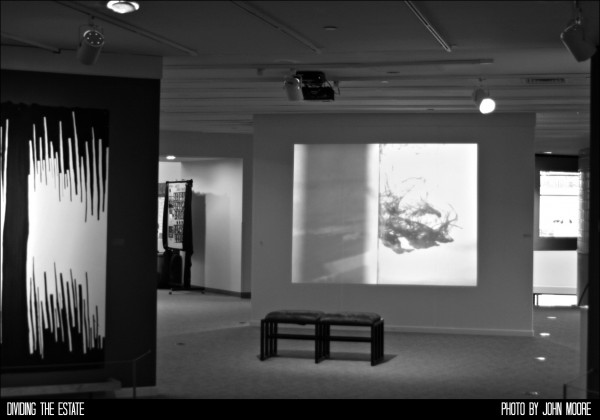 The walk to either of the Arvada Center's two theaters is lined with art, both still and, in the case of the video installation on the right, in motion.

Ghandia Johnson (Mildred) is excited. Johnson was once a contestant on CBS' "Survivor: Thailand." … Did we mention that Ghandia Johnson is excited?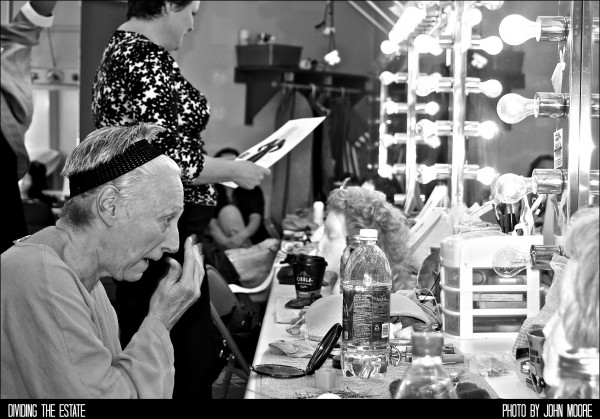 On the heels of "August: Osage County" and "Doubt," Anne Oberbroeckling is on the best run of her career. Here she plays another sharp-tongued matriarch. 
 A gift to cast members from the Arvada Center's performing arts committee.
Rachel Fowler as Lucille.
Sharon Kay White shows off a gift from costumer Clare Henkel: Her original sketch design for White's character of Mary Jo.

Dusty Sloan will be preparing a LOT of food for the run of "Dividing the Estate," which largely takes place at dinnertime. Above, he's mashing sweet potatoes. Below, he's baking some buns.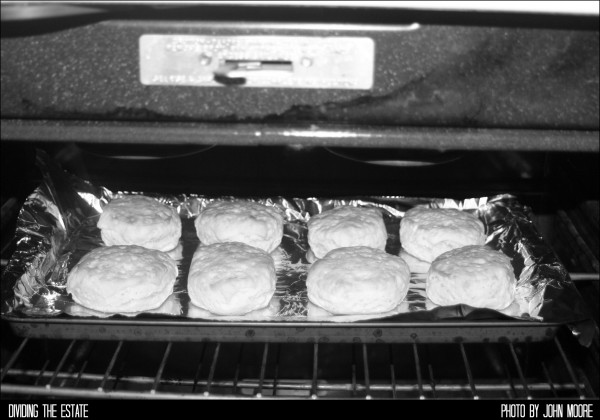 (Please click "Page 2" below to go to the next page of our photos from our visit to "Dividing the Estate.")