By John Moore
May 1, 2013
Welcome to my ongoing, 2013 labor-of-love photo series bringing you iconic snapshots from behind the scenes on opening nights in Colorado theater. All photos by John Moore copyright 2013 for www.CultureWest.Org.
Opening No. 61: Miners Alley Playhouse's "The Memory of Water": Anyone who has read the "religious views" line on my Facebook profile knows my philosophy: "Everybody Into the Bed!" And that's just where the cast of MAP's new family drama organically gravitated toward before Sunday's opening-weekend performance. From left, that's Matthew Blood-Smyth (in the hat), Kurt Brighton (back), Paige Larson, Emily Paton Davies, Lisa DeCaro and Deb Curtis. Shelagh Stevenson's melancholy 1996 comedy follows three sisters who have come together for their mother's funeral. They bicker about memory, life and clothing choices through an intermediary inspired by Noël Coward. Through May 26. Directed by John Arp. Showtimes: 7:30 p.m. Fridays and Saturdays; 6 p.m. Sundays (except May 26, when curtain is at 2 p.m.) at 1224 Washington St., Golden, 303-935-3044 or map's home page. Thanks: Rick Bernstein, Len Matheo, Jonathan Scott McKeon and Brenda Billings.
The following gallery is just one chapter in my ongoing photo series called "It's Opening Night in Colorado Theatre," bringing you iconic snapshots from behind the scenes all over Colorado theater. All photos by John Moore for www.CultureWest.Org. To see the actual, official photo series featuring one intimate, iconic snapshot from 62 Colorado opening nights (and counting), click here.
Click here to subscribe to the CultureWest.org Monthly E-Newsletter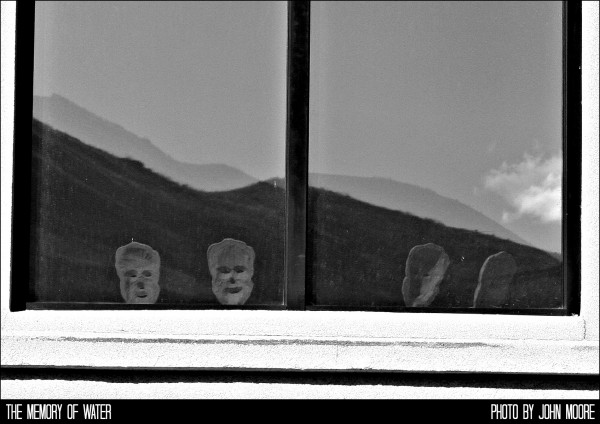 At Miners Alley Playhouse, they have Henry Awards coming out of the window.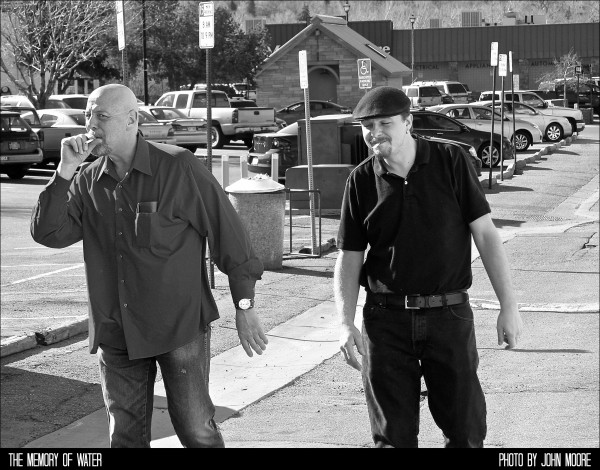 Former executive director Rick Bernstein, left, is part of the transition team helping new MAP leaders Len Matheo and Brenda Billings get acclimated. Here, Bernstein and bartender Jonathan Scott McKeon help themselves to a cigarette behind the theater in what really is called "Miners Alley."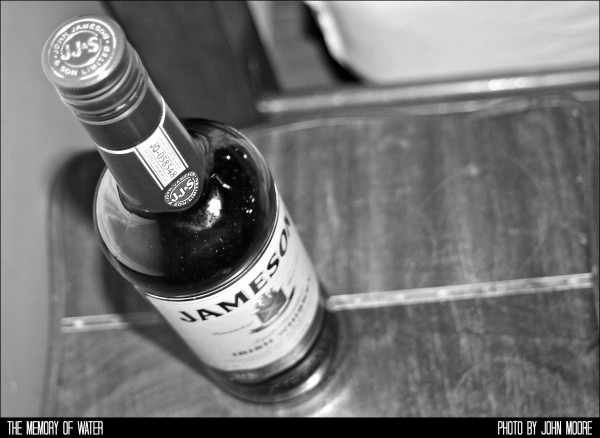 In "The Memory of Water," a lot of Jameson's gets drunk. A lot.

It's just too bad these people can't get along.

Yo, Kurt Brighton: Why are you checking out my Facebook page? You're on stage in, like … 97 minutes. Focus!!

Deborah Curtis takes me on a tour of the Miners Alley Playhouse's freight elevator, which contains a coffin that is used in the play. I don't want to spoil things by saying who's supposed to be inside of that coffin, except to say that he/she looks nothing like the turkey you see below.

Matthew Blood-Smyth: He looks and sounds as British as his name. … Yeah, he's from Broomfield.
(Please click "Page 2" below to go to the next page of our photos from our visit to "The Memory of Water.")