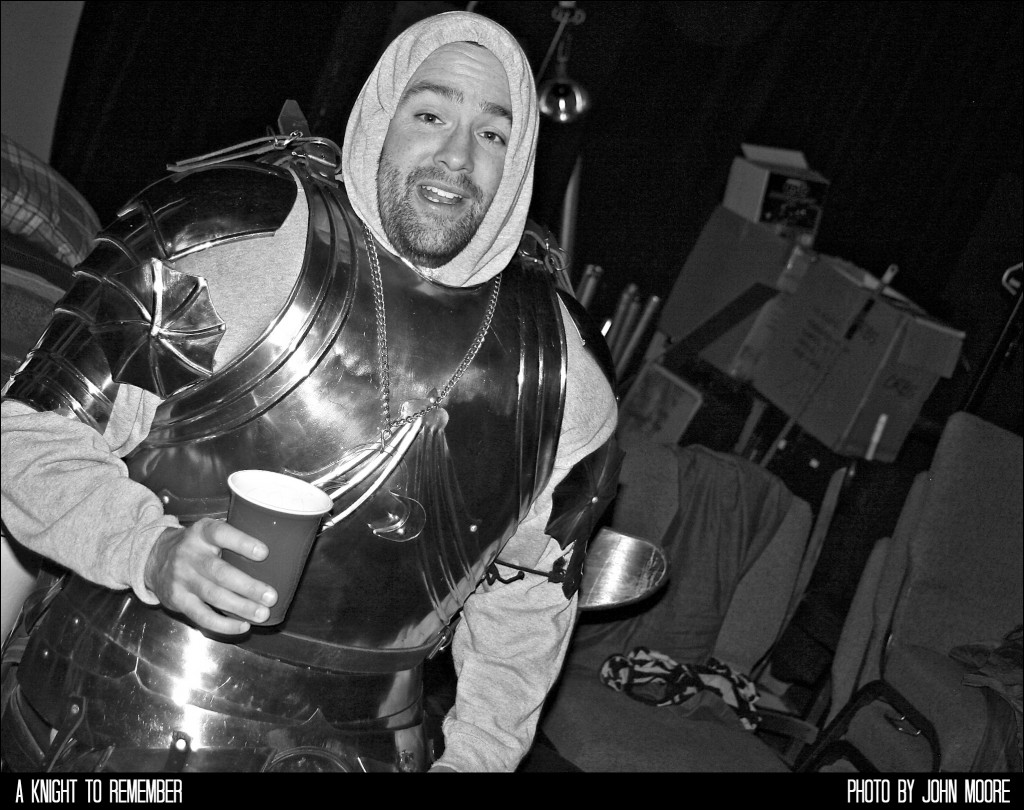 Brian Colonna's adventures are subtitled, "My Quest to Gallantly Recapture the Past."
By John Moore
April 30, 2013
Welcome to my ongoing, 2013 labor-of-love photo series bringing you iconic snapshots from behind the scenes on opening nights in Colorado theater. All photos by John Moore copyright 2013 for www.CultureWest.Org.
Opening No. 60: Buntport Theater's "A Knight to Remember": In what could have served as a perfect companion piece to the Arvada Center's recent "The Man of La Mancha," Denver's fearlessly (and endlessly) inventive Buntporters are currently taking up an uncommonly self-referential comic, Quixotean quest. Ever-amiable actor Brian Colonna takes audiences on a trip back to the fourth grade, where he explores his childhood dreams of knighthood. Snarky squires Erin Rollman and DJ Hannah Duggan join in on Colonna's self-examination to determine whether he ever truly possessed the characteristics necessary to become a knight in the first place. (Here's a hint: Spelling apparently isn't one of the essential ingredients.) This is a comedy about honor, love … and what was up with that pretty girl in the class picture who looks like, in the absence of her knight, has been left to hold her own hand alone. As usual, the Buntporters play with the unusual in employing charmingly simple storytelling techniques. But for as cheeky as this latest original effort is, it's an intimate and honest look into the life and psychology of one of Denver's most endearing young actors. Starring Brian Colonna as Brian Colonna in a full suit of armor (imported from … well, Denver, but via India). Through May 11 at 717 Lipan St. Showtimes: 8 p.m. Thursdays, Fridays and Saturdays; also 3 p.m. Sunday, May 5. 720-946-1388 or buntport's home page
The following gallery is just one chapter in my ongoing photo series called "It's Opening Night in Colorado Theatre," bringing you iconic snapshots from behind the scenes all over Colorado theater. All photos by John Moore for www.CultureWest.Org. To see the actual, official photo series featuring one intimate, iconic snapshot from 61 Colorado opening nights (and counting), click here.
Click here to subscribe to the CultureWest.org Monthly E-Newsletter

Brian Colonna hangs out in the parking lot as his public begins to arrive at the Buntport Theater warehouse.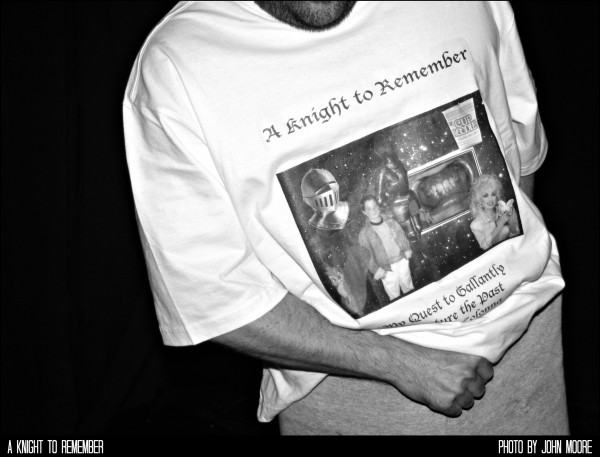 This show must be real: Brian has his own show shirt.

DJ Hannah Duggan may appear to be playing a Colombian miner, but in reality, she is wearing a headlamp so she can see backstage.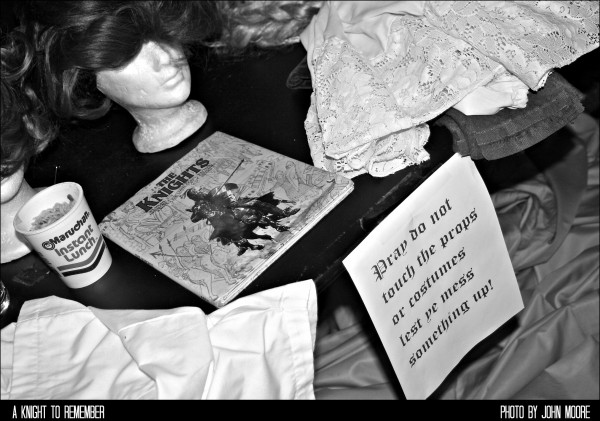 Has any other show ever sported Ramen, wigs and medieval youth literature on same prop table?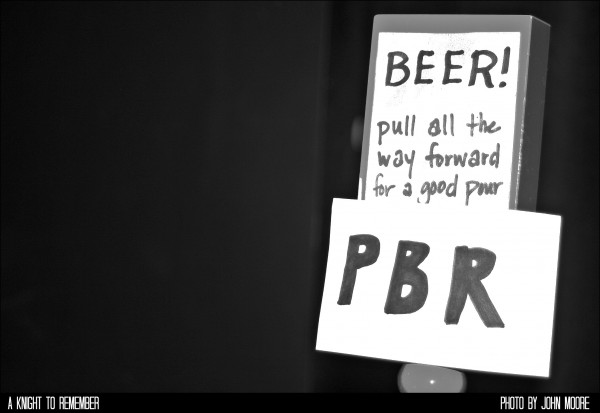 Theater marketing at its best. (That line never gets old to me.)

Erin Rollman helps prepare Brian Colonna for the battle of live performance. Good thing for the camera flash, because they are doing all of this in near total darkness.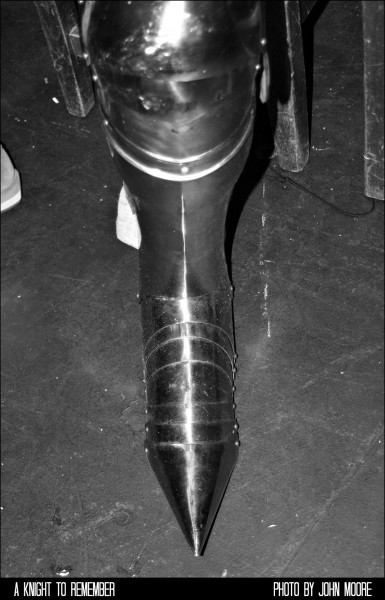 And I thought the ladies had it tough in their high heels.
(Please click "Page 2" below to go to the next page of our photos from our visit to "A Knight to Remember.")