By John Moore
Aug. 22, 2013
Rehearsals are underway for the final production to be staged at the Germinal Stage-Denver's longtime home at 44th Avenue and Alcott streets in northwest Denver.
"Offending the Audience" revives what founder Ed Baierlein describes as "easily Germinal's most notorious production," first presented in 1976. The "choral monologue" by Austrian playwright Peter Handke "is a fascinating statement of the live theater," Baierlein said.

Here's my video podcast capturing the emotion of the closing-night performance on Aug. 25, 2013. Video by John Moore.
Baierlein has taken an innovative and admittedly chaotic approach to this final staging, after which his company will become nomadic, presenting plays less regularly at rented spaces around town. (Read the complete story about Germinal's decision to vacate its home here.)
Baerlein has re-gathered 45 Germinal actors who have performed on Germinal stages past and present, and at least one first-timer … me.
"We will conspire to blow your collective mind," said Baierlein, sounding more like the avant-garde young envelope-pusher who opened Germinal Stage in downtown Denver than the 69-year-old irascible old (?) radical he has become.
To accommodate actors' scheduling conflicts, Baierlein has split his swollen cast into 18 teams of two and three. Handke's rant consists of 71 paragraphs. Each team of actors has been assigned six paragraphs to memorize. Whoever shows up on any given night will be part of that night's ensemble. And as  long as someone from each team shows up, he'll be good to go.
As a member of the ensemble, I will be around to chronicle the evolution of the final staging at the historic old theater with the Baierlein pipe smoke embedded in its very walls.
"Offending the Audience"
Aug. 9-25, 2013
2450 W. 44th Ave., 303-455-7108 or germinal's home page
Click here to subscribe to the CultureWest.org Monthly E-Newsletter
NEWEST ENTRY:

"We cannot say our words twice. We cannot do the same thing once again. We cannot speak the same way. Time expires on our lips. Time is unrepeatable." Goodbye, trusty cards.
To quote another bombastic musical: "One Day More" … you clique of babbits! Tonight is the final performance of "Offending the Audience" — and the final performance of anything at the Germinal Stage Denver's longtime home at 44th and Alcott. Standing room is available for this historic performance, so … come and be lambasted! Follow our "Countdown to Closure" coverage here. Photos by John Moore for www.CultureWest.Org. The play plays at 2450 W. 44th Ave., 303-455-7108 or www.germinalstage.com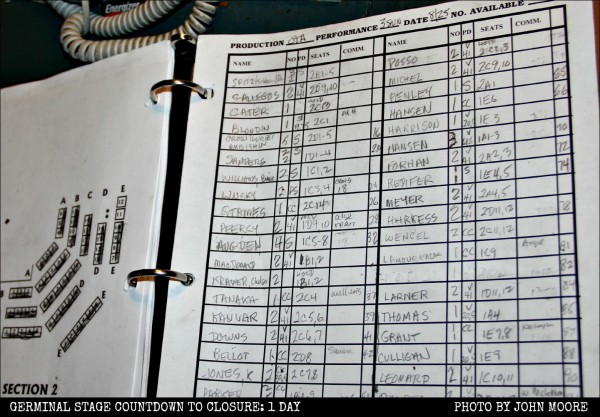 The final night is nearly in the books … Are you coming?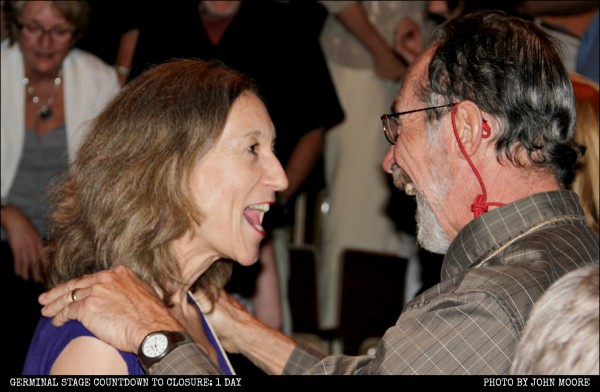 Our incessant, mirthful heckler. Everyone loves repeat business … or do they?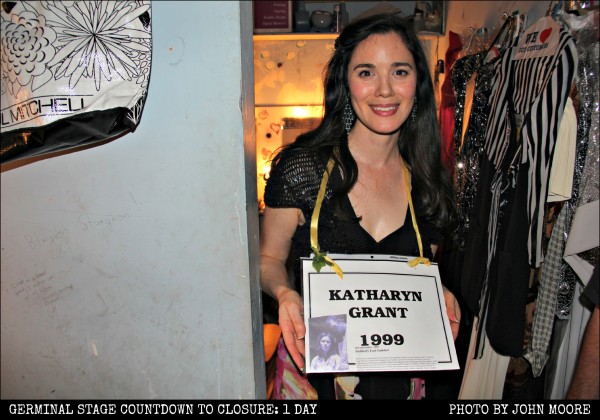 Additional coverage:

Kenny Burt: Original cast member on marrow and forgotten riots.
At "Terminal Germinal," these walls CAN talk. Check out our photo essay of all the backstage quotes that have been etched into the dressing-room walls.
"Offending the Audience": What the hell is this play?
Why dozens of Denver actors are oh so eager to offend you
PREVIOUS ENTRIES:

Hard for any of us to believe only two performances remain at the Terminal Germinal, 8 p.m. tonight (Aug. 24) and 7 p.m. Sunday, Aug. 25. After that, the iconic home of avant-garde and modern classical theater will be gone forever. The move out starts on Monday. Pictured above are Jennie MacDonald, Patrick Mann, Steve Kramer and Marc Moran.
During last night's performance, a lone heckler stood up in silent protest against the verbal hypnosis he was undergoing. Later on, it happened again, with about half the audience joining in. The insurrection lasted for about four minutes, and the play resumed without incident. (Long enough for me to take out my cell phone and take a picture of it — though by then most of the risers already had descended again.)
… And here's a photo of Paul Greengross, a cast member from San Diego who has joined us for the final weekend of shows. He's dedicating his performance to David Kimble, a former Germinal actor who died last year. You can read more about David here.

Countdown to Closure, 4 Days: The view from Ed Baierlein's center-stage chair during tonight's brush-up rehearsal. Only three performances remain at the Terminal Germinal, Friday through Sunday.

Countdown to Closure, 5 Days: Is it possible that in only 5 days, it will be time for Sallie Diamond to hang up her monkey for good _ as well as the theater space she and her husband moved into 26 years ago?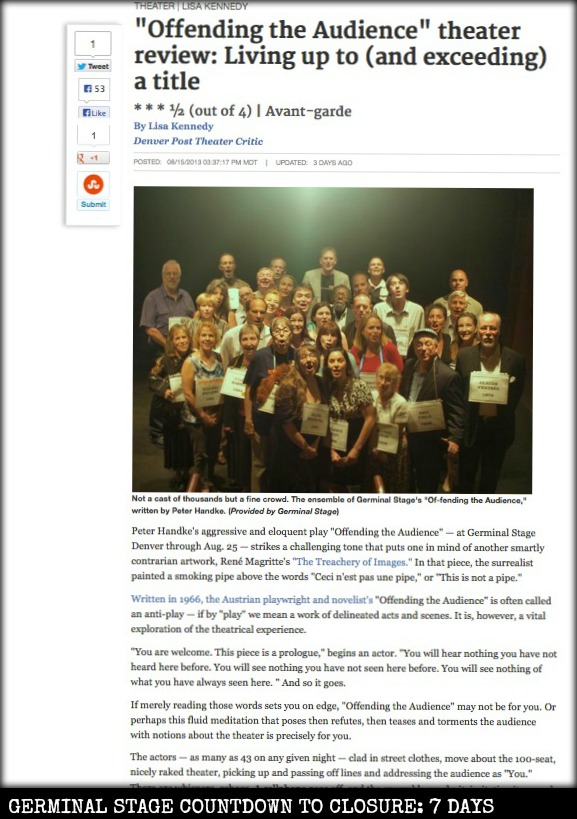 Countdown to Closure, 7 Days: The reviews are starting to come in, and they are all pretty favorable. Lisa Kennedy writes in The Denver Post: This "is a reunion, not a wake." Read the whole Denver Post review here.
And here's Craig Williamson's review in the North Denver Tribune: Germinal Delivers Exclamation Point with Offending the Audience
And here's Bob Bows' review on ColoradoDrama.Com
And here's David Marlowe's Musings


Countdown to Closure, 13 Days: A little sense of the history now on display onstage at the Germinal Stage-Denver in "Offending the Audience." PS: I accounted for exactly zero of those roles.
Countdown to Closure, 14 Days: Tonight we had two firsts: our first heckler … AND we locked a guy in the men's room. Seriously, we had to take the door off to get him out. Most surprisingly, one first had nothing to do with the other. But it brought all new meaning to the Sartre poster adorning the inside of the men's bathroom door. "Offending the Audience" performances resume Aug. 16-18 (I won't be there), and Aug. 23-25 ( I will be there).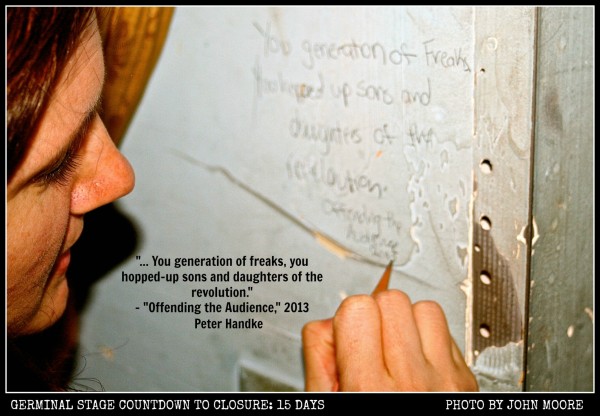 Countdown to Closure, 15 Days: At "Terminal Germinal," these walls CAN talk. I've made a photo essay out of all the backstage quotes that have been etched into the dressing-room walls. The most recent addition, above, comes courtesy of cast member Mary Cates quoting "Offending the Audience." The quotes, ranging from the Lillian Hellman to Harold Pinter to even the B-52s (!), not only tell the story of this particular theater, but in may ways, the story of live theater itself. See 'em all here.

Countdown to Closure, 16 Days: Last night was the final opening night at Germinal Stage-Denver's longtime home at and 44th Avenue and Alcott streets. I took this shot from the back of the stage while the cast (which did not make a traditional exit) was just breaking from a standing ovation that was as much an acknowledgement of 40 years of performances as last night's (most unusual) one.
Countdown to Closure, 17 Days: It's the final dress rehearsal: OK, everyone … give 'em your best middle finger! This is not the entire cast … just those who could fit into my lens. "Offending the Audience," Germinal Stage-Denver's swan song at its longtime theater space, opens tonight.

18 Days to Closure: Just going to show that we're not ALL fossils in the swan song for Germinal Stage Denver's longtime theater space. Each cast member wears a name placard with the year they first darkened, er, I mean graced, the Germinal Stage stage. The years range from 40 (Ed Baierlein and Sallie Diamond) to 1 (young Samara Bridwell).
Favorite quote of the day: "I think we can complicate it a little more" … director Ed Baierlein.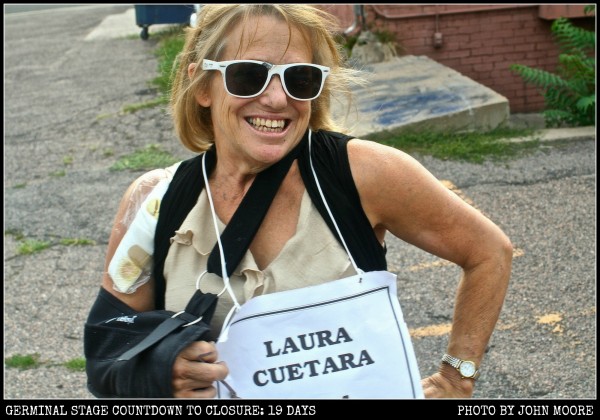 19 Days to Closure: Laura Cuetara had major shoulder surgery last week, and the powerduff missed a day … a whole DAY! … of rehearsal for Germinal Stage's "Offending the Audience," opening Friday. Cuetara is a professor of theater, film and video production at the University of Colorado-Denver. Back in the days before Germinal founder Ed Baierlein started directing pretty much everything there, she directed Baierlein in some of his seminal roles, such as 1984's "Nightpiece," by Wolfgang Hildesheimer. Laura is known for creating relevant, collaborative multimedia theater for her students. Cases in point: "Becoming Non-Grata," which focused on events at the Japanese internment camp at Amache, Colo.; "Bitten By A Snake," which calls into question presumed truths about the Civil War; and "Front Doors … at Home on the Streets of Denver," which explored local homelessness through scenes, short films, monologues and photography. "I don't want to sound sociologically self-righteous," Laura once told Westword, "I just want to ask questions. I think that's what theater can do best." "Offending the Audience" is Germinal's swan song at its 26-year hole in northwest Denver. Baierlein has gathered 40 seminal Germinal veterans (and, for some as-yet unexplained reason … me) to recite Austrian Peter Handke's argument with the theater. Often to as an "anti-play," Offendin theg the Audience" is a confrontational and even proudly condescending lecture on the experience of attending live theater. Even still, there is a sentimental quality to it that makes it the perfect way for Germinal to close its doors. To the mighty and surgically undaunted Laura, I have this to say to my castmate: "You trouper! … You tearjerker! You milestone in the history of the theater!" She'll know what that means.
Favorite quote of the day: "As you know … I always come to party." … director Ed Baierlein.

23 Days to Closure: Whatever WILL Ed Baierlein do with all of those shoes?

24 Days to Closure: There may be no characters and no roles in "Offending the Audience," but director Ed Baierlein is identifying his 45 actors for the benefit of the audience with placards, along with the year each actor first performed there. In a daring stroke of individuality, Petra Ulrych has sparked a placard art project: Personalizing the string each actor hangs around one's neck (as apt a metaphor as you are going to get for this acting challenge, by the way). Petra's choice: Red hearts.

25 Days to Closure: Leroy Leonard has found a musicality to the mind-bending, tongue-twisting words that populate Peter Handke's "Offending the Audience" script. He finds this parking-lot musical method of playing the flute to be a good way to warm up for the evening's run-through.
26 Days to Closure: Each cast member was given a placard on the first day of rehearsal indicating what year he or she first appeared on the Germinal Stage stage. Sallie Diamond, wife of co-founder Ed Baierlein, has been there from the beginning: 1973. The cast members will wear these placards during the performances. Ed has nicely assigned the novice me the year 2002, the year I first reviewed a Germinal production for The Denver Post. Otherwise, if it were to reflect my actual debut at Germinal, it would have to say, "John Moore: Now … and now … and now … and now." Photo by John Moore. Follow my "Countdown to closure" coverage, click here.
Happy birthday: Suzanna Wellens AND Katharyn Grant.
27 days to Closure: It's our first night off-book: Why does it look like we are all in the throes of either panic or prayer? Because we are, my friends. Oh yes, we are.
Opined director Ed Baierlein: "I've seen worse first nights off-book."
(I'd like to see some documentation.)
Favorite exchange:
Terry Burnsed: "When you really go crazy is when you almost have them."
Erica Sarzin-Borrillo: "Damn these fucking words!"
Photo by John Moore.
28 Days to Closure: I really don't remember learning lines being this hard when I played Walter Hollander in Regis Jesuit High School's (stellar) production of "Don't Drink the Water." But, Toto, I don't think we're behind the Iron Curtain anymore … Or are we?
30 Days to Closure: Laura Cuetara and Suzanna Wellens tag-team as part of Team No. 7. That means they (plus Paul Caouette) have been assigned the ame six weighty paragraphs from Peter Handke's script, and they get to divide them up however they choose. What each actor says will vary from night to night, given that not all team members will be available at every performance. What they are telling the audience in rehearsal here are barbs like: "You are under review by us. But you form no picture. You are not symbolic. You are an ornament. … You are a species." Cuetara is a faculty member with the University of Colorado-Denver's Department of Theatre, Film and Video Production. She directed Germinal founder Ed Baierlein in one of his seminal roles, in 1984's "Nightpiece," by Wolfgang Hildesheimer. Wellens is a Germinal vet whose credits there include "Home," "The Show-Off," "Tartuffe, Born Again" and "Getting Married." Everyone (except me) in the cast has worked at Germinal before.

30 Days to Closure: Having frequented the men's room at the Germinal Stage for many years, I always assumed Ed Baierlein precisely positioned this poster on the bathroom wall as an ironic commentary on the performance of your bowel movement. Now being a member of the ensemble of the revival staging, I have come to understand that for this particular play, "thumb's down" really means "thumbs up." … My colon thanks you.
31 Days to closure: Lori Hansen has a few choice words for the coming audience, among them: "You are playgoers. You are of no interest because of your capacities. You are of interest solely in your capacity as playgoers."

32 days to closure: The final two pages of "Offending the Audience" are truth in advertising. Ed Baierlein's direction to his cast: "Shit-eating grins at all times … That's the only way to save yourselves." Photo by John Moore.

33 days to closure: When Germinal last staged "Offending the Audience" in 1976, one performance sparked a spontaneous rebellion among the audience that began when a handful of spectators began heckling the performers, joined them onstage and even physically threatened them. Eventually, according to this The Denver Post report, "virtually all the audience was participating in the chaos." The incident prompted director Ed Baierlein to call a press conference to address the media's interest in the story. How unprecedented was the uproar? Well, when's the last time you can remember a local theater company having to (or should we say "getting to?") call a press conference over anything … And the media showing up? (By the way, here's another indicator how much times have changed: In 1976, 11 … count 'em, 11 local newspapers had theater critics who reviewed Germinal's production.)

38 days to closure: Germinal Stage's original "Offending the Audience" ensemble numbered just 10 in 1976, but there could be as many as 45 actors gathered on the theater's postage stamp of a stage on any given night of the production opening in less than three weeks.

39 days to closure: Here's how "Offending the Audience" looked when Germinal first staged it in 1976 at its old home in downtown Denver. The 2013 cast includes four returning cast members: Ed Baierlein, Sallie Diamond, Kenny Burt and Paul Caouette.
40 days to closure: Let the offending begin, courtesy Steve Kramer: "You washouts, you fire eaters, you generation of freaks."
41 Days to closure: "Offending the Audience" director Ed Baierlein.
Cast list:
Lawrence Allen
Ed Baierlein
Tad Baierlein
Linda Barner
Paul Barner
Laura Booze
Erica Sarzin-Borrillo
Phi Bernier
Dennis Bontems
Samara Bridwell
Terry Burnsed
Mary Cates
Paul Caouette
Laura Cuetara
Tupper Cullum
Claude d'Estree
Sallie Diamond
David Fenerty
Eric Field
Kristina Pitt Garner
Katharyn Grant
Paul Greengross
Michael Gunst
Lori Hansen
Elgin Kelley
Steve Kramer
Leroy Leonard
Fred Lewis
Jennie MacDonald
Joe MacDonald
Patrick Mann
John Moore
Marc Moran
Lisa Mumpton
Michael Parker
Melissa Pear
Ed Sampson
Penny Stames
Carol Timblin
Augustus Truhn
Petra Ulrych
Gina Wencel
Suzanna Wellens
Diane Wziontka
How you can donate to the Denver Actors Fund
The new Denver Actors Fund is a modest source of immediate, situational relief when members of the local theater community find themselves in sudden medical need. Photo by John Moore. To donate to the Denver Actors Fund, please go here (with our humble thanks):