By John Moore
Nov. 15, 2013
John Hutton has only five or six lines in the Steven Spielberg film "Lincoln," opening nationwide Friday (Nov. 16). But, hey, the veteran Denver actor's girlfriend reminded him, "You could have been in 'The Three Stooges' movie. That could have been the call you got."
Instead, the call he got was to be in the film starring Daniel Day-Lewis that is an immediate frontrunner for the 2013 best-picture Oscar. Hutton plays Massachusetts Senator Charles Sumner, who may be insignificant in the film, "but he was really significant in life," Hutton said.
Hutton is part of a considerable Denver connection in "Lincoln," including former Denver Center Theatre Company stalwarts Jamie Horton, Dakin Matthews and big-time Broadway actor Byron Jennings. On the same day the film is to be released, Hutton will bow in a starring role in the Denver Center's "When We Are Married," a British comedy about three small-town couples who discover they're not legally married after all.
For Hutton, the road from Denver to filming "Lincoln" in Richmond Va., goes all the way back to a phone call taken in 2001 by Anthony Powell, then the Denver Center Theatre Company's associate artistic director. Now he's the artistic director of Stories on Stage.
"Somebody on Spielberg's team realized they were going to need a lot of actors who could talk all high-falutin'," said Powell. Meaning … classically trained stage actors. Powell recommended Denver Center company actors Hutton and Horton (now a professor at Dartmouth).
"He's been one of the great benefactors of my life," Hutton said of Powell, who says in return, "John has given me way too much credit."
Hutton was asked to tape a Shakespeare monologue as his audition. "I did the St. Crispin's Day speech from 'Henry V' because I love that speech, and because I'll never be cast in that play, so here's my shot to do it," Hutton said with a laugh. "And who cares, anyway, because nobody is ever going to notice this."
But someone did. A few weeks later, Hutton called Spielberg's office to ask if his tape had been received. A nice woman replied that why, yes, Mr. Spielberg had taken a look at it. "And I went, 'Woah, woah, woah — he actually looked at it himself? Doesn't he have people to look at it?' "  Hutton said. "And she replied, 'No, he looked at it himself.' And right then I thought, 'Well, if nothing else happens, that's … pretty … cool!"
Though the film project officially entered "pre-production" status in 2001, nothing else did happen for many years. Except perhaps for the coincidence that Hutton played Lincoln himself in a Denver Center production of "John Brown's Body" in 2004. Then, in the spring of 2011, a different casting team contacted Powell and other Denver Center contacts, asking all over again, "Do you know anybody who's really good who looks like Lincoln?"
Powell – and everyone else they asked – said, "John Hutton."
"But here's the joke: John hates to be told he looks like Lincoln," Powell said with a laugh. He got over it.
Hutton was sent script excerpts (called "sides" in the biz) of a scene between Lincoln and Secretary of State William H. Seward, a role eventually played in the film by David Strathairn.
Local casting director Sylvia Gregory filmed Hutton and company mate Robert Sicular performing the audition scene, and sent it off. From that, Hutton was cast as Senator Charles Sumner, a leading slavery abolitionist from Massachusetts. Horton, by then long-moved to New Hampshire, was cast as Giles Stuart, a member of the House of Representatives. Dakin Matthews plays Secretary of the Interior John Usher. Byron Jennings has the largest role of the four, as U.S. Postmaster General Montgomery Blair.
"As an actor, it was an honor to be involved with this picture, no matter how minor my role," Horton said from Hanover, N.H. "And as a citizen of this country, I was equally proud to step into this nation's past and revisit one of its proudest moments." Horton will be back in town Dec. 15-16 to partake in Stories on Stage's holiday-themed "Making Merry" program in Denver and Boulder.
"Lincoln," which largely focuses on the 13th Amendment that forever outlawed slavery, is a who's-who of Hollywood, including Daniel Day-Lewis, Sally Field, Tommy Lee Jones, Hal Holbrook, Joseph-Gordon Levitt, Kevin Kline, John Hawkes, Tim Blake Nelson, Jackie Earle Haley, Walton Goggins, James Spader and Lukas Haas. The screenwriter is Tony Kushner, known for his many sprawling stage epics like "Angels in America," and with whom Spielberg previously teamed on the film "Munich."
Hutton's big moment comes when he quotes a lovely little sonnet to Sally Field as Mary Todd Lincoln as they go into a celebratory party at the White House after the passing of the amendment. "So we're rehearsing it, and I was giving it as much fullness as I could," said Hutton. "And just before we're going to shoot it, Mr. Spielberg comes by and, just in passing, he says quietly, 'Oh, hey, Senator … the poetry? … Just move it along a little bit, OK?' And I just said, 'Yes, sir!' "
Hutton did a lot of sitting around that month, but he had the time of his life. "There are so many great people in this film," he said. "You look around and there are all these guys sitting around in their period costumes. A lot of us who never even considered getting involved in something of this scale are just sitting around going, "Wow. … Isn't it great to be invited to the party?"
And here's where we pick up our conversation with Hutton about all things "Lincoln":
John Moore: So at least you were cast on the right side of history. What do we need to know about Charles Sumner?
John Hutton: He was a leader of the Radical Republican movement in the United States Senate, and a rabid abolitionist. He was almost beaten to death in the Senate chamber (in 1856) by the nephew of a South Carolina senator who took offense to a speech he gave (arguing for the immediate admission of Kansas as a free state). He had to go to Europe to recover for a couple of years. He never really regained his health. But he and Mary Todd were socially very close. Sumner was something. He was a great orator.
Moore: Clearly he needs to have his own movie.
Hutton: He needs to have his own movie, dammit. And I've got the wig already. It's gonna be great.
Moore: So at the time of filming in October 2011, you were starring here in Denver as Atticus Finch in "To Kill a Mockingbird." And I remember some concern whether were going to have to miss the final week of performances to accommodate the film.
Hutton: There was some concern, but it all worked out perfectly. The Spielberg people were so organized. They told me back in July or August that I would start shooting on Nov. 1, and that's when I started shooting. "Mockingbird" closed on Oct. 31; I flew out that night to Richmond; and we started the next day.
Moore: So what was all that concern about?
Hutton: There was some talk I might have to fly out a week early. My understudy was John Arp, and he was at the ready. I told the (film team), "Boy, I would really love to finish this run," but I was thinking, "I have five lines in this entire movie. They don't care about my conflicts." But they did actually care. And they made it work.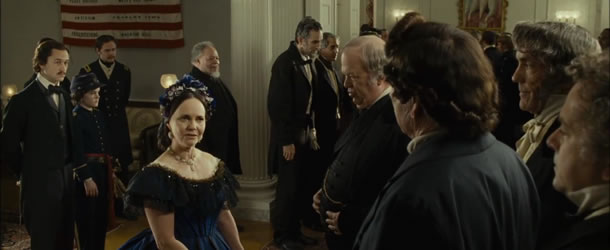 Moore: How long were you under contract?
Hutton: For five weeks, and I was there for four. (Note: The entire film was shot in just two months).
Moore: What was it like filming with your good friends from Denver?
Hutton: Jamie, Byron and I were all there at the same time, so we just had a great time because you never worked on the weekends, and you never worked past 8. So we would meet at the bar and have oysters and beer. Jamie had a very interesting time because he was directing a play up at Dartmouth at the same time, so the schedule would change and he thought for a time they might fire him. But it all worked out. Byron had a really good time, too, I think.
Moore: Were you here in Denver at the same time Byron was?
Hutton: I was here for two shows with him in the mid-1980s. The (Denver Center)  company had a very difficult time in those days. What a great company it was … but they just couldn't get a toehold (in the community) with the way things were then.
Moore: So what was it like being surrounded by all those stars for a month?
Hutton: You walk by a restaurant and there is Tommy Lee Jones having dinner, and you are thinking, "What the hell am I doing here?" But that was the thing: Everybody was happy to be there.
I was having lunch with John Hawkes one day, and I had just seen his movie, "The Winter's Bone," and all I could say was, "Man that was genius." And he was such a nice guy about it.
I knew Hal Holbrook from doing "King Lear" together in New York way back in 1989, I think. So I'm sitting in the makeup chair one day, and I know he's somewhere on the set, and I can't wait to see him. But I haven't seen him in 10 years, and I don't know if he'll remember me. So he comes in and he sits down on the chair next to me. He turns to me and he says, "Good morning, John." Just like that. Isn't that great? Such a classy guy. He missed a couple of days of filming because, guess what? He's doing "Mark Twain Tonight" somewhere in Pocatello, Idaho. He said to me, "Johnny, I gotta keep working. I gotta keep working." When I saw Hal perform last time at the Buell Theatre, I sat there and thought, "There are 2,800 seats, every one of them is filled for two shows — and there is just one guy on the stage. And all he's got are a carpet and a cigar. I have been looking at that guy on TV since I was 5 years old. And he's been doing it since he was 25. (Note: Holbrook is now 87).
Moore: Every time you turned around, you were probably bumping into somebody who has won an Oscar.
Hutton: All the time. One day, Tommy Lee Jones comes back to the set from a break, kind of grumpy, and he says, "I gotta tell somebody this …" There are four or five of us who happened to be there at the time, and we are like, "Anything you want to say to us, Mr. Jones … we will listen to."  And so he says to us, "It's raining. … It's raining on my ranch in Texas." That just made his day, because the drought has been very serious there. That was great. I mean, you want to engage these people, and yet you don't really know how. Because what you really want to say to Tommy Lee Jones is, "Your performances have changed my life." But you can't say that because everybody's an actor, and everybody's being all professional, and so instead you just sort of go, "Good morning, Mr. Jones." And that's it.
Moore: Where did you do most of your shooting?
Hutton: Much of the film centers around the debate over the 13th amendment.  The senate has passed it. So much of it takes place in the House of Representatives. The (present day) statehouse in Richmond stood in for the House of Representatives in Washington, D.C. So most of the time, we're up in the viewing gallery — me and other supporters of the amendment. That includes Sally Field (as Mary). Jamie Horton is downstairs on the floor below, where they are fighting it out. We just sat there looking out over this huge room. There are 200 guys down there, and they all looked like they just stepped out of 1865. It was truly amazing to look at. I thought, "Man, this is going to look great on film."
Moore: Was this your first time doing Kushner?
Hutton: Yeah. They never did let us read the whole script. But when I got the sides for the audition, I'm like … "Wow, look at all these parenthetical phrases." You start off with one thought, and you reinforce that thought later on in the speech, and then you re-cap it at the end, and when it's over … it's all of three sentences.
Moore: I'm guessing that's why Spielberg wanted stage actors.
Hutton: Yeah.
Moore: My concern when I heard Kushner wrote it is that it might turn out to be a 14-hour movie.
Hutton: It may have been at one point.
Moore: So how big is Jamie's role?
Hutton: I know they are trying to persuade people to vote in a certain way, and there are various ways they do that throughout he film. There's a scuffle. He's involved in that.
Moore: Hmmm, so a little voter coercion?
Hutton: Yes, there is a little voter coercion.
Moore: And you have not yet seen the finished product?
Hutton: No.
Moore: When are you going watch it?
Hutton: We're going to try on Sunday night or Monday night, because those are the only nights I have off (from the Denver Center).
Moore: So Spielberg secured the rights to Doris Kearns Goodwin's source book, "Team of Rivals: The Political Genius of Abraham Lincoln" in 1999 — six years before she even published it. Why do you think it took so long to get it done?
Hutton: I think it may be one of those things where script, actor and director were finally all in the same place at the same time. (Note: Liam Neeson was originally slated to play Lincoln.) Steven Spielberg has obviously been thinking about doing it for a long time. I think about (the Denver Center Theatre Company's 2008) "Plainsong" in that way, where these really disparate elements come together fortuitously. It's a moment in time. It doesn't happen before. It doesn't happen after. It happens then. And maybe that's what this is. But I also think he's interested in political mechanics too, and, of course, what are we dealing with all the time now in Washington?
Moore: I was surprised the movie didn't come come out a few months earlier for what it might have to say about the election. Because one of the questions that keeps coming up on conservative radio in the aftermath of the election is how something like 94 percent of blacks voted for Barack Obama, and how did the Republican Party — the party that freed the slaves — ever lose the black vote? I thought this movie might serve as a reminder of what the Republican party stood for at one time in history.
Hutton: And they lost them almost completely. Several million people can't be wrong. Maureen Dowd said it: Romney is president — of all the white people.
Moore: Romney did win 72 percent of the white vote. And it wasn't enough.
Hutton: I think that's a good thing for (the Republicans) to think about.
Moore: But everybody's nerves are so frayed from the divisiveness of the election right now, I thought it might be interesting for moviegoers to more calmly reflect back on America at that particular point in history, and who it was that was getting (bleep) done.
Hutton: Getting (bleep) done, exactly. And he was surrounded by enemies. He had these people around like Seward who were his competition. These were really bright,  aggressive guys, and yet, Lincoln was able to get it done anyway. I played him in "John Brown's Body" (at the Denver Center in 2004), and I think I really understand why Daniel Day-Lewis works so well in the role. He was the guy that everyone loves. And if he walked into the room right now, you would feel something like, 'Wow, there is hope. Somebody is here who knows how to do it. He's intelligent; he's contemplative; he's a serious fellow; he has moral standing. He's that man. He's part-myth … but he's close enough in history to us that we know a lot about him, too.'
Moore: That's interesting because I think everything you just said about Lincoln also applies exactly to Obama in two ways: One is that what you said is only true for the 50 percent who loved Lincoln. And, to be blunt, both of them knew, or know, that there is a possibility they might not survive their presidencies because of those who hate them.
Hutton: Oh, yes … he was reviled.
Moore: So when you consider all the anti-Obama violence we've seen just this month, like two churches burning him in effigy in Florida, and protests at Ole Miss —
Hutton: We're not out of the woods.
Moore: These two men seem to be alike in that they are rock stars to some — and hated by just as many.
Hutton: Yes, both terrifying to some people, and adored by others. Lincoln was trying to wrap this war up, but then he also had all of these other terrible problems at home. His young son dying, and trying to keep his other son out of the war. Not to mention that it looked for a long time like they might lose the war.
Moore: It will be interesting to see if audiences draw a connection between the two, which would be ironic because the film has been in the works since long before most Americans had ever heard of Barack Obama. But I think it's going to be impossible not see some similarities.
Hutton: And that's why Steven Spielberg refused to release the film until after the election — he did not want to have any influence on it. He didn't want it to be part of the pros and cons at all.
Moore: So how do you sum up the totality of your experience?
Hutton: You got a sense pretty early on that this was going to be something special. We all felt that. And that same thing happens here (in Denver) on a smaller scale. When everybody is happy to be there, really good stuff starts to happen. That is not something you can just create. You can only hope that the room is good. That's what that film was like.
Moore: So are you going to make it your policy now to only perform in Oscar-worthy films?
Hutton: Oh yeah. Only the big stuff. But seriously, when you see it … it's blink … and I am gone.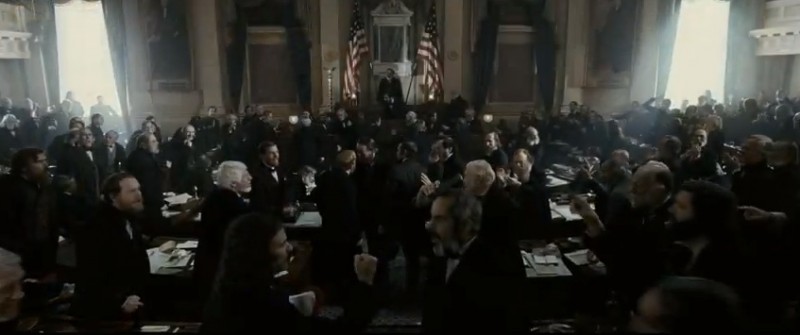 John Hutton's audition monologue
The St. Crispin's Day speech
from "Henry V," by William Shakespeare
WESTMORELAND. O that we now had here
But one ten thousand of those men in England
That do no work to-day!

KING. What's he that wishes so?
My cousin Westmoreland? No, my fair cousin;
If we are mark'd to die, we are enow
To do our country loss; and if to live,
The fewer men, the greater share of honour.
God's will! I pray thee, wish not one man more.
By Jove, I am not covetous for gold,
Nor care I who doth feed upon my cost;
It yearns me not if men my garments wear;
Such outward things dwell not in my desires.
But if it be a sin to covet honour,
I am the most offending soul alive.
No, faith, my coz, wish not a man from England.
God's peace! I would not lose so great an honour
As one man more methinks would share from me
For the best hope I have. O, do not wish one more!
Rather proclaim it, Westmoreland, through my host,
That he which hath no stomach to this fight,
Let him depart; his passport shall be made,
And crowns for convoy put into his purse;
We would not die in that man's company
That fears his fellowship to die with us.
This day is call'd the feast of Crispian.
He that outlives this day, and comes safe home,
Will stand a tip-toe when this day is nam'd,
And rouse him at the name of Crispian.
He that shall live this day, and see old age,
Will yearly on the vigil feast his neighbours,
And say "To-morrow is Saint Crispian."
Then will he strip his sleeve and show his scars,
And say "These wounds I had on Crispian's day."
Old men forget; yet all shall be forgot,
But he'll remember, with advantages,
What feats he did that day. Then shall our names,
Familiar in his mouth as household words-
Harry the King, Bedford and Exeter,
Warwick and Talbot, Salisbury and Gloucester-
Be in their flowing cups freshly rememb'red.
This story shall the good man teach his son;
And Crispin Crispian shall ne'er go by,
From this day to the ending of the world,
But we in it shall be remembered-
We few, we happy few, we band of brothers;
For he to-day that sheds his blood with me
Shall be my brother; be he ne'er so vile,
This day shall gentle his condition;
And gentlemen in England now-a-bed
Shall think themselves accurs'd they were not here,
And hold their manhoods cheap whiles any speaks
That fought with us upon Saint Crispin's day.