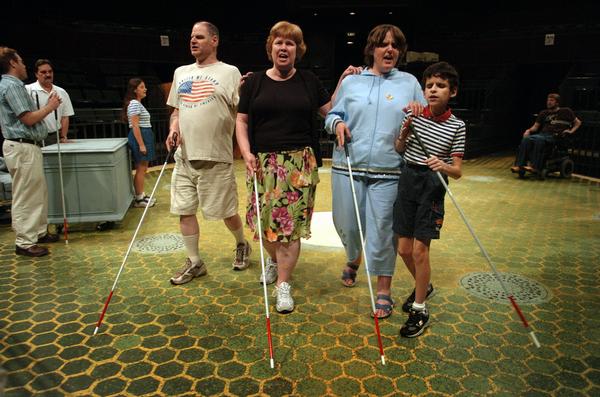 By John Moore
Jan. 22, 2013
Ray Angel, blind since birth, joined Denver's handicapped Phamaly Theatre Company for one reason:
"My wife and I were so darn shy, and we thought Phamaly would help us get over it," Angel told me in a 2007 interview. "And it did."
Angel has passed away, it was announced today on Phamaly's facebook page:
Known by fellow actors as a sweet and caring man, Ray appeared in numerous Phamaly productions, including 'Man of La Mancha' 'Anything Goes' 'Kiss Me Kate,' 'Damn Yankees,' 'Once Upon A Mattress,' 'The Pajama Game,' 'Guys & Dolls,' 'Joseph and the Amazing Technicolor Dreamcoat' and 'Urinetown.'
After Angel's wife, Debbie, died in 1999, their daughter urged Ray "to get back on the stage … and back into contact with life," he said.
And he did.
Angel was one of eight blind actors cast in Phamaly's 2007 staging of "Urinetown." It's a cuttingly clever musical satire of corporate greed, set in a drought-plagued city where water is so precious, you must "pay to pee" – or else.
Director Steve Wilson had the epiphany to cast all his rich characters – the ones who profit off the suffering of the poor – with visually impaired actors. Call it a case of the blind leading the backed-up.
A grave side memorial service will be held for Angel at 10 a.m. Feb. 8 at Golden Cemetery, 755 Ulysses St., Golden. Pot luck to follow at the family home.
Phamaly is the only theater company in town that is so often touched by death that it maintains a memorial list in its programs. In addition to Debbie Angel, the names include Paul Bilzi, Greg Britton, Caroline Buhr, Daniel Cohen, Dan Davidson, Chaz Jacobsen, Diana Kurlyak, Devry Leeds, Judi Myers, James McKenna, Kurt Niblack, Chris Robinson, Christopher Simmons and Mike Spoomer.
Here is the official obituary for Ray Angel.