It's the job of stage manager Amy Brosius to convert the John Hand Theatre stage from the Spotlight Theatre's afternoon performance of "The Front Page" to the evening playing of Silhouette Theatre's "This is How it Goes." The companies share resources and like-mindedness with the Firehouse Theatre. Paul Jaquith's Silhouette troupe gravitates more toward the nastier aspects of human nature.
By John Moore
March 5, 2013
Opening No. 36: Neil LaBute's play explores the repercussions of an interracial love triangle in small-town America. Directed by Pat Payne. Featuring Paul Jaquith, Johanna Jaquith, Ben Butler and Taylor Black. Playing through March 30 at 7653 E. First Place, at unusual times: 7:30 p.m. Thursdays (no performance March 21); 2 p.m. Saturdays; 6:30 p.m. Sundays; also 7:30 p.m. Monday, March 11. 303-999-9143 or www.SilhouetteTheatreCompany.Org. Photo by John Moore for www.CultureWest.Org. Thanks to Amy Brosius, Bonnie Greene, Helen Hand, cast and crew.
To see the our full photo series, "It's Opening Night in Colorado Theatre," featuring one intimate, iconic snapshot from 37 Colorado opening nights (and counting), click here.
Click here to subscribe to the CultureWest.org Monthly E-Newsletter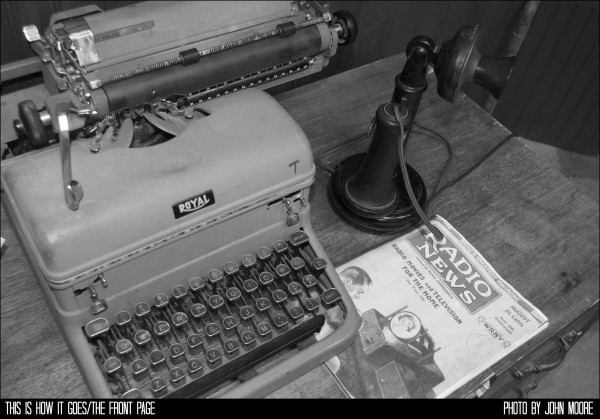 First, a look at some remnants from "The Front Page" set. That's the famous newspaper comedy about ace reporter Hildy Johnson, who wants to break away from journalism, go on his honeymoon and land a respectable job. But on his way out of town, there is a jailbreak, and one final scoop falls into his lap.Showtimes: 7:30 p.m. on Fridays and Saturdays; 2 p.m. Sundays (720-880-8727).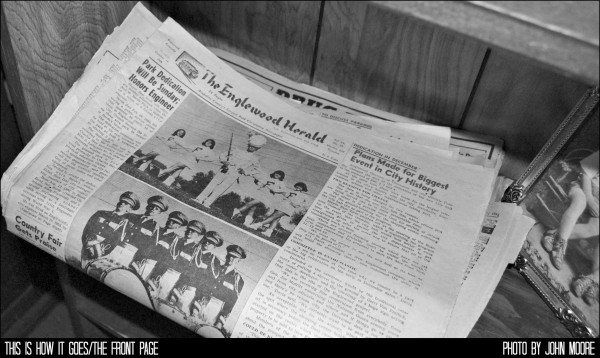 The newspapers on the "Front Page" set are from Englewood in the mid-1960s.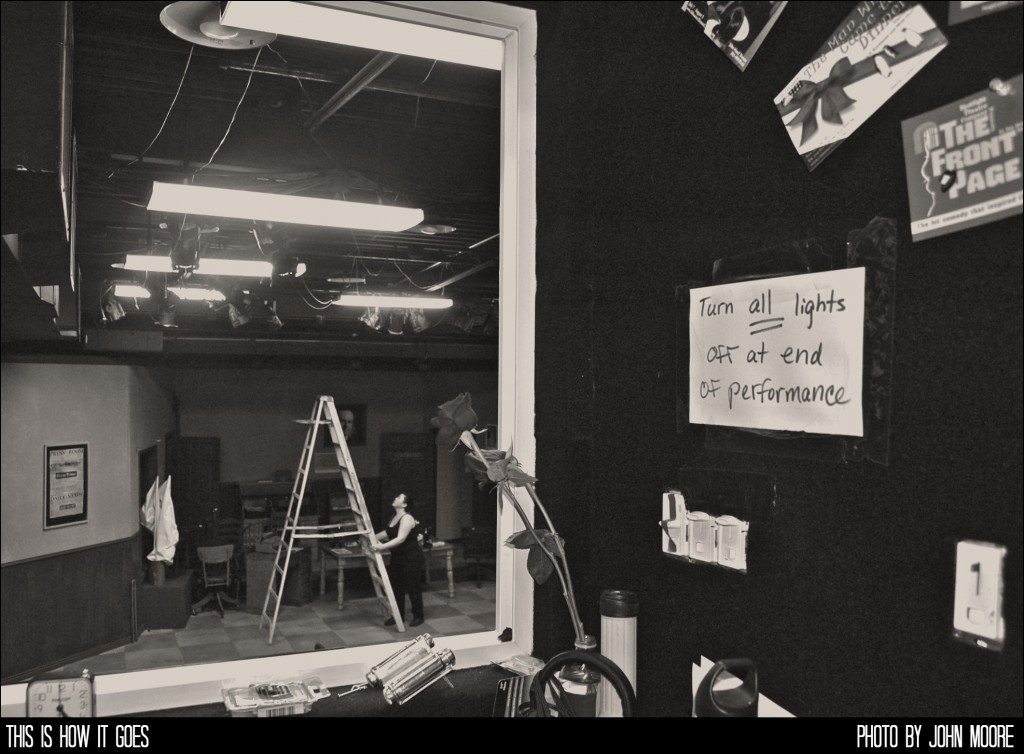 Stage manager Amy Brosius' goal is to store all remnants of the Spotlight Theatre's "The Front Page" far enough upstage so that they can be covered by several large black curtains. Silhouette Theatre's "This is How it Goes" takes place entirely in front of the curtains.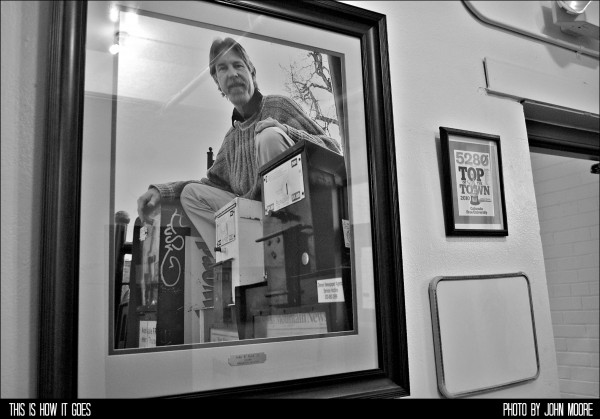 John Hand, founder of the Colorado Free University who started the Firehouse Theatre Company on the former Lowry military base, was murdered in 2004. By preserving his legacy, his friends and family have provided a home for at least three small local theater companies.
(Please click below to go to the next page of photos from our night at "This is How it Goes.")