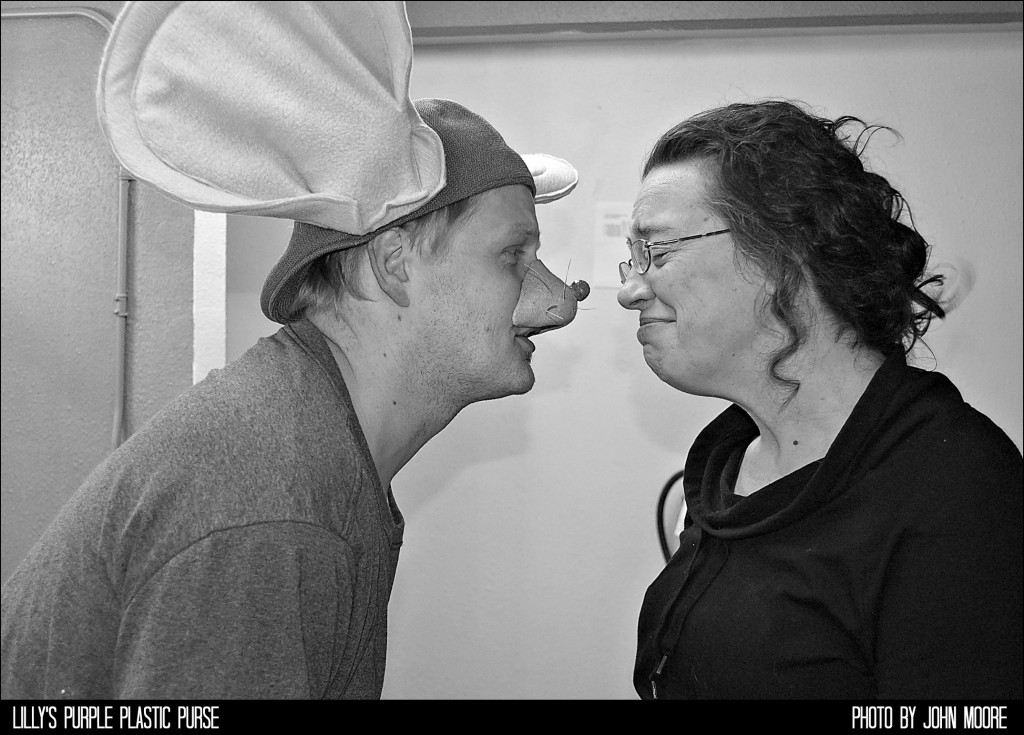 Stage manager Emily MacIntyre has no defense for Brian Landis Folkins' whiskery charms before Sunday's first public performance of the Denver Children's Theatre's "Lilly's Purple Plastic Purse" at the Mizel Arts and Culture Center.
By John Moore
March 13, 2013
Opening No. 41, "Lilly's Purple Plastic Purse": "Lilly" is back for a second staging by the Denver Children's Theatre at the Mizel Arts and Culture Center. Missy Moore is now taking on the role of the excitable mouse who stands up to bullies, can't focus in class and is none too pleased about a new arrival in her home. Through April 28 at the Mizel's Wolf Theatre, 350 S. Dahlia St., 303-316-6360 or www.maccjcc.org. Public performances: 1 p.m. Sundays (but not March 31 or April 14). Directed by Billie McBride. Also featuring Michael Bouchard, Brian Landis Folkins, Devon James and Misha Johnson. Masks by Todd Debreceni. Photo by John Moore for www.CultureWest.Org. Thanks to Emily MacIntyre, Steve Wilson, Tom Kobes, cast and crew.
To see the our full photo series, "It's Opening Night in Colorado Theatre," featuring one intimate, iconic snapshot from 42 Colorado opening nights (and counting), click here.
Click here to subscribe to the CultureWest.org Monthly E-Newsletter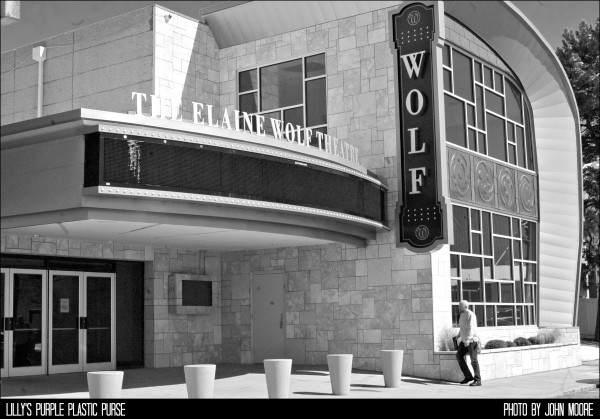 The Wolf Theatre underwent a massive renovation last year at the Mizel Arts and Culture Center.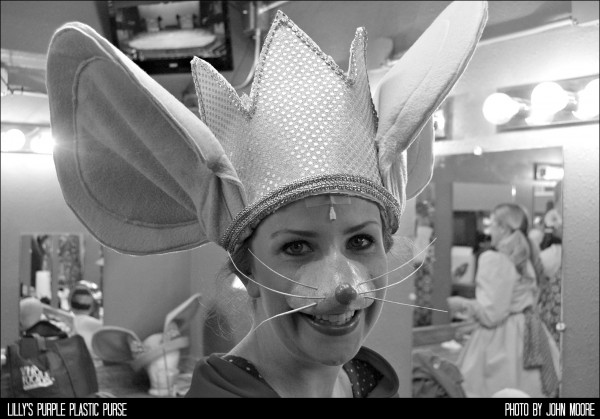 Missy Moore as the mouse that roars when she doesn't get her way.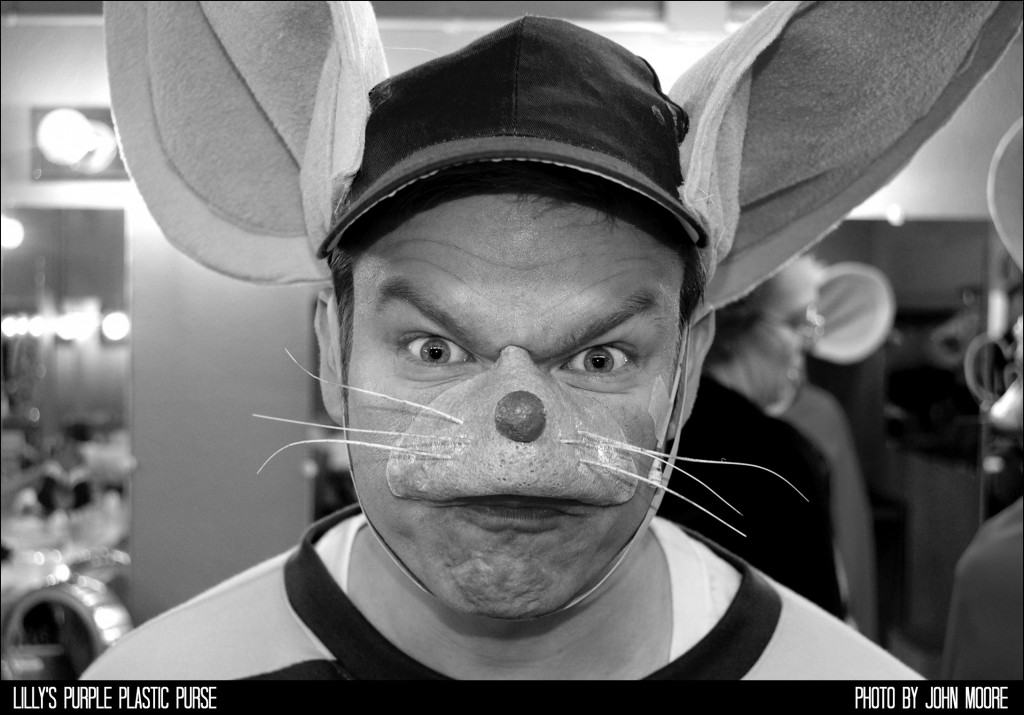 Chester the mouse learns a fine lesson in courage from Lilly and all, but, Ryan Wuestewald seems to be asking, "Why doesn't anyone ever stage 'Chester's Way?' – which is only funny if you know that was another chapter in Kevin Henkes' series of popular children's books.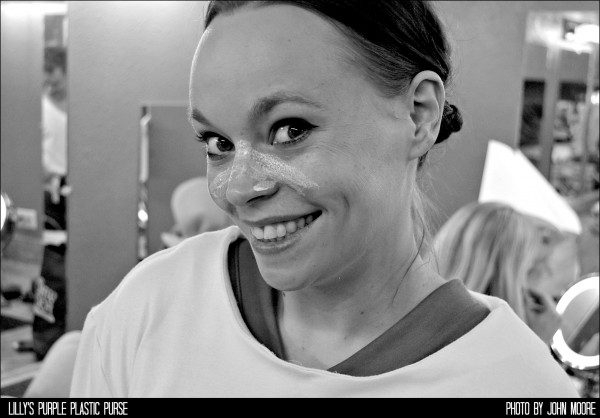 Misha Johnson is a proud new momma mouse.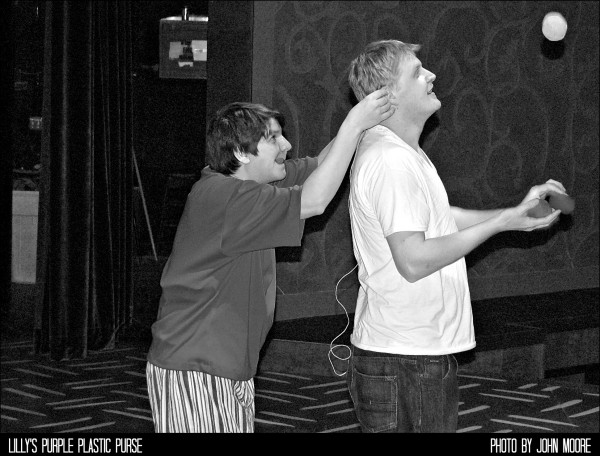 Michael Bouchard is quiet as a church mouse sneaking up on a juggling Brian Landis Folkins during Sunday's pre-show sound check.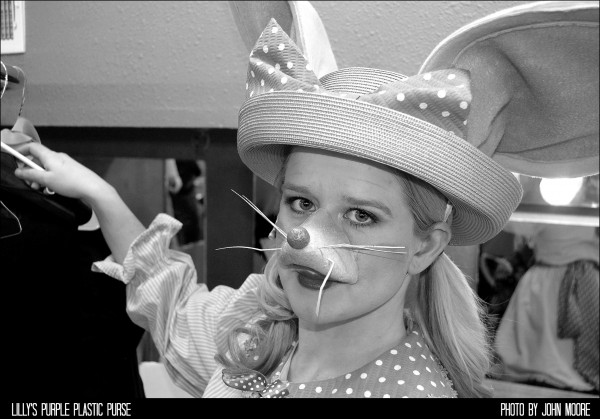 Devon James plays Lilly's pretty, and pretty snotty, cousin Garland, among other roles.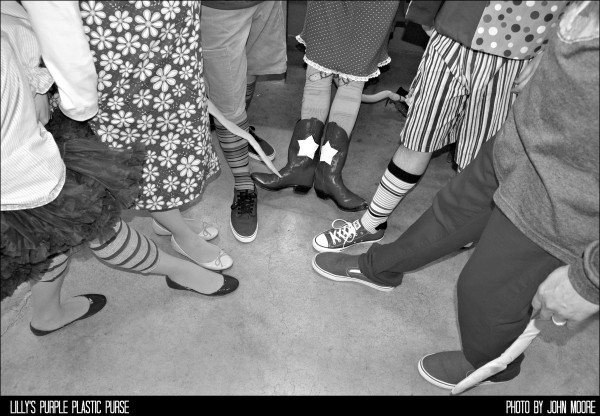 Shoes are just one component of Linda Morken's fully homemade costume repertoire.
(Please click below to go to the next page of photos from our night at "Lilly's Purple Plastic Purse.")